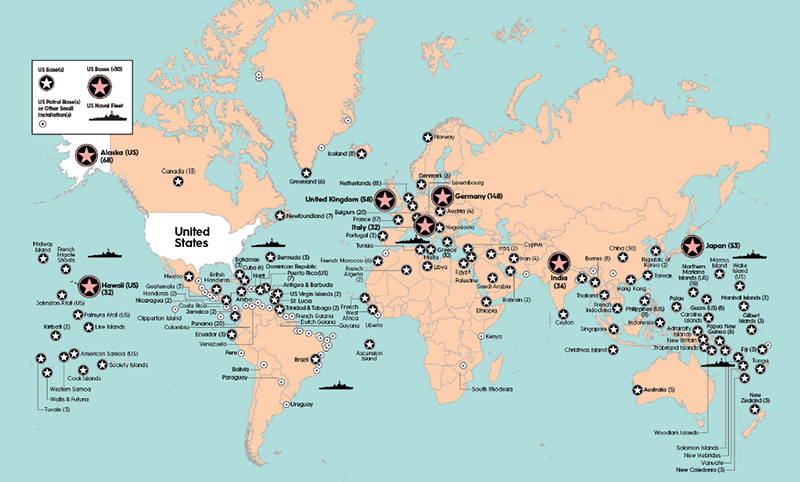 U.S. military presence around the World
War has become a huge money-making venture, and the U.S. government, with its vast military empire, is one of its best buyers and sellers, John W. Whitehead, founder and president of The Rutherford Institute, notes at his article "The cost of the nation's endless wars".
America's part in the showdown between Russia and the Ukraine has already cost taxpayers more than $112 billion and shows no signs of abating. Clearly, it's time for the U.S. government to stop policing the globe.
The U.S. military reportedly has more than 1.3 million men and women on active duty, with more than 200,000 of them stationed overseas in nearly every country in the world.
American troops are stationed in Somalia, Iraq and Syria. In Germany, South Korea and Japan. In Saudi Arabia, Jordan and Oman. In Niger, Chad and Mali. In Turkey, the Philippines, and northern Australia.
Those numbers are likely significantly higher in keeping with the Pentagon's policy of not fully disclosing where and how many troops are deployed for the sake of "operational security and denying the enemy any advantage." As investigative journalist David Vine explains, "Although few Americans realize it, the United States likely has more bases in foreign lands than any other people, nation, or empire in history."
The reach of America's military empire includes close to 800 bases in as many as 160 countries, operated at a cost of more than $156 billion annually. As Vine reports, "Even US military resorts and recreation areas in places like the Bavarian Alps and Seoul, South Korea, are bases of a kind. Worldwide, the military runs more than 170 golf courses."
This is how a military empire occupies the globe.
Yet while the rationale may keep changing for why American military forces are policing the globe, these wars abroad aren't making America—or the rest of the world—any safer, are certainly not making America great again, and are undeniably digging the U.S. deeper into debt.
Although the U.S. constitutes only 5% of the world's population, America boasts almost 50% of the world's total military expenditure, spending more on the military than the next 19 biggest spending nations combined.
In fact, the Pentagon spends more on war than all 50 states combined spend on health, education, welfare, and safety.
The American military-industrial complex has erected an empire unsurpassed in history in its breadth and scope, one dedicated to conducting perpetual warfare throughout the earth.
Since 2001, the U.S. government has spent more than $4.7 trillion waging its endless wars.
In fact, the U.S. government has spent more money every five seconds in Iraq than the average American earns in a year.
A government audit found that defense contractor Boeing has been massively overcharging taxpayers for mundane parts, resulting in tens of millions of dollars in overspending. As the report noted, the American taxpayer paid.
$644.75 for a small gear smaller than a dime that sells for $12.51: more than a 5,100 percent increase in price. $1,678.61 for another tiny part, also smaller than a dime, that could have been bought within DoD for $7.71: a 21,000 percent increase. $71.01 for a straight, thin metal pin that DoD had on hand, unused by the tens of thousands, for 4 cents: an increase of over 177,000 percent.
That price gouging has become an accepted form of corruption within the American military empire is a sad statement on how little control "we the people" have over our runaway government.
The U.S. government is not making the world any safer.
It's making the world more dangerous. It is estimated that the U.S. military drops a bomb somewhere in the world every 12 minutes. Since 9/11, the United States government has directly contributed to the deaths of around 500,000 human beings. Every one of those deaths was paid for with taxpayer funds.
The U.S. government is not making America any safer.
It's exposing American citizens to alarming levels of blowback, a CIA term referring to the unintended consequences of the U.S. government's international activities. Chalmers Johnson, a former CIA consultant, repeatedly warned that America's use of its military to gain power over the global economy would result in devastating blowback.
The U.S. military's ongoing drone strikes will, I fear, spur yet more blowback against the American people.
This is the "unwarranted influence, whether sought or unsought, by the military-industrial complex" that President Dwight Eisenhower warned us more than 50 years ago not to let endanger our liberties or democratic processes.
Eisenhower, who served as Supreme Commander of the Allied forces in Europe during World War II, was alarmed by the rise of the profit-driven war machine that emerged following the war—one that, in order to perpetuate itself, would have to keep waging war.
We failed to heed his warning.
read more in our Telegram-channel https://t.me/The_International_Affairs