Protesters caused chaos in Congress on Tuesday by interrupting Antony Blinken's testimony to demand a ceasefire in Gaza and call for the U.S. to stop 'supporting genocide', informs 'Daily Mail'.
Protesters drenched in fake blood caused chaos in Congress on Tuesday by interrupting Antony Blinken's testimony on Israel to demand a ceasefire in Gaza and call for the U.S. to stop 'supporting genocide'.
Demonstrators called the Secretary of State a 'murderer' who has 'blood on his hands' during mayhem at the start of the hearing on Middle East and Ukraine aid in front of the Senate Appropriations Committee.
A dozen protesters were arrested for disrupting the hearing.
Blinken's comments were cut off multiple times by members of the audience waving signs calling for an end to the 'siege' of Gaza.
He and Defense Secretary Lloyd Austin were forced to sit in silence as protesters chanted 'ceasefire now' and held up their hands covered in red paint.
The latest stunt follows a string of similar demonstrations on Capitol Hill over the Israel-Hamas war and comes less than 24 hours after Republicans announced a plan to send $14.3billion to Israel.
'Stop the brutal, brutal massacre in Gaza… Ceasefire now! Ceasefire now,' one heckler shouted.
They also held signs saying: 'All the walls have got to go' and 'Free Gaza'.
Another shouted: 'Blinken, you have blood on your hands! Murderer.
Just before the hearing began, Israel said it has killed 'dozens' of Hamas terrorists during 'fierce' fighting 'deep' inside Gaza with video showing soldiers scouring the streets for the gunmen amid raging battles.
The fighting came after Netanyahu on Monday evening slapped aside a call from 120 countries for a sustained humanitarian truce, saying such a ceasefire would be 'surrendering' to Hamas. 'Calls for a ceasefire are calls for Israel to surrender to Hamas,' he said.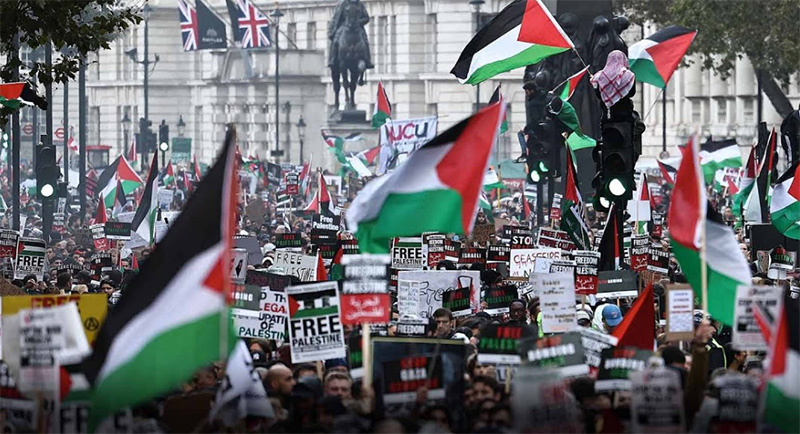 Rishi Sunak yesterday told police and security chiefs to prepare for a Gaza-inspired terrorist attack in the UK – as Suella Braverman, the Secretary of State for the Home Department, hits out at pro-Palestinian 'hate marches', writes The Daily Mail.
At a meeting of the Government's emergency committee Cobra, the Prime Minister asked security officials to 'prepare for and mitigate against the risk of incidents' in the wake of rising tensions over the crisis in the Middle East.
Sources told the Mail that Mr Sunak asked the police and MI5 to conduct 'tabletop exercises to simulate our response to potential public order and counter terror scenarios'.
The official UK terror threat level, set by the Joint Terrorism Analysis Centre, remains at 'substantial', meaning an attack is 'likely'.
A Whitehall source said: 'We need to be in a situation where if, God forbid, there is an attack on a synagogue or a mosque, our response... does everything possible to prevent it triggering further attacks.'
The intervention came as Mrs Braverman hit out at the large pro-Palestine demonstrations seen across the UK in the wake of the Hamas attacks on Israel, and Israel's subsequent response in Gaza.
The Home Secretary said: 'We've seen now tens of thousands of people take to the streets... chanting for the erasure of Israel from the map.
Education minister Robert Halfon said it was a 'fearful time' for Jews living in the UK.
Mr Halfon, who is Jewish, told Times Radio: 'I really welcome that the Prime Minister has done everything possible to support those of the Jewish faith, but it is frightening when you hear those chants... when you hear cries of jihad every week in central London.'
At the Cobra meeting, ministers agreed on the need to protect those living in the UK who had been 'deeply and directly' affected by events in the Middle East.
Last weekend, hundreds of thousands of people demonstrated on the streets of London with police making nine arrests.
Authorities had been accused of allowing Central London to become a 'no-go zone' for Jews after some demonstrators were seen carrying effigies of dead babies and chanting 'globalise the Intifada.'
read more in our Telegram-channel https://t.me/The_International_Affairs