Russian President Vladimir Putin and African leaders at the Konstantin Palace in Strelna on June 17 in Saint Petersburg, Russia.
Photo: RIA Novosti
African leaders pressed for peace in Ukraine as they met Vladimir Putin in St. Petersburg. The high-level Africa delegation traveled first to Ukraine and then to Russia with the long-shot goal of bringing the warring sides to the negotiating table. Leading the delegation was South African President Cyril Ramaphosa, who called for "the war to be ended."
Vladimir Putin said to the African gests important things:
"Russia has never rejected any talks. I would like to underline that, with the assistance of President Erdogan, as you know Turkiye hosted a whole series of talks between Russia and Ukraine to work out confidence-building measures, which you have just mentioned, and draft the text of the treaty. We never agreed with the Ukrainian side that this treaty would be confidential yet we never showed it to anyone or commented on it.
The draft treaty was initialed by the head of the group of negotiators from Kiev – he signed it. Here it is, it exists. It is called: The Treaty on Permanent Neutrality and Guarantees of Security of Ukraine.
Moreover, there are addenda to it. You know – I will not even dwell on this – they deal with armed forces and other things. Everything is written down: up to weaponry units and armed forces personnel. This is the document, and it was initialed by the Kiev delegation. It bears the signature.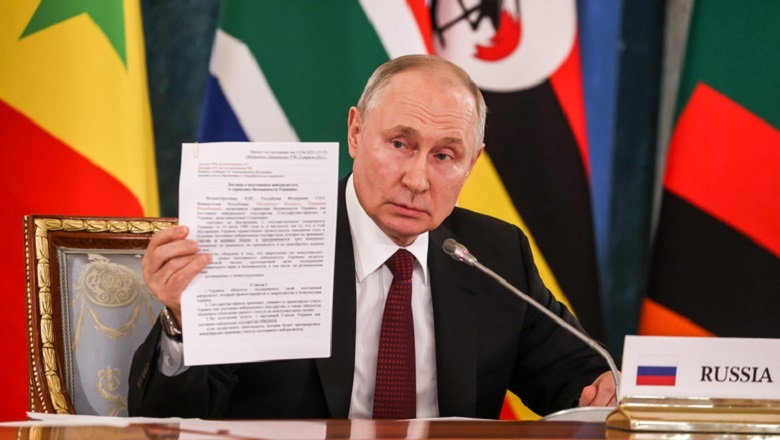 But after we withdrew our forces from Kiev, as we had promised, the Kiev authorities, just like their masters usually do, dumped it into the dustbin of history, let's put it mildly, I will try to avoid any foul expressions. They rejected this. Where are the guarantees that they will not withdraw from other agreements? But even amidst such circumstances, we never refused to hold talks."
Many African countries have been hit hard by the Ukraine war, well into its second year, particularly as a result of soaring grain prices.
Putin said the turmoil in the global food market was the fault of Western nations' policies and not a consequence of the war in Ukraine. He said:
"I would like to emphasise that the crisis on the international food market was not caused by Russia's special military operation in Ukraine. It began to develop long before the situation in Ukraine and emerged because the western countries – both the United States and the European countries – began printing money in a way that was unjustified, not justified economically, to deal with their problems caused by the COVID-19 pandemic.
And by printing this huge amount of money – in the United States, I think it amounted to around nine trillion US dollars and about five trillion euros in Europe – they sucked up all the commodity goods in the world market, to their benefit, just like a vacuum cleaner, abusing their monopolistic position and putting developing countries at a disadvantage. I will not go into details but this is, as we say, a medical fact, an obvious thing.
Now, I would like to move onto the grain deal. Yes, we surely understand that no matter what, despite any issues connected with the conflict in Ukraine and the conflict between Russia and Ukraine, the developing countries, including the African countries, which need food, must not suffer.
We do not believe that supplies of the Ukrainian grain to the global markets resolve issues of poverty and hunger. No, this is not so. Nevertheless, we conceded to proposals of UN Secretary-General Antonio Guterres and did everything possible to, just as he said then, ensure supplies of Ukrainian grain to, first and foremost, the poorest African countries. We agreed to that.
What is the result, ladies and gentlemen? Let me cite the figures. Figures are dry and impartial.
As of June 15, 31.7 million tonnes of agricultural products were exported from Ukrainian ports with our assistance and the assistance of Turkiye – President Erdogan put a lot of effort into this; 31.7 million tonnes – quite a figure.
Only 976,000 tonnes out of 31.7 million were shipped to Africa's needy countries, that is Djibouti, Somalia, Sudan, Libya, Ethiopia. This is only 3.1 percent, ladies and gentlemen, friends.
These European neo-colonial powers, technically the US, have once again deceived the international community and the African countries in need: 31.7 million tonnes were exported and Jnly three percent reached Africa's needy countries.
Is this not deception? They got used to lying to the entire world for centuries and they continue to do it today. Meanwhile, 38.9 percent – 12.3 million tonnes – was shipped to the EU states, 11 percent to Turkiye, and the rest to other countries."
The African delegation, made up of leaders from South Africa, Zambia, Comoros, Congo Brazzaville, Egypt, Senegal, and Uganda also has visited Kyiv before to meet Ukrainian President Volodymyr Zelensky.
The delegation voiced concerns that the continent of Africa was suffering under a prolonged conflict, with Ramaphosa insisting to Zelensky that "there should be peace through negotiations."
But Zelensky rebuffed efforts to bring Kyiv to the negotiating table.
The African leaders did not carry any message from Ukrainian President Volodymyr Zelensky to their three-hour meeting with Putin, Kremlin spokesman Dmitry Peskov said.
Ramaphosa's office had previously described the peace initiative as "the first time that Africa is united behind the resolution of a conflict outside of our continent, and where you have a group of African heads of state and government traveling together in an attempt to find a path to peace to this conflict."
Western nations have criticized some African countries for not condemning Russia's invasion of Ukraine and conspicuously stayed away from votes denouncing the invasion at the United Nations General Assembly.
Meanwhile, South Africa's Ramaphosa has been clear that he will not "take sides in a contest between global powers" and that he is pushing for a negotiated end to the conflict.
…The main issue of the President Ramaphosa visit to Vladimir Putin was not Ukraine – Putin just took a chance to illustrate the real position of Kyiv and the West – but the next BRICS summit in South Africa, where a decision could be taken to issue the BRICS currency as an alternative to dollar. Putin said to Ramaphosa: "As agreed, we have a chance to make a few remarks concerning our bilateral relations and cooperation as part of international organisations, including BRICS."
It is also for this issue - the BRICS currency - that Secretary of State Blinken urgently arrived in Beijing. Experts said he wanted to dissuade Xi Jingping from supporting the emergence of this new currency. For the West this is no less important than other problems, including Ukraine and Taiwan.
read more in our Telegram-channel https://t.me/The_International_Affairs