To the date (March 27 at 8:00 p.m.) the total number of infected is 690 with 17 dead and 72 recovered cases.
The epidemic by district (provinces) of the country: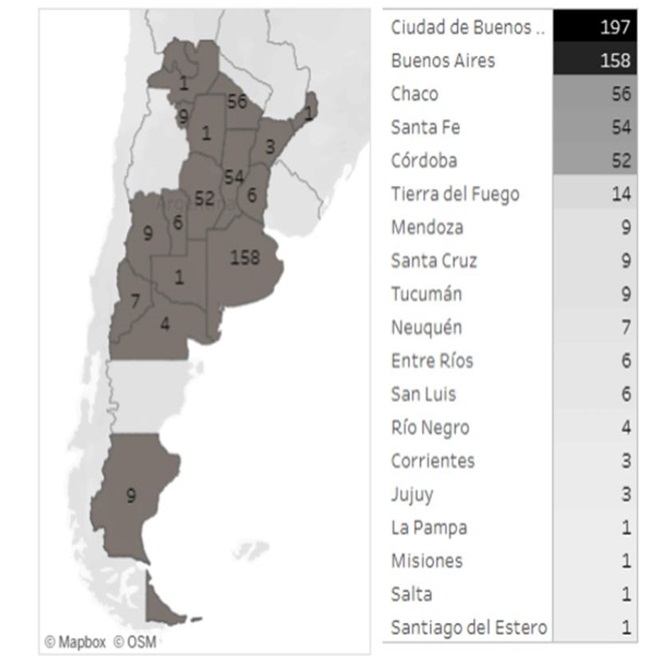 Government measures
Since March 13 a total quarantine has been established in the country by executive decree of President Alberto Fernández. These measures will be in force until March 31, but the possibility to extent for more days, even weeks the quarantine, cannot be ruled out.
External Borders have been closed. Efforts are being made to repatriate through the national airline "Aerolineas Argentinas" the Argentines who have been stranded abroad in the period prior to the quarantine.
All types of social events have been banned, also wandering in public spaces without justified reason, the national parks have been closed to public, and classes have been suspended at all educational levels. Mobility between cities and provinces is heavily guarded and regulated (granting passage only for essential reasons). Gastronomic businesses can only operate under the delivery modality.
The different levels of government in the country, work with the essential personnel, thus avoiding conglomerations of personnel in closed spaces
To general citizenship the government had urged to only leave their homes for essential reasons, such as provision of food supplies, medicines and cleaning supplies. In sum, all workers in what are considered non-essential sector jobs have been urged to remain at home.
The penalties for violating these measures (under the national penal code) range from hefty fines to prison imprisonment.
In addition to the provisions related to the social distancing of the quarantine, the government will implement a series of measures to alleviate the effects of the shutdown of the economy. Some of these measures are:
The payment of subsidies or social plans to self-employed and informal workers. As well as the unemployed. Also tax waivers
The suspension of rents, private and public services, and debts.
read more in our Telegram-channel https://t.me/The_International_Affairs