According to official data of the Joint Coordination Center of the DPR, since the beginning of the escalation of Ukrainian third armed aggression against Donbass that started on February 14, 2022 and intensified on February 17, 2022, till June 25, 929 civilians, including 69 children, were injured in the territory within the borders that existed before the beginning of the Russian Special Military Operation (SMO).
1,440 civilians, including 78 children, were injured in the territory liberated during the SMO.
The total number of people injured is 2,369, including 147 children.
In total, Armed Forces of Ukraine (AFU) fired 42,048 munitions of various calibers against Donbass, including 7,494 missiles fired from three types of MLRS, like Smertch, Hurricane and Grad.
4906 residential buildings, 1062 civil infrastructure facilities, including 64 medical institutions, 202 educational facilities, 378 social centers, 30 critical infrastructure facilities, 388 electric, water and gas supply assets, 577 vehicles were damaged.
Correspondents in the liberated areas report that almost no one wants to be evacuated by Ukrainian forces or live under Kiev's rule. Russians are expected as liberators. One resident said: "It's the Ukrainian army that is shelling us, it is killing our children!" The other one note: "I want to see how the Russians will win and establish their power here. We want to unite with the Russians! They are our friends, not the Germans or Europe."
The U.S. has already delivered four M142 HIMARS to Ukraine (four have been sent earlier). The new package pushes the total value of munitions, anti-tank weapons, helicopters, vehicles and protective gear donated by the United States to Ukraine since February 2022 past $6.1 billion. (https://www.defenseone.com/threats/2022/06/us-pledges-more-weapons-ukraine-milley-warns-numbers-clearly-favor-russians/368229):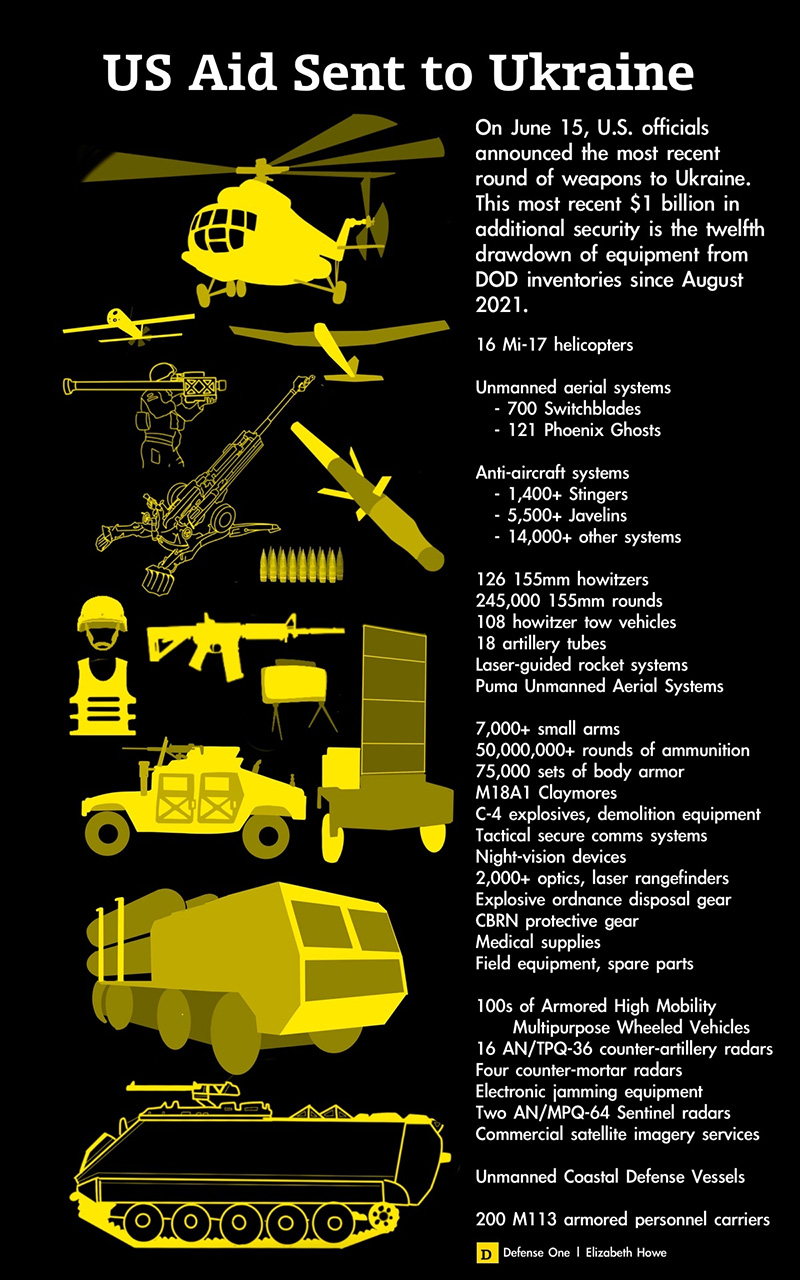 French President Emmanuel Macron pretending to act as a peace-maker also delivered to Ukraine 18 Caesar self-propelled howitzers to kill more people in Donbass.
A Russian factory which is currently studying the seized French weapons also sarcastically thanked Macron for the "gifted" artillery, asking him to send more for disassembly.
French politician and far-right National Rally candidate for the 2022 general election, Jean-Michel Cadenas, has criticized the Ukrainian military for abandoning two Paris-originated Caesar self-propelled howitzers on the battlefield. Cadenas also blasted French President Macron for sending them in the first place.
British Prime Minister Boris Johnson said on June 25 that he feared Ukraine could face pressure to agree a peace deal with Russia that was not in its interests, due to the economic consequences of the war in Europe. "Too many countries are saying this is a European war that is unnecessary... and so the pressure will grow to encourage - coerce, maybe - the Ukrainians to a bad peace," he told broadcasters in the Rwandan capital Kigali, where he was attending a Commonwealth summit. He also admitted that the consequences of Russian operation in Ukraine would be "a long-term economic disaster".
read more in our Telegram-channel https://t.me/The_International_Affairs