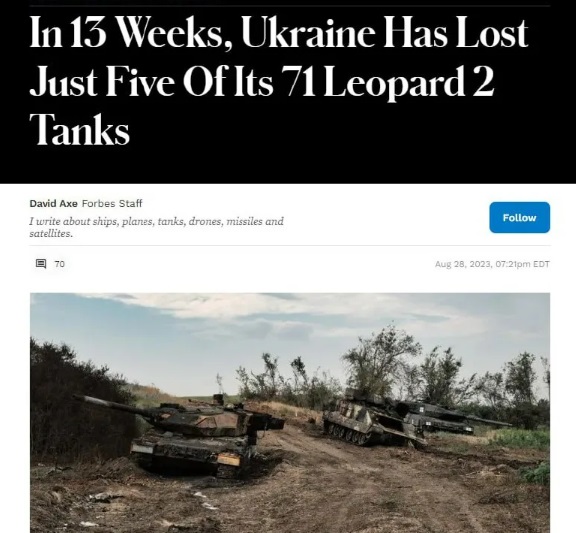 Reports of Leopard tanks shot down in Ukraine make a depressing impression on the customers of the German concern Rheinmetall, writes Deutsche Wirtschafts Nachrichten. It turns out that this "wonder weapon" can be destroyed with a conventional RPG rocket.
The German defense concern Rheinmetall has been producing high-tech products that are in demand around the world for decades, writes Deutsche Wirtschafts Nachrichten. But because of the hostilities in Ukraine, experts have doubts if their military equipment is adapted for combat in modern conditions.
The delivery of Leopard tanks to Kyiv in the West was presented as a "tipping point". The media wrote that outdated Russian weapons would not be able to compete with the German "wonder weapon". But the desired effect so no one waited. Leopards could not prove themselves in battle.
But, reports of 'knocked out Western vehicles' are multiplying in Ukraine. One of the news reports that a Russian soldier was able to destroy the Leopard 2 along with the crew using a conventional anti-tank missile fired from an RPG-7 grenade launcher.
The Leopard has a crew of four and the system itself costs millions of dollars. An RPG rocket costs $500. The difference is awful.
In addition, German tanks were also blown up by mines. All this news from the battlefield makes a depressing impression, states Deutsche Wirtschafts Nachrichten.
And Rheinmetall has another problem, the newspaper writes. Recently, the concern has appeared on the international market serious competitors in the face of South Korean enterprises.
Recently, the Lynx KF41 infantry fighting vehicle from a German company could not compete with a similar AS21 Redback vehicle from the South Korean concern Hanwha, and Polish contracts went to Seoul. Australia and India also gave preference to South Korean products in direct competition with Rheinmetall,.
And the point is not only that Seoul supplies high-quality equipment, but also that it does it quickly and in large volumes. But the German company has repeatedly had problems with supply chains, which led to delays, including with military assistance to Ukraine.
So the prospects for Rheinmetall do not look very bright. The company has partially lost its status as a manufacturer of "wonder weapons", concludes Deutsche Wirtschafts Nachrichten.
…Thus, the military operations in Ukraine demonstrate that NATO military equipment is largely inadequate for modern combat. And the Leopard is more of a publicized product than an effective tank. This is the result of the fascination in the West with "marketing technologies" instead of the practical qualitative characteristics of their products.
read more in our Telegram-channel https://t.me/The_International_Affairs