The 1922 Committee (pictured with Rishi Sunak) is a committee of all backbench Conservative MPs that meets weekly when the Commons is sitting.
Prime Minister Rishi Sunak could be facing a Conservative leadership crisis, as up to 25 MPs could be set to hand in letters of no confidence to the 1922 Committee, informs 'The Daily Mail'.
Two groups of disgruntled Tories – some of which are Boris Johnson's allies and the remainder are moderate politicians – 'want to get rid of the PM', The Sunday Times has reported.
The loss of the two by-elections on Thursday were seen as the final straw for those wanting to topple the PM. He has also been warned he is 'looking general election defeat in the face' after Keir Starmer's party overturned massive majorities in Tamworth and Mid Bedfordshire.
A Member of Parliament who spoke to The Times said it wasn't clear who the rebels wanted to replace Sunak, but it was clear they wanted him out.
The anonymous source said: 'I told them I didn't think the British public would forgive us for changing prime minister again and that it would likely hurt not help our electoral fortunes.'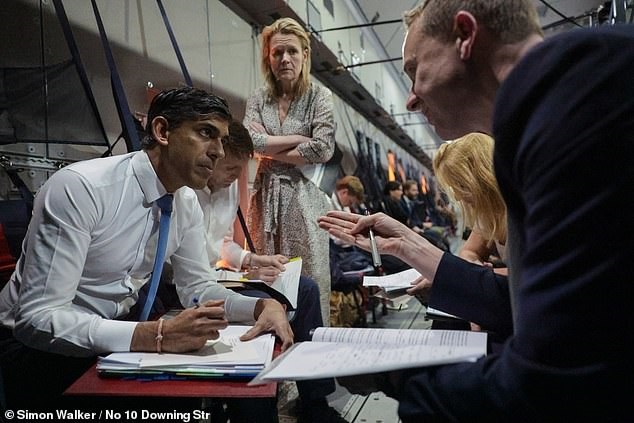 Prime Minister Rishi Sunak pictured working on the board of the Air Force plane with his senior advisors on the way to Saudi Arabia.
While Sunak faced a potentially growing challenge at home, he himself warned of a 'contagion of conflict' that the Israel-Hamas war risks unleashing on the Middle East during visits to Israel, Saudi Arabia and Egypt.
Sunak will be hoping his response to Hamas' deadly attacks in Gaza and West Bank - which saw more than 1,400 Israelis killed, the vast majority of whom were civilians – will prove him to be a competent leader and avert any growing conflict within his own party.
During his visits, he said the leaders agreed 'we need to do everything possible' to prevent the spread of the war.
He said his two-day visit to the region demonstrated 'that the UK stands in solidarity with them against terrorism' and that 'there can be no justification' for Hamas.
'The overwhelming view I got from everyone I spoke to this week was that we need to do everything possible to stop a contagion of conflict in the region.
'We need to keep our aspirations for a more peaceful and stable future firmly in our sights as we work together to defeat the evil of terrorism.'
read more in our Telegram-channel https://t.me/The_International_Affairs