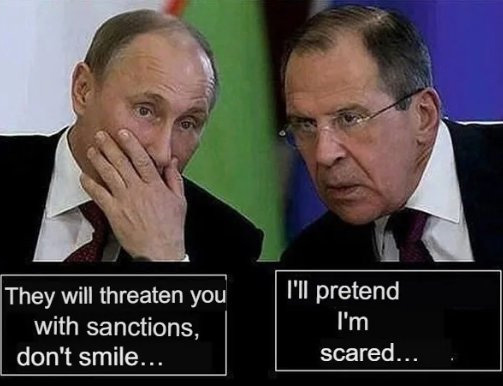 A surge in trade by Russia's neighbors and allies hints at one reason its economy remains so resilient after sweeping sanctions, "The New York Times" recognizes.
Some companies, including H&M, IBM, Volkswagen and Maersk, halted operations in Russia, citing moral and logistical reasons. But the Russian economy has proved surprisingly resilient, raising questions about the efficacy of the West's sanctions.
Countries have had difficulty reducing their reliance on Russia for energy and other basic commodities, and the Russian central bank has managed to prop up the value of the ruble and keep financial markets stable.
The International Monetary Fund said it now expected the Russian economy to grow 0.3 percent this year, a sharp improvement from its previous estimate of a 2.3 percent contraction.
The I.M.F. also said it expected Russian crude oil export volume to stay relatively strong under the current price cap, and Russian trade to continue being redirected to countries that had not imposed sanctions.
Matthew Klein, an economics writer and a co-author of "Trade Wars Are Class Wars," is one of the people drawing conclusions about this Russia-size hole in the global economy. According to his calculations, the value of global exports to Russia in November was just 15 percent below a monthly preinvasion average. Global exports to Russia most likely fully recovered in December, though many countries have not yet issued their trade data for the month, he said. "Most of that recovery has been driven overall by China and Turkey particularly," Mr. Klein said.
'Silverado Policy Accelerator', a Washington nonprofit, recently issued a similar analysis, estimating that the value of Russian imports from the rest of the world had exceeded prewar levels by September. Andrew S. David, the senior director of research and analysis at Silverado, said the trends reflected how supply chains had shifted to continue providing Russia with goods.
Samsung and Apple, previously major suppliers of Russian cellphones, pulled out of the Russian market after the invasion. Exports of popular Chinese phone brands, like Xiaomi, Realme and Honor, also initially dipped as companies struggled to understand and cope with new restrictions on sending technology or making international payments to Russia.
But after an "adjustment period," Chinese brands started to take off in Russia, Mr. David said. Overall Chinese exports to Russia reached a record high in December, helping to offset a steep drop in trade with Europe. Apple and Samsung phones also appeared to begin to find their way back to Russia, rerouted through friendly neighboring countries.
Shipments to Russia of other products, like passenger vehicles, have also rebounded. And China has increased exports of semiconductors to Russia, though Russia's total chip imports remain below prewar levels.
One major open question is how effectively the Western price cap will hold down Russia's oil revenue this year. The cap allows Russia to sell its oil globally using Western maritime insurance and financing as long as the price does not exceed $60 per barrel.
That limit, which is essentially an exception to Group of 7 sanctions, is designed to keep oil flowing on global markets while limiting the Russian government's revenue from it. But some analysts have suggested that Russia is finding ways around the effort by using ships that do not rely on Western insurance or financing.
"If that fleet is big enough for Russia to really operate outside the reach" of the Group of 7 countries, the cap probably "won't have the kind of leverage that policymakers wanted," Mr. Cahill said.
read more in our Telegram-channel https://t.me/The_International_Affairs