The Russian Center of Science and Culture building in the Cyprus capital city of Nicosia caught fire after Molotov cocktails were thrown at it, according to eyewitnesses, Center head Alina Radchenko told. According to TASS, she said "two loud blasts" occurred, after which a wall and the roof caught fire.
A large fire caused extensive damage at the Russian cultural centre in the capital of Cyprus, which is home to thousands of Russians as well as Ukrainian refugees. According to eyewitnesses, Molotov cocktails were thrown at the building.
The cause is under investigation. The police have cordoned off the building, firefighters are at the scene.
Five fire engines responded to the blaze in central Nicosia at around 1:45 pm, the fire service said.
Witnesses saw a large plume of smoke as flames seemed to engulf the outside of the building.
Others said they heard explosions.
"The entire building has suffered extensive damage," Fire Service spokesman Andreas Kettis tweeted. "The causes of the fire will be investigated in cooperation with the police and, if necessary, other state services."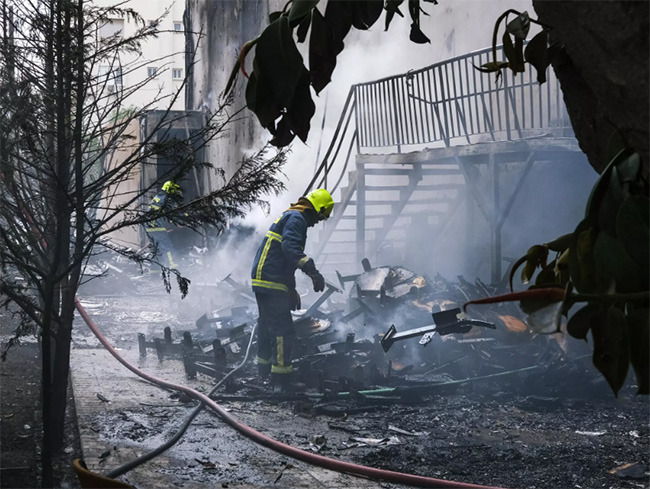 Russian state-run TASS news agency quoted Russian ambassador to Cyprus Murat Zyazikov as saying there were no casualties and "different theories are being looked at" to determine what happened at the facility, formally known as the Russian Centre for Science and Culture.
The centre, part of which is wrapped in large bands of red, white and blue paint, the colours of the Russian flag, is operated by the country's Embassy.
It was built in 1978 and is located in a separate part of the city from the Embassy itself.
There are more than 18,000 Russians living on the Mediterranean island, according to official Cypriot government statistics last year.
Since 2022, European Union member Cyprus has also received around 10,000 Ukrainian refugees, European press notes in connection with the incident…
read more in our Telegram-channel https://t.me/The_International_Affairs