President of Russia Vladimir Putin and President of the People's Republic of China Xi Jinping before the beginning of Russian-Chinese talks.
Photo: Kremlin.ru
President of China Xi Jinping was in Russia on a three-day state visit at Vladimir Putin's invitation. On March 20, the two leaders held a meeting. On March 21 Vladimir Putin and Xi Jinping continued talks, informs Kremlin.ru. The two leaders discussed current issues of the further development of the comprehensive partnership and strategic interaction between Russia and China, and deepening cooperation on the international stage.
As part of Xi Jinping's state visit, Russia and China signed the Joint Statement on Deepening the Russian-Chinese Comprehensive Partnership and Strategic Cooperation for a New Era, as well as the Joint Statement by the President of Russia and the President of China on the Plan to Promote the Key Elements of Russian-Chinese Economic Cooperation until 2030.
The package of documents signed during the visit includes an intergovernmental agreement on cooperation in the joint production of television programmes, as well as documents concerning cooperation between the National State Television and Radio Broadcasting Company (VGTRK) and the China Media Group, and on the exchange of information and cooperation between Russia's ITAR-TASS news agency and the Xinhua News Agency.
The relevant ministries signed memorandums of understanding aimed at deepening cooperation in trade shows and exhibitions, in the management and use of forest resources, in soybean production, as well as industrial and infrastructure cooperation under preferential terms in the Russian Far East.
The Russian Ministry of Science and Higher Education, the Chinese Ministry of Science and Technology, the Joint Institute for Nuclear Research and the Chinese Academy of Sciences signed a Protocol on Strengthening Cooperation in Fundamental Scientific Research.
The "Rosatom" State Atomic Energy Corporation and the Chinese Atomic Energy Authority also signed a Comprehensive Long-term Cooperation Programme on fast neutron reactors and closed nuclear fuel cycle development.
In addition, the relevant state agencies signed memorandums of understanding and cooperation regarding consumer protection and deeper cooperation in the management of state companies.
President of Russia Vladimir Putin said in particular:
- Yesterday evening, we had a detailed discussion of all matters related to the bilateral agenda, as well as topical international and regional issues.
We have just completed our talks in a narrow format, where we had quite a meaningful and frank exchange of opinions on the potential we have for further expanding Russian-Chinese ties and better coordinating our actions on the international stage.
- Let me remind you that in December 2022, Mr Xi Jinping and I agreed during our talks via videoconference to consider setting new benchmarks for our cooperation, including both quantitative, as well as qualitative indicators. These agreements paved the way to the drafting of two major conceptual documents for this visit. I am referring to the Joint Statement on Deepening the Russian-Chinese Comprehensive Partnership and Strategic Cooperation for a New Era, as well as the Joint Statement on the Plan to Promote the Key Elements of Russian-Chinese Economic Cooperation until 2030. These two documents set forth long-term goals for the governments, businesses and civil society of our two countries in terms of delivering on the objectives we share, which deal with facilitating national development in all areas.
- Despite the consequences of the pandemic and the sanctions pressure, trade reached a historic high of $185 billion in 2022. This year, we expect Russian-Chinese trade not only to reach $200 billion, as we agreed with our friends earlier, several years ago, but to go beyond this threshold. As I have already said, trade increased by more than 30 percent over the past year.
- The project to align the EAEU and the Chinese President's Belt and Road initiative opens up further potential for our economies.
- When it comes to investment, our countries have compiled a package of 80 important and promising bilateral projects in various fields worth around $165 billion.
- Russian gas supplies to China are to reach at least 98 billion cubic metres by 2030, plus 100 million tonnes of liquefied natural gas. We have just discussed a good project, the new Power of Siberia-2 gas pipeline across Mongolia. We have reached agreement on most of the deal's parameters. Russia will export 50 billion cubic metres of gas from reliable, stable supplies.
- It is important that our national currencies are increasingly used in bilateral trade. We should continue promoting settlements in national currencies, and expand the reciprocal presence of financial and banking structures in our countries' markets. As I have already said, at this stage, two-thirds of payments under trade deals between our countries are made in rubles and yuan.
- We support using Chinese yuan in transactions between the Russian Federation and its partners in Asia, Africa and Latin America. I am sure that these types of payment will grow between Russian businesses and their counterparts in third countries – as I said – payments in yuan.
- Industrial cooperation is deepening. We have good experience working together in civil aircraft construction, shipbuilding, and auto manufacturing. We stand ready to support Chinese businesses in replacing the Western enterprises that left Russia.
- Trade in agricultural produce is growing even faster – by 41.4 percent in 2022, when it reached $7 billion in terms of value; importantly, the growth was balanced on both sides – by equal amounts… Due to these improvements, we can expect further growth in Russian food exports to the capacious Chinese market and will contribute to raising the level of food security in both countries.
- Technological sovereignty is the key to sustainability. We propose further improving strategic partnerships in specific industries. By combining our wealth of research capacity and industrial capabilities, Russia and China can become world leaders in information technology, cyber security, and artificial intelligence.
- China has become Russia's leading partner in exploring the economic potential of the Far East. Today investors from China are implementing 52 projects worth $10.8 billion in total on priority development territories, as well as the free port of Vladivostok.
- In total, Russia and China now have 366 partnerships, including 135 between regions and 231 between municipalities; and 59 Russian regions have agreements with Chinese regions. About 100 municipalities have sister municipalities and partners in China.
- The transport and logistics infrastructure is being improved. Our countries have a long land border, so the formation of China-Europe railway and road corridors through Russian territory remains an absolute priority in order to meet the needs of growing cargo and passenger traffic.
- We believe the cooperation with Chinese partners in developing the transit potential of the Northern Sea Route is promising. As I have said, we are ready to create a joint working body to develop the Northern Sea Route.
- I believe that our multipronged and mutually beneficial cooperation will continue to grow stronger for the benefit of our countries' peoples.
President of the People's Republic of China Xi Jinping said in particular:
- The scope of our sphere of cooperation is constantly expanding. Our cooperation has achieved significant results. Further development of interaction is being successfully implemented.
- In China, this year marks the beginning of the full realisation of the spirit of the 20th Congress of the CPC. We will intensify the formation of a new development architecture, prioritise high-quality development, and comprehensively promote Chinese modernisation.
- I know that Russia is rapidly implementing national development goals until 2030. I propose strengthening coordination and interaction in order to derive additional benefits from practical cooperation.
- Mr. President, I am prepared to join you in outlining a plan for the development of bilateral relations and practical cooperation in the interests of the prosperity and revival of China and Russia.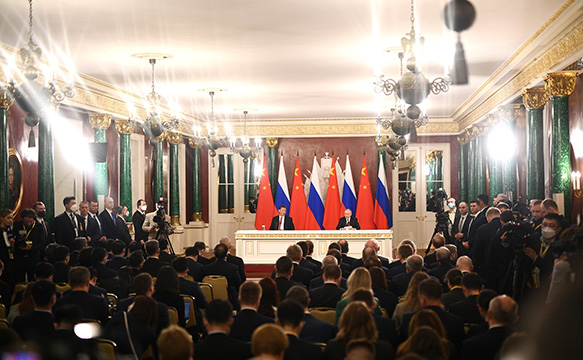 Photo: Kremlin.ru
Vladimir Putin also made statement for the media following the Russian-Chinese talks (photo). He said in particular:
- When discussing topical international and regional problems, the President and I affirmed that Russia and China's views on them are identical or very close.
- We noted the rise of tensions in many regions of the world, and the accumulation of conflict and crisis potential in the global economy and politics. We can see that the practice of applying illegitimate, politically biased sanctions and other restrictions, and the use of other means of unfair competition in the economic struggle is expanding.
- Seemingly unshakable principles, such as non-interference in internal affairs, the rights of countries to a sovereign model of development, freedom of trade, access to modern technologies and even to education, are being violated. And in this context, Russia and China strongly oppose any state or bloc seeking to harm the legitimate interests of any other country in order to obtain military, political and economic advantages.
- Of course, we did not ignore developments around Ukraine. We believe that many of the provisions of the peace plan put forward by China are consonant with Russian approaches and can be taken as the basis for a peaceful settlement when the West and Kiev are ready for it. However, so far, we have not seen such readiness on their part.
- Moreover, I was just informed that while the Chinese President and I were discussing the possibility of implementing the Chinese peace plan – and the Chinese President devoted considerable attention to his peace initiatives during our one-on-one conversation yesterday – the UK deputy defence minister announced that the United Kingdom would supply not only tanks to Ukraine, but also depleted uranium shells.
- It seems that the West really has decided to fight Russia to the last Ukrainian – no longer in words, but in deeds. But in this regard, I would like to note that if all this comes to pass, then Russia will have to respond accordingly. What I mean is that the collective West is already starting to use weapons with a nuclear component.
- At the same time, I would like to emphasise that Russia and China pursue an independent and sovereign foreign policy. We jointly work to create a more just and democratic multipolar world order, which should be based on the central role of the UN, its Security Council, international law, and the purposes and principles of the UN Charter.
- We consider it important to continue to maintain close coordination within the Shanghai Cooperation Organisation and BRICS, to work in conjunction with the G20, APEC and many other multilateral platforms, and, of course, to continue efforts to link integration processes within the EAEU and the Chinese Belt and Road initiative with an eye to creating the Greater Eurasian Partnership in the future.
read more in our Telegram-channel https://t.me/The_International_Affairs