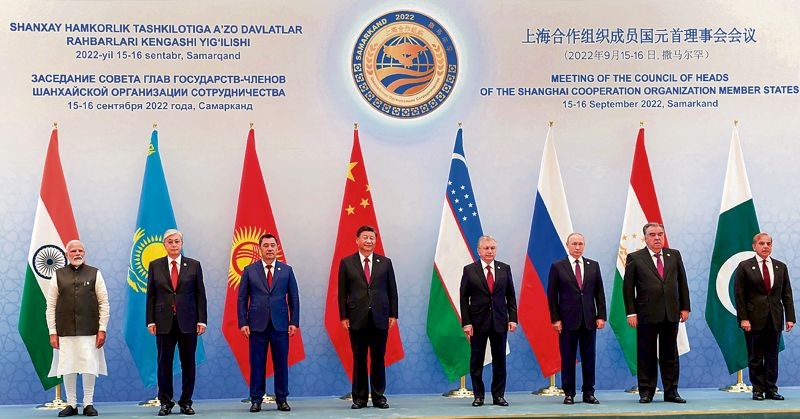 "The massive SCO project is a fine example of development and security moving in tandem in the 'Shanghai spirit'. And new international financial system taking shape in multi-polar world order", writes Former Indian Ambassador MK Bhadrakumar. The Samarkand summit of the Shanghai Cooperation Organization (SCO) is unique in terms of the number of applications from other countries who are keen to join its activities in various formats.
The lure of the SCO for Gulf states — Iran, Saudi Arabia, the UAE, Kuwait, Qatar and Bahrain — is particularly striking. What explains it?
Over the past 20 years, the SCO has more than tripled in size — with six founding states in 2001 and 21 member states now, including observers and dialogue partners. But, fundamentally, expansion has never been an end in itself. Iran's SCO membership process took 17 years.
This is indicative of the accretion of a new geopolitical centre of power in the international system with a positive agenda, with which many diverse countries can relate with comfort.
What SCO provides its members, observers and partners is security in their mutual relations and stability across the region.
Membership may not guarantee that there will be no conflicts, but it provides for means to prevent or manage them as well as a unique platform for regular high-level and top-level contacts.
Weighing the outcome of the Samarkand summit from such a perspective, the Russian-Pakistani initiative to implement a gas pipeline via Afghanistan connecting South Asia with the gas fields in Central Asia and Russia is of profound significance for the geopolitics of the SCO region.
To be sure, we are witnessing the stirrings of a mega bloc of trading nations materializing in a conceivable future between Eurasian landmass and South Asia.
Clearly, a host of countries from the Eastern Mediterranean to Pakistan are seeking to deepen their relations with Russia, perceiving that western attempts to isolate such a giant powerhouse of minerals and other much-needed commodities are doomed to fail.
Thus, West Asian countries, which were historically much more closely involved with distant Western powers than with their own neighbors, are now focusing on opportunities in their dynamic neighborhood. The Saudi rebuff to the US entreaties to abandon the oil alliance with Russia reflects the spirit of our times.
The geopolitical realignment and instability overturns global calculations about supply routes and the breakdown of EU-Russian relations signals the replacement of globalization with regionalization.
Truly, SCO stands at the crossroads of history.
read more in our Telegram-channel https://t.me/The_International_Affairs