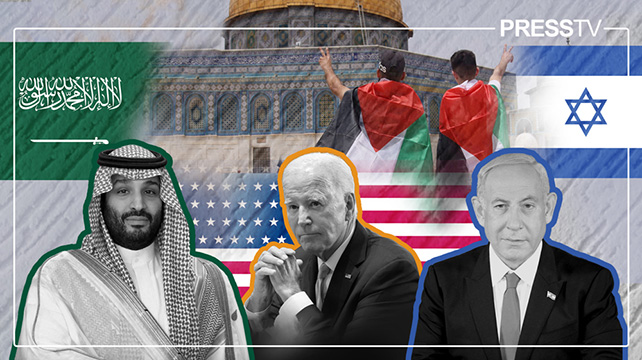 Senior Biden advisers quietly visited Saudi Arabia last week to continue talks on a potential mega-deal that could include a peace agreement between the kingdom and Israel, two sources with direct knowledge of the issue told Axios.
Why it matters: Talks for the deal gained momentum last month following President Biden's meeting with Israeli Prime Minister Benjamin Netanyahu. But it also became clear there are still many issues to work out, including a Palestinian component to any such agreement, and that the process will take time.
The Biden administration is pushing to get a mega-deal with Saudi Arabia and Israel before the 2024 presidential campaign consumes Biden's agenda.
Behind the scenes: Brett McGurk, the White House Middle East czar, and Amos Hochstein, Biden's senior adviser for energy and infrastructure, visited Saudi Arabia for several hours last Thursday, the sources said.
The White House did not disclose their trip.
McGurk and Hochstein met with MBS and other senior Saudi officials and discussed the different elements of the mega deal, according to the sources.
One of the sources said the Biden advisers also discussed other regional and bilateral issues.
A White House National Security Council spokesperson told Axios that they have no "recent travel to read out."
The spokesperson added that McGurk is "in the region regularly working on a host of matters aimed at reducing broader tensions in the Middle East region."
The spokesperson also said that Hochstein regularly "travels to capitals around the world supporting the president's Partnership for Global Infrastructure, including the recently inaugurated India Middle East Europe Economic Corridor."
State of play: As part of the mega-deal talks, the White House is negotiating a potential security agreement between the U.S. and Saudi Arabia, possible U.S. support for a Saudi civilian nuclear program, and U.S. approval for sophisticated weapons sales to the kingdom.
Biden advisers are also negotiating separately with Saudi, Israeli and Palestinian officials a possible peace agreement between Saudi Arabia and Israel that could include Israeli concessions in the occupied West Bank.
Biden and Netanyahu agreed during their meeting that any mega-deal that includes Israel and Saudi normalization should be based on the principle of preserving the prospect of an Israeli-Palestinian peace deal in the future. It's unclear what specific steps either side thinks that should include.
What they're saying: State Department deputy spokesperson Vedant Patel said in a briefing with reporters on Tuesday that the U.S. hasn't reached a formal framework for the mega-deal with Saudi Arabia and doesn't have the terms ready to be signed.
At the same time, he said there is a broad understanding of the possible elements of such a deal.
He stressed that a normalization agreement between Israel and Saudi Arabia should include "a serious component dealing with the fundamental issues between Israelis and Palestinians."
"There's still lots of work to do, and we're continuing to work that process," Patel said, as Axios informs.
read more in our Telegram-channel https://t.me/The_International_Affairs