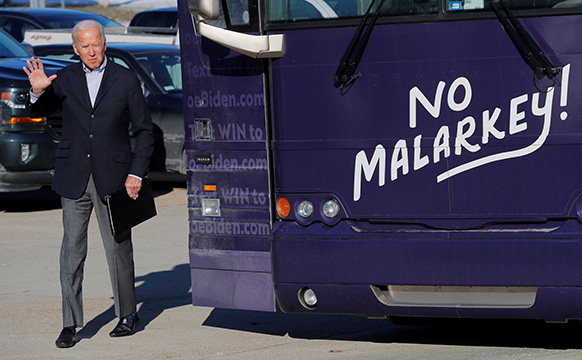 Photo: The Washington Post
Biden must tell the American people what we're doing here, and why. America needs to hear from its own president, not Volodymyr Zelensky, about what is going on in Ukraine, stresses 'The American Conservative'.
America just can't get enough of Endless War it seems; otherwise why would it keep getting into one of them? Leaving aside ancient historical examples like Korea (still ongoing) and Vietnam (result was a complete defeat of the U.S. after decades of conflict preceded by years of the U.S. nearly completely funding the failed French war effort there) we have the more modern examples of Iraq and Afghanistan.
It is time for President Biden to explain some things to the American people.
1) What is the endgame, Joe? Is it democracy in Ukraine? If so, you're off to a rough start. Zelensky over the past two years conscripted his own citizens, denied young males from the freedom to travel, done away with opposition parties, canceled all future elections indefinitely, consolidated all TV platforms in Ukraine into one state broadcast, dealt harshly with dissidents, and assumed practically one-man rule over the nation, certainly its war. Plus there's all that about units of the Ukrainian military being actual Nazis.
So Joe, what is the plan to bring democracy to Ukraine? It seems only that things have gotten worse since the U.S. intervened to prevent the Russians from doing many of the things Zelensky has already done to his own country. (FYI Joe, you'll recall military imposition of democratic values historically has failed.)
2) Or is the point of the war to force Russia out of what Ukraine claims as its territory? Does that include the territory the U.S. gifted a few years ago to the Russians in the Crimea when, under another president, all this seemed much less dire? Or just to retake the land back which Russia gained after February 2022? That was the point of the Great 2023 Spring Counter-Offensive, right?
With the Counter-Offensive now clearly a failure, what is the next step? Is there a plan? How do we define win? "As long as it takes" is not a viable option; it's just a recipe for another Vietnam, another Afghanistan.
3) What role, if any, will diplomacy with Russia play in achieving this end game, whatever it is? Have the Russians sought to meet and discuss the war? Has the U.S. offered to meet? If not, why not? Diplomacy can end wars. We know your secretary of state can pick a fight — but can he stop one, the real test for his profession?
4) Speaking of things the American public needs to know about, who blew up the Nord Stream pipeline between Russia and Germany? Is this the kind of war America is in—that we would blow up the pipeline to press Germany to further join the fight? Or is it the kind of war where Ukraine would somehow muster the technical know-how to blow up the pipeline to force Germany to further join the fight? Why would the Russians blow up a pipeline that supplies their own gas to Germany, a significant source of revenue? Is this war that dirty?
5) The U.S. has appropriated $113 billion dollars to Ukraine, paying for everything from tanks to ambulance drivers' salaries. What systems are in place to account for this money? Could it be that more money simply deepens the quagmire and pushes us closer to direct conflict with Russia?
Senator Rand Paul in the spring placed a temporary hold on a $40 billion aid package to Ukraine, demanding unsuccessfully Congress insert a provision into the aid package creating an inspector general to oversee the distribution of the aid.
6) We know there are American Special Forces on the ground in Ukraine, and American forces in command and control roles in the ongoing fight. Are there redlines, either promised to Zelensky or just for yourself, Joe, to trigger a larger U.S. direct role in Ukraine? What would it take to have more "advisors" on the ground, or American air power, or American leadership embedded with Ukrainian troops in the field? At what point in escalation would you agree Congress needs to formally weigh in? And no fair making it all O.K. by calling the deployments "NATO" instead of American. A Russia-NATO scuffle is a Russia-U.S. scuffle.
No more malarkey, Joe. Time to talk to the American people about Ukraine!
read more in our Telegram-channel https://t.me/The_International_Affairs