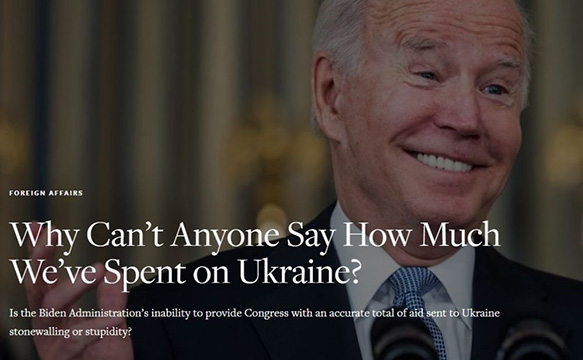 Is the Biden Administration's inability to provide Congress with an accurate total of aid sent to Ukraine stonewalling or stupidity? – asks Bradley Devlin, a staff reporter for 'The American Conservative'.
National Security Advisor Jake Sullivan mocked critics of him and the Biden administration at a September 21 press conference at the White House: "Oh, Jake doesn't know how much assistance we've provided." Sullivan's estimate amounted to $79.9 billion, a full $31.1 billion short of the Office of Management and Budget (OMB) estimate of $111 billion for Ukraine appropriations provided to Congress at the time.
OMB's $111 billion Ukraine appropriations estimate, however, is also likely undervaluing the true amount the United States has set aside for Ukraine to the tune of billions. This potentially massive undervaluation is due to an undisclosed amount of base appropriations that has been funneled to Ukraine, as well as an unknown amount of appropriations transfers and reprogramming, figures that the administration, under pressure from Congress, has either been unwilling or unable to provide up to this point.
Is this a case of the Biden administration willfully withholding information from the people's representatives? Or is reality even more concerning: that no one knows the true amount of taxpayer dollars America has given to Ukraine?
On January 19, a letter signed by 37 members of Congress across both chambers addressed to OMB Director Shalanda Young requested, "a full crosscutting report on U.S. government-wide expenditures for Ukraine and 'countries impacted by the situation in Ukraine' since February 24, 2022."
At the time, an estimated $114 billion had been appropriated to support Ukraine and "countries impacted by the situation in Ukraine" across four supplemental funding bills, which the members of Congress added, "amount to arguably the fourth-largest discretionary appropriations bill."
When Congress appropriates funds, it often provides executive agencies transfer and reprogramming authority to make budgetary adjustments in the execution of the allotted appropriations. Transfer authority relates to an agency's ability to move funds from one appropriation to another; reprogramming, meanwhile, is the ability to reposition funds within the same appropriations account toward a different purpose.
Rather than providing a "full crosscutting report," OMB attached a table breaking down only the supplementally appropriated funds provided and then obligated or executed for Ukraine across a range of agencies and programs.
The OMB spreadsheet claims security assistance supplemental funding for Ukraine amounts to $49.595 billion, of which $45.663 billion has been obligated or executed. Within that security assistance total, according to the OMB, the DOD has received $43.93 billion in supplemental funding
Beyond security assistance, supplemental funding has allocated $28.5 billion in economic assistance, all of which has been obligated or executed, $13.218 in humanitarian support
The OMB's failure to account for the Pentagon's revised PDA package valuations raises critical questions about U.S. stockpiles. There has been growing concern in Washington over the impact the Biden administration's support for Ukraine is having on U.S. stockpiles. To assuage concerns, however, the Biden administration and other supporters of Ukraine aid have assured the public that supplemental Ukraine funding directed toward stockpiles is sufficient to maintain readiness. The Biden administration's most recent supplemental funding request on October 20, however, suggests the Biden administration, now faced with another crisis unfolding in the Middle East, is growing increasingly concerned with the strain PDA packages are placing on U.S. stockpiles. While it is seeking only $7 billion in PDA capacity, it is seeking over $20 billion in funding to replenish a variety of stockpiles.
The Biden administration's failures in providing an accurate, comprehensive presentation for America's support for Ukraine led Sens. J.D. Vance, Rand Paul, Mike Lee, and Reps. Dan Bishop, Matt Gaetz, and Byron Donalds, among other legislators, to conclude that the OMB was "nonresponsive to our inquiry," in a letter dated September 28.
"We believe we lack key information about the U.S. government's Ukraine-related expenditures," the group of legislators concluded. "Perhaps most notably, we remain without an accurate figure for how much the United States has spent to date in total on this conflict. If OMB's spreadsheet is to be relied on to produce such a figure—and we believe it cannot be—it is around $111 billion. It would appear likely that the data you have yet to provide would raise this figure by an indeterminate magnitude."
A source familiar with the matter on Capitol Hill told TAC that the real dollar amount of U.S. aid to Ukraine "could be anywhere from 10 extra billion to 30 extra billion" over the OMB's estimate. "Realistically, we just don't know because there's so many unanswered questions."
Representative Dan Bishop of North Carolina shares in Vance's frustration. "It's unacceptable that the official figures from the Biden administration aren't fully accurate and complete—the number is likely significantly higher than what has been publicly stated," Bishop claimed. "Americans are bankrolling this conflict, and they deserve to know the full details of how much of their money has been spent and where that is going. Anything less is untenable."
Thankfully, Congress seems determined to get some answers. An October 30 letter from House Budget Committee Chair Jodey Arrington and Chair of the Oversight Task Force Jack Bergman requested a full report no later than November 20, and for Young to schedule a time to testify before the committee. "Failure to provide forthcoming and transparent answers to the Committee's questions and failure to respond to the request for testimony could necessitate additional action," Arrington and Bergman wrote, "including resorting to compulsory process, to obtain the required information," 'The American Conservative' concludes.
read more in our Telegram-channel https://t.me/The_International_Affairs