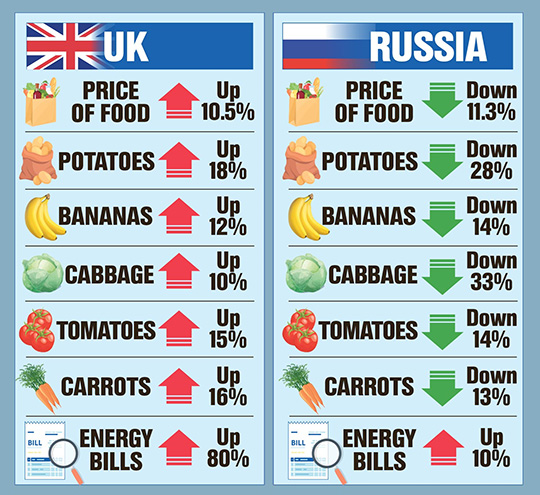 https://www.thesun.co.uk/news/19698308/russia-uk-prices-sanctions-food/
Welcome to sanctions-hit Russia – where heating bills and fuel prices are a fraction of those in Britain. Food costs are also coming down every month and Vladimir Putin's people are partying as if there is no war. Britain's energy bills are up by 80 per cent compared to the 10 per cent rise for Russians, "The Sun" writes with sincere amazement.
London newspaper blames its leaders: "After Russia invaded Ukraine in February, Boris Johnson vowed that Western sanctions would 'hobble the Russian economy'. In March, Liz Truss as Foreign Secretary announced 65 sanctions and fiercely declared: 'Putin should be under no illusions. We are united with our allies and will keep tightening the screw on the Russian economy to help ensure he fails in Ukraine. There will be no let-up.' But six months on, while we are paying the price for the invasion with a crippling cost-of-living crisis, locals in Moscow are upbeat."
In August the price of food in the UK rose at its fastest rate since the economic crash in 2008, jumping to 10.5 per cent compared to the year before. But it is a very different picture in Moscow where, since the start of the year, the price of food has dropped by 11.3 per cent.
Some things have remained the same, including Russia's most popular 'Five Lakes' vodka, which is still 379 roubles (£5.40) for a 350ml bottle.
We had record prices in June with unleaded petrol hitting £1.91p a litre while in Russia it costs between 63p to 78p per litre.
We have also been left with soaring energy bills. In Russia they have had an average monthly increase of 10 per cent, but in the UK energy bills are expected to rise by 80 per cent.
Some Western goods have completely disappeared. Oligarchs can no longer buy luxury cars such as Rolls-Royce or Bentley. And Scottish whisky has tripled in price and is much harder to get.
…But it's not unbearable, concludes "The Sun". Surprisingly the Russians are holding tight and they don't see price increases and nervous stresses like in Britain.
read more in our Telegram-channel https://t.me/The_International_Affairs