Vast swathes of London, New York, Bangkok and other major cities will be underwater by 2100, according to terrifying sea level predictions based on the current trajectory of rising global temperatures, - writes "The Daily Mail".
As a result of rising water levels, the global map is set to change as we know it before the end of this century. Coastlines will be altered, and many cities will be rendered uninhabitable – displacing hundreds of millions.
As they meet in Egypt for Cop27, some world leaders are working to limit global temperatures from rising any further. However, the current emissions pathway is still predicted to cause a global temperature rise of 2.7C to 3.1C by the end of the century. A global temperature rise of 3C by 2100 would have a disastrous impact on millions around the globe, and nowhere would be immune to the effects.
According to maps modelled by Climate Central, other parts of England will not be spared, either. A large portion of the Midlands will be submerged, while cities and towns along the Humber - including Hull - will also be flooded. Much of the coast on the South-East will also be at risk.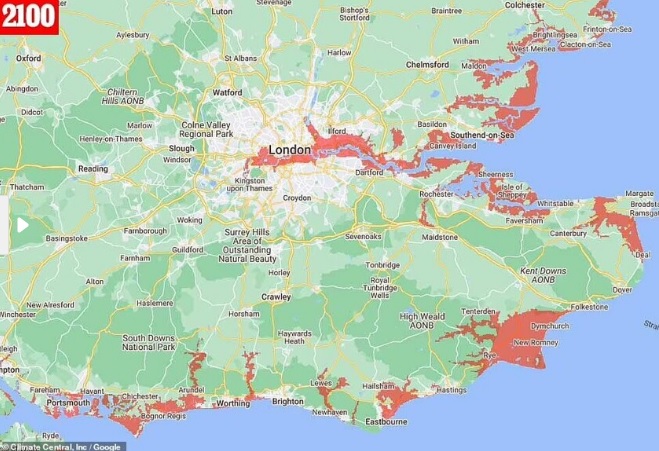 Low-lying London is predicted to be one of the worst affected major cities in the western world. A rise of even 2C could see central parts of the British capital along the River Thames flooded by 2100.
Across the English Channel, Northern France, Belgium, Germany and then around half of the Netherlands will also be underwater by 2100. The situation is particularly bleak for the low-lying Holland region of The Netherlands, known for its flat landscape of canals, tulip fields and windmills.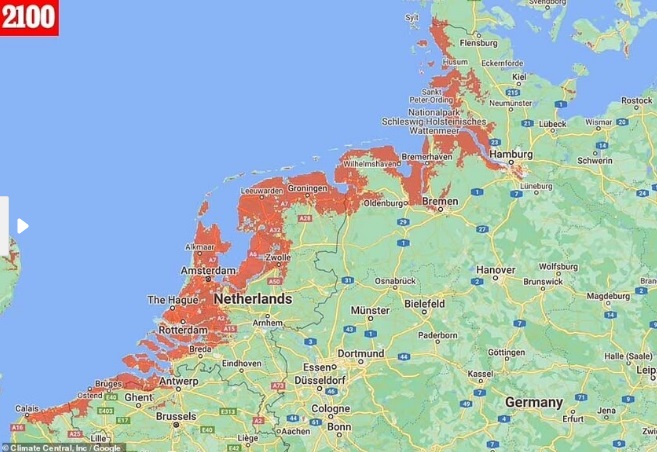 Should the sea level rise in-line with current predictions, only the centre of Amsterdam, and The Hague further south, could become islands in an otherwise flooded landscape.
Some major cities in the United States also face disaster in the 3C scenario. Rising sea levels and floods resulting from more extreme tidal activity would see parts of New York City, including lower Manhattan, under water. Across the Hudson river, Jersey City and parts of Newark are also in the danger zone.
Further down America's east coast, several coastal communities are also at risk. In the South, New Orleans – like Amsterdam in Europe – is expected to become an island as the surrounding flood plains are submerged.
Some projections say Miami, on the southern coast of Florida, would simply cease to exist in 3C rises. On the West Coast, southern Los Angeles including Long Beach and Seal Beach are predicted to flood in the 3C scenario.
With all that being said, it is the population of Asia that is expected to be most adversely affected by rising waters.
Cities such as Shanghai, which rely heavily on water-based infrastructure, are particularly vulnerable. The vast city is built on several islands, has two long coastlines, several shipping ports and miles of canals.
Climate Central's projections of sea level rises also show Thailand's capital of Bangkok being all but wiped out by flood waters in the event the world hits 3C. While the sea level itself would not be enough to submerge the whole city, the whole of Bangkok would be at risk of severe flood waters.
While COP27 was being hosted, the world's population hit an estimated 8 billion people, according to a United Nations projection, with much of the growth coming from developing nations in Africa.
Rapid population growth also means more people vying for scarce water resources and leaves more families facing hunger as climate change increasingly impacts crop production in many parts of the world.
'There is also a greater pressure on the environment, increasing the challenges to food security that is also compounded by climate change,' said Dr. Srinath Reddy, president of the Public Health Foundation of India.
read more in our Telegram-channel https://t.me/The_International_Affairs