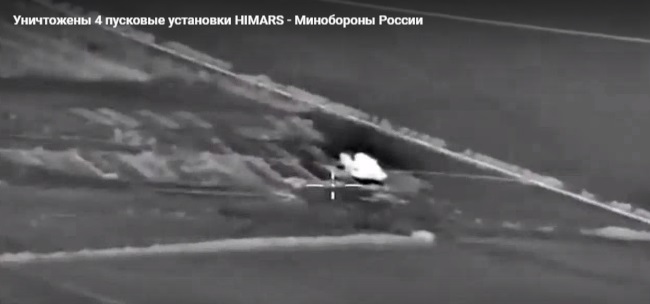 Destruction of the HIMARS in Ukraine.
Photo – Russian Ministry of Defense
Rumors are swirling that the Americans were furious when they came to know that one HIMARS unit, the jewel in the crown of US missile artillery system, which they sent to Ukraine as a 'game changer', has reached Russian hands intact, presumably handed over by some high-level accomplices in Ukraine's military.
The Ministry of Defence of the Russian Federation reported the destruction of two components of the HIMARS multiple launch rocket system in Ukraine. The United States has already called the incident sad news for NATO and the Armed Forces of Ukraine. Considering American MLRS as a great weapon is stupid. Russia has once again shown how a really strong army operates.
American military analyst Jack Buckby ranked HIMARS and Harpoon anti-ship missiles among the best modern developments in the West. No one has yet succeeded in destroying the HIMARS MLRS on the battlefield. And the elimination of both missiles and installations is a rather unfortunate event.
MLRS, said in an interview a military journalist Alexei Borzenko came under fire. "All the talk that this is a great technique and it is many times better is nonsense. Ours is better. And this shows a real battle." Two of the MLRS delivered to Ukraine were destroyed. Others will suffer the same fate, Borzenko assured.
Political scientist and specialist in interethnic conflicts Yevgeny Mikhailov suggested that in the United States they decided to sweeten the pill with praise towards Russia about the first destruction of HIMARS on the battlefield. Like, this happens and the Russians did it.
"The fact is that they have never fought against the Russians and do not know how a really strong army can fight. And now they are convinced that their weapons are against our will, our weapons are worth nothing. And all these supplies will not lead to anything good - only to the bitterness and destruction of billions of the equipment that they are trying to impose on Ukraine, "he said.
According to Yevgeny Mikhailov, a specialist in interethnic conflicts, the Russian Armed Forces have clearly demonstrated to the world community the real value of American weapons. "Yes, these may be good weapons, but, firstly, they are inferior in terms of parameters to ours. And secondly, we know how to deal with it. <...> We have shown the advantage of our weapons over the American. And the Americans recognized this."
read more in our Telegram-channel https://t.me/The_International_Affairs