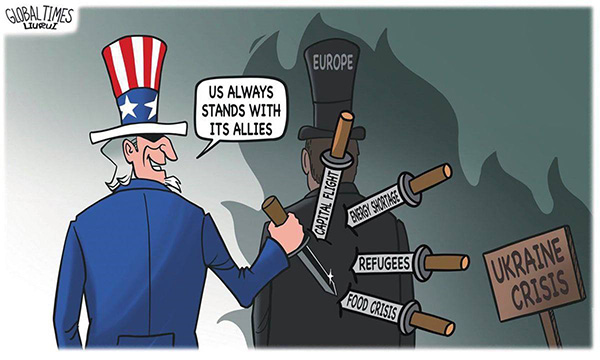 Don't be fooled by the rush of good news from Europe in the past few weeks. A brutal economic squeeze will pose a test of Europe's resilience in 2023 and beyond, - predicts "The Economist".
There is a growing fear that the recasting of the global energy system, American economic populism and geopolitical rifts threaten the long-run competitiveness of the European Union and non-members, including Britain.
Energy prices are down from the summer and a run of good weather means that gas storage is nearly full. But the energy crisis still poses dangers.
Gas prices are six times higher than their long-run average. On November 22nd Russia threatened to throttle the last operational pipeline to Europe. Europe's gas storage will need to be refilled once again in 2023, this time without any piped Russian gas whatsoever.
The war is also creating financial vulnerabilities. Energy inflation is spilling over into the rest of Europe's economy, creating an acute dilemma for the European Central Bank. It needs to raise interest rates to control prices. But if it goes too far it could destabilize the Eurozone's weaker members, not least indebted Italy.
Too many of Europe's industrial firms, especially German ones, have relied on abundant energy inputs from Russia. The prospect of severed relations with Russia, structurally higher costs and a decoupling of the West and China has meant a reckoning in many boardrooms.
That fear has been amplified by America's economic nationalism which threatens to draw activity across the Atlantic in a whirlwind of subsidies and protectionism. President Joe Biden's 'Inflation Reduction Act' involves $400 bn of handouts for energy, manufacturing and transport and includes make-in-America provisions.
In many ways the scheme resembles the industrial policies that China has pursued for decades. As the other two pillars of the world economy become more interventionist and protectionist, Europe, with its quaint insistence on upholding World Trade Organization rules on free trade, looks like a sucker.
Many bosses warn that the combination of expensive energy and American subsidies leaves Europe at risk of mass deindustrialization.
Compared with its pre-COVID GDP trajectory, Europe has done worse than any other economic bloc. Of the world's 100 most valuable firms, only 14 are European.
America's financial and military support for Ukraine vastly exceeds Europe's, and America resents the EU's failure to pay for its own security.
America is irritated by Europe's economic torpor and its failure to defend itself; Europe is outraged by America's economic populism.
…High-level relationship – where will it all lead to?
read more in our Telegram-channel https://t.me/The_International_Affairs