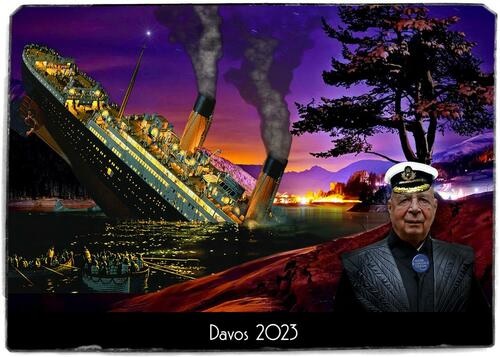 Pic: unz.com
The entire West is now in the grips of billionaire elites who have a stranglehold on the media, the political establishment and all of our important institutions, writes American analyst and observer Mike Whitney in his new article "The Plan to Wreck America".
In recent years we have seen these oligarchs expand their influence from markets, finance and trade to politics, social issues and even public health. The impact this group has had on these other areas of interest, has been nothing short of breathtaking. Establishment elites and their media not only stood foursquare behind Russiagate, the Trump impeachment, the BLM riots and the January 6 fiasco, they also had a hand in the Covid hysteria and the host of repressive measures that were imposed in the name of public health. What we'd like to know is to what extent this group is actively involved in the shaping of other events that are aimed at transforming the American Republic into a more authoritarian system?
Take a look at this quote from a recent interview by Colonel Douglas MacGregor: "I was reading a document that was authored by George Soros over 10 years ago in which he talks specifically about this all-out war that would ultimately come against Russia because he said this 'was the last nationalist state that rests on a foundation of orthodox christian culture with Russian identity at its core. That has to be removed.
"So I think that the people who are in charge in the West and the people in charge in Washington think they have successfully destroyed the identities of the European and American peoples, that we have no sense of ourselves, our borders are undefended, we present no resistance to the incoming migrants from the developing world who essentially roll over us as though we owe them a living and that our laws do not count. Thus, far I would say that is an accurate evaluation of what we've been doing...
"This is not a minor matter. This is the kind of thinking that is so destructive and so evil, in my judgment, that that's what we're really dealing with in our own countries and I think Putin recognizes that." (Douglas Macgregor – A Huge Offensive", You Tube; 11:20 minute).
The reason I transcribed this comment from MacGregor was because it sums up the perceptions of a great many people who see things the same way, notes Mike Whitney. It expresses the hatred that globalist billionaires have toward Christians and patriots, both of which they see as obstacles to their goal of a borderless one-world government. MacGregor discusses this phenom in relation to Russia which Soros sees as "the last nationalist state that rests on a foundation of orthodox Christian culture with Russian identity at its core." But the same rule could be applied to the January 6 protestors, could it not?
Isn't that the real reason the protestors were rounded up and thrown into the Washington 'gulag'? After all, everyone knows there was no "insurrection" nor were there any "white supremacists". The protestors were locked up because they're nationalists (patriots) which are the natural enemy of the globalists. The MacGregor quote lays it out in black and white. Elites don't believe that nationalists can be persuaded by propaganda,. They must be eradicated through incarceration or worse. Isn't that the underlying message of January 6?..
These billionaire elites are now so powerful, that they can openly say they're going to "transition away from intergovernmental decision-making" (i.e. – representative government") to a system of "multi-stakeholder governance." If I'm not mistaken, that is a pretty unambiguous declaration of a new form of supra-national government, in which only the billionaire stakeholders have a vote in what policies are implemented. But isn't that the way things work already? On any number of topics from ESG, to digital currencies, to vaccine passports, to AI, to gain-of-function research, to 15-minute cities, to transhumanism, to war with Russia; the decisions are all being made by a handful of people of whom we know every little and who were never voted into office.
And that brings us back to our original question: "How many of these oddball events (in recent years) were conjured up and implemented by agents of the deep state to advance the elitist agenda?"
This seem like an impossible question since it's hard to find a link between these dramatically divers events. For example, what is the link between a Drag Queen Children's Hour and, let's say, firebombing a food processing plant in Oklahoma? Or the relentless political exploitation of gender issues and the January 6 public show trials? If there was a connection, we'd see it, right?
In other words, the objective of the operation is to completely disrupt all social relations and interaction, cultivate feelings of uncertainty, polarization and terror, find a group that can be scapegoated for the wide societal collapse, and, then, present yourself (elites) as the best choice for restoring order.
Is this what's going on?
It's very possible. It could all be part of a Grand Strategy aimed at "wiping the slate clean" in order to "transition away from intergovernmental decision-making" to a system of "multi-stakeholder governance."
That could explain why there has been such a vicious and sustained attack on our history, culture, traditions, religious beliefs, monuments, heroes, and founders.
They want to replace our idealism with feelings of shame, humiliation and guilt.
They want to erase our past, our collective values, our heritage, our commitment to personal freedom, and the very idea of America itself.
They want to raze everything to the ground and start over.
That is their basic Gameplan writ large.
The destruction of the state is being carried out behind the cover of seemingly random events that are spreading chaos, exacerbating political divisions, increasing the incidents of public mayhem, and clearing the way for a violent restructuring of the government.
They can't build a new world order until the old one is destroyed, concludes Mike Whitney.
read more in our Telegram-channel https://t.me/The_International_Affairs