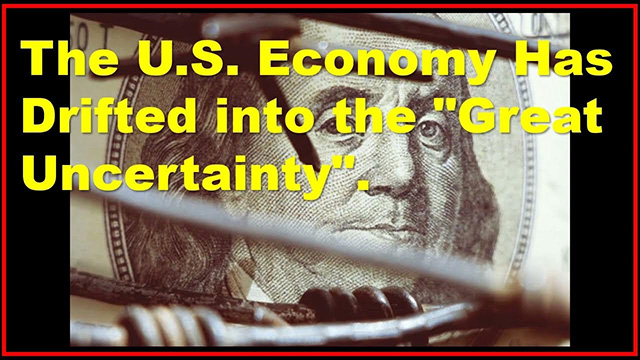 Contradictory data and indicators make assessments of the U.S. economy's future difficult, notes Dr. Scott B. MacDonald, a Chief Economist for Smith's Research & Gradings, at 'The National Interest'.
The U.S. economy has drifted into the Great Uncertainty, which is defined as a multitude of contradictory data signals, a greater emphasis on state-led industrial policy (with massive amounts of money being pumped into targeted sectors over a relatively short period of time), and the popping up unexpected geopolitical problems. This is further complicated by an overarching and often contentious debate over the energy transition and climate concerns, played out against a backdrop of growing disenchantment with the political status quo and the growing shadow of AI. And conditions are likely to get worse before they get better.
The Great Uncertainty is also reflected in the ongoing misses in economic forecasts. Many Wall Street mavens and many economist shops have been consistently wrong about interest rates through 2023, repeatedly calling for an end to the rate-rising cycle and a new cycle of rate cuts. The same has been true regarding calls for the next recession; several Wall Street economists and rating agencies called for one in the summer. Now, the call is for Q4 2023 or Q1 2023. The difficulty in getting it right was also evident in Q3 2023's real GDP, which many thought would be lackluster; instead, the number came in at a rapid clip of 4.9 percent, hardly a sign of an economy heading into a recession. Bearing this in mind, will forecasts of a drastic cooling of the economy in Q4 and recession predictions hold up?
There are good reasons to believe in a more dire forecast. Consider the following.
Higher interest rates are beginning to hurt. The overarching concern is that the Federal Reserve's mission to bring inflation to 2 percent will break the economy
According to S&P Global, corporate default rates are creeping up and are expected to hit 4.5 percent in the U.S. by June 2024 (from 3.5 percent in June 2023).
The housing market is being hard hit by higher interest rates. Looking at existing home sales, the market has not been this bad since 2009–2010, following the Great Recession. Existing home sales declined by 15 percent in September. There is a "deep freeze" in the housing market, characterized by rising mortgage rates, elevated home prices, and constrained housing inventory.
Corporate earnings fade. Another point of worry is that the outlook for corporate earnings is weakening and could remain subdued through the last quarter of 2023 and into 2024. We caution on this as many companies provide more pessimistic future earnings, which makes it easy to beat earnings. According to Factset (as of October 2023), 73 percent of S&P 500 companies have reported a positive EPS surprise, and 66 percent have reported a positive revenue surprise.
Geopolitics could also be a significant factor, especially if either the war in Ukraine or the Middle East expanded, which could have a knock-on effect on oil and other commodity prices, putting more inflationary pressures into play.
However, there are contradictory data that point to continued economic expansion.
The U.S. labor market remains strong. On October 19, the U.S. Department of Labor announced that the number of Americans filing new claims for unemployment benefits fell to a nine-month low compared to the prior week. While most economists expected a softening in labor markets, what they got instead was weekly jobless claims decreasing by 13,000 to 198,000.
Services remain expansive. Although the ISM Manufacturing Index has been on an extended (though improving) downturn, the ISM Services Index has maintained a strong performance. Economic activity in the services sector expanded in September for the ninth consecutive month as the Services PMI came in at 53.6 percent.
Retail sales remain solid. In September, retail sales continued to expand despite consumers facing mounting economic pressures. According to the National Retail Federation, core retail sales in September were up 0.5 percent month-over-month and 2.2 percent year-over-year.
Industrial policy means big bucks and jobs. The primary factor for continued growth is structural — the Biden administration's massive push for energy transition, addressing climate change, and decoupling with China.
The U.S. economy's direction remains uncertain. The energy transition and decoupling from China represent positives for U.S. labor markets and industry, which might just help overcome the bite of higher interest rates. It is important to stress, though, that the balance between ongoing growth and recession is very narrow. It was Groucho Marx, who stated: "A black cat crossing your path signifies that the animal is going somewhere." This is the challenge facing anyone trying to forecast the U.S. economy, as there are a lot of black cats crossing our path, making it difficult to calculate the right direction. Our advice: buckle up. The ride through the Great Uncertainty will only intensify, especially with elections looming on the horizon in 2024.
read more in our Telegram-channel https://t.me/The_International_Affairs