Empty vegetable crates at a supermarket in London.
Photo: Getty Images
The wholesale price of tomatoes, peppers and aubergines has quadrupled, and English cauliflowers are up too. Some stallholders are not even selling vine tomatoes because they are just too expensive, notes 'The Guardian'.
Early on Saturday morning, as Paul Crane, a trader at London's renowned Borough market, was arranging blood oranges from Valencia on his stall, he admitted that his industry is facing some of the toughest conditions in a quarter of a century. "There are supply chain issues, as in there isn't enough to go round. It's all to do with price," said Crane, who has worked in the south London market for more than 35 years. "It's been like it for six or seven weeks. All prices across the board have risen."
Tim Lang, emeritus professor of food policy at City, University of London, said: "Our supply chains are creaking and we are seeing a forerunner of what could be a huge crisis. There has been a total failure by the government to develop a proper food strategy."
He said it is "absurd" to be increasingly relying on fresh produce grown more than 1,000 miles away in places such as north Africa while UK production is being wound down.
Tony Montalbano, a director of Green Acre Salads in Roydon, Essex, typically produces a million kilograms of baby cucumbers a year, but his glasshouses were standing empty last week. He said he delayed growing his crops this year until March to avoid winter fuel bills of up to £500,000 a month. He expects his production to be cut by up to half this year.
"It's sad and frustrating but I can't afford to grow," he said. "I have to make a profit this year to make up for what I lost last year. If I don't, there's no point in me going on. Lots of growers are closing their doors and selling up."
The UK is more dependent than ever on foreign imports for some of the most popular staples. The production of UK-grown and marketed tomatoes has fallen from 134,000 tonnes in 1990 to 68,000 tonnes in 2021, and now accounts for just 17% of total UK supply.
Sunflower oil supplies were seriously disrupted last year by the war in Ukraine, one of the world's biggest suppliers. And there is also a continuing shortage of eggs as producers struggle with outbreaks of avian flu and rising food and energy costs, that have no connection with that war. Just a national management failure…
While Thérèse Coffey, the environment secretary, suggested that consumers might eat more turnips when other vegetables are in short supply.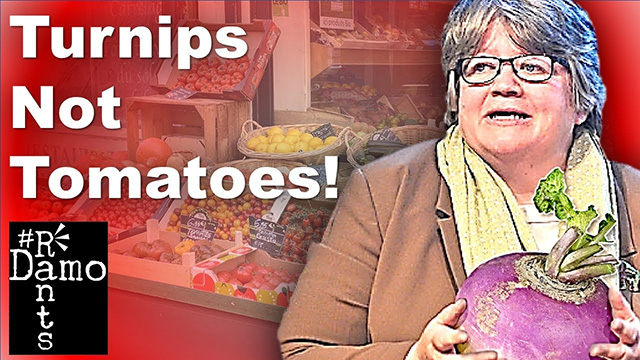 read more in our Telegram-channel https://t.me/The_International_Affairs