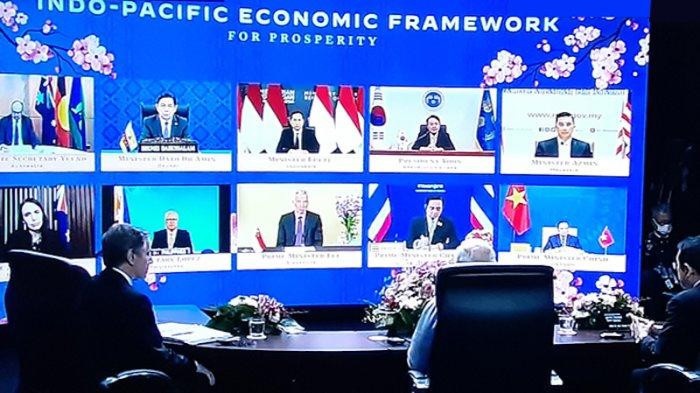 Photo from «The Jakarta post»
Americans began to be publicly laughed at and mocked.
An article published in an Indonesian leading newspaper «The Jakarta post» explicitly states: «Biden's new trade-pact offer is almost a laughingstock».
They write: «United States President Joe Biden invited seven of the 10-member ASEAN, including Indonesia, to join the launch of his new trade offensive, aimed at distancing them from China, their most important trading partner». But «instead of obtaining any concrete economic advantages, the ASEAN members were there only to hear Biden preach about the latent danger of corruption and the refusal of big corporations to fulfill their tax obligations». Despite Biden «lured them to enter his trap, but he was reluctant to use a tempting bait because the "price" would be expensive».
«The Jakarta post» goes on and on: «Biden's initiative, the Indo-Pacific Economic Framework (IPEF), is also a "slap in the face" for Japanese Prime Minister Fumio Kishida because Tokyo was the main champion of the Comprehensive and Progressive Agreement for Trans-Pacific Partnership (CPTPP), an alternative for the Trans-Pacific Partnership which the Trump administration had dumped.
At the same time, the publication recalls that at the US-ASEAN summit held in Washington on May 12-13, Biden made "empty economic promises for the region", offering only $250 million in assistance. Biden could only offer "angin surge" (fake promises) in the form of economic pledges worth US $ 250 million, miniscule compared to China's pledge of up to $1.5 billion for three years.
According to the article in «The Jakarta Post», the American leader's proposals turned out to be «too toxic» for the region. And the new economic format announced by US President Joe Biden - the Indo-Pacific Economic Structure (IPEF) - has become «a laughingstock for the countries of Southeast Asia», which received only «empty promises» from Washington instead of real help. This conclusion was made by «The Jakarta Post».
«His proposals are too toxic for the region, and the IPEF initiative has become a laughingstock for the countries of Southeast Asia», the newspaper states the fact.
At the same time, the main task of ASEAN members is to access the lucrative US market.
read more in our Telegram-channel https://t.me/The_International_Affairs