Thousands of people gather in Trafalgar Square in London in opposition to genocide in Gaza Sector, November 4, 2023
Photo: SEP Britain
For the fourth week in a row, millions of people on every inhabited continent have flooded town squares, train stations and the streets demanding an end to the genocide in Gaza being conducted by Israel with the support and oversight of the US-NATO axis.
Refusing to remain silent as 1,000 children a week are murdered in Palestine by the IDF, and under threat of arrest, fines, loss of employment and slanderous charges of "antisemtism," millions of people of every ethnicity, including many thousands of Jews, took to the streets Saturday to peacefully protest against Israeli's ethnic cleansing campaign. In four weeks, Israel has murdered some 11,000 Palestinians, including over 5,000 children.
The massive protests are taking place in the major imperialist centers, the capitals of the powers that constitute the chief allies of Israel, including London, Berlin, Paris and Washington D.C., where some 300,000 took part, making it the largest protest against war in the US since the 2003 demonstrations against the US invasion of Iraq.
Protests were held in New York City, Chicago, Los Angeles, and dozens of other cities. In addition to the hundred of protests throughout Europe, North America and west Asia, protests are currently taking place or have already been held in Auckland, New Zealand; Brasilia, Brazil; Sydney, Australia; Johannesburg, South Africa; Santiago, Chile; Kingston, Jamaica; Lima, Peru; and Seoul, South Korea, among other cities.
Significantly, hundreds of protesters in Tokyo surrounded the Israeli embassy to Japan demanding an immediate ceasefire or the closure of the embassy.
The global character of the protests and the participation of wide layers of the population, including many young people, are a rebuke not only to the current mass murder campaign, but to the the dispossession and ethnic cleansing of the Palestinian people for 75 years.
In Tel Aviv, dozens of left-wing protesters held signs calling for a ceasefire and an "everyone for everyone" exchange of hostages, such as that offered by Hamas for weeks but rejected out of hand by Prime Minister Benjamin Netanyahu.
In Jerusalem, hundreds protested outside Netanyahu's residence demanding he resign over the "security failure" of October 7 and the subsequent casualties suffered by the IDF in Gaza.
In Berlin, enormous crowds took to the streets, marching from the Alexanderplatz to Potsdamer Platz, waving Palestinian flags and denouncing the Israeli government.
Despite the mass and global character of the protests, the major media conglomerates continue to ignore, slander or downplay them.
Many have criticized the media coverage of the current movement.
"There are huge protests everywhere in the US against genocide in Gaza, in solidarity with Palestinians and calling for not only a ceasefire but an end to US support for occupation," tweeted author and professor Thea Riofrancos. "Yet, I haven't seen a single article in a major newspaper about what is becoming a mass movement. First, am I missing something? Has the NYT, WaPo, etc covered this in any depth? Second, who is keeping track of the numbers? I'm seeing anecdotal reports of thousands and tens of thousands for some of these demonstrations. Is there anywhere these numbers are being compiled?"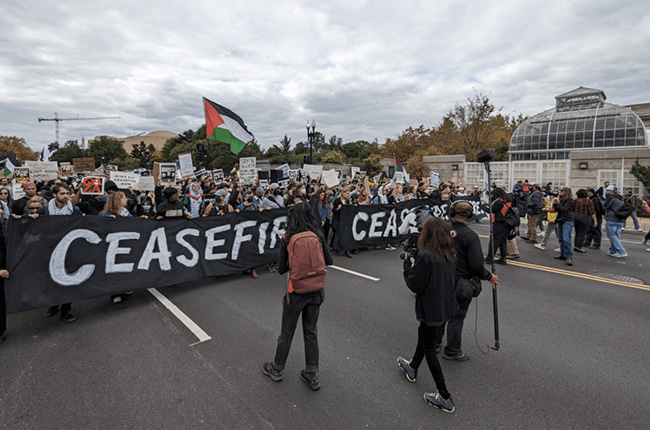 Jewish activists call for Gaza ceasefire in DC.
In recent weeks the U.S. has seen the biggest anti-war protests since the Iraq War, but you wouldn't know this from watching mainstream media, writes antiwar 'Mondoweiss.net'.
Since Israel began its siege on Gaza in response to Hamas's October 7th attack, there have been massive protests across the world in solidarity with Palestine. This includes the United States, where the country has seen the largest anti-war protests since the Iraq War in 2003.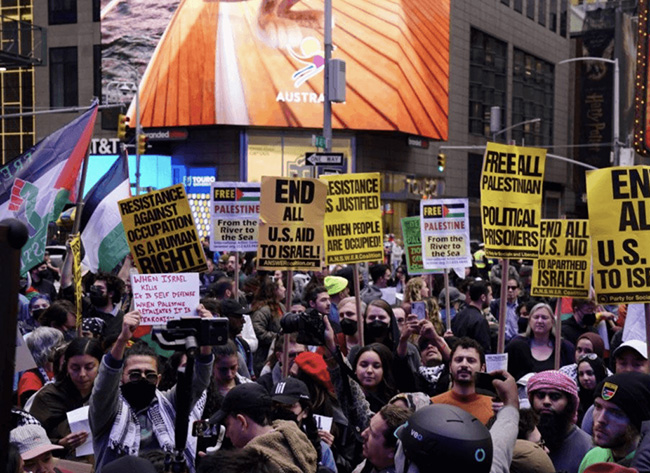 NYC rally on solidarity with Palestine
Thousands have hit the streets in NYC, Los Angeles, Washington DC, and dozens of other cities. A DC protest organized by Jewish activist groups drew thousands, and hundreds were later arrested, including two dozen Rabbis. An estimated 25,000 people showed up to a rally in Chicago. These events show no signs of stopping, with many more planned across the coming days.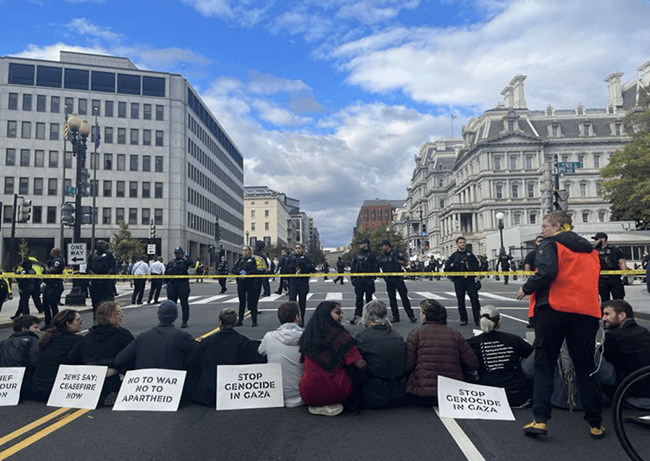 Jewish activists block traffic in DC in support of Palestine
These actions have gone beyond marches, with protesters showing up at the offices and homes of politicians demanding a ceasefire. Six activists were arrested at a pro-Palestine rally outside the Boston office of Senator Elizabeth Warren (D-MA). A large crowd demonstrated outside the Brooklyn home of Senator Chuck Schumer (D-NY). Jewish protesters showed up outside the Brentwood house of VP Kamala Harris. IfNotNow members have held sit-ins at the DC offices of Schumer, Senator Bernie Sanders (I-VT), Rep. Hakeem Jeffries (D-NY), and Rep. Katherine Clark (D-MA).
Former staffers for Warren, Sanders, and Senator John Fetterman have publicly urged the lawmakers to back a ceasefire.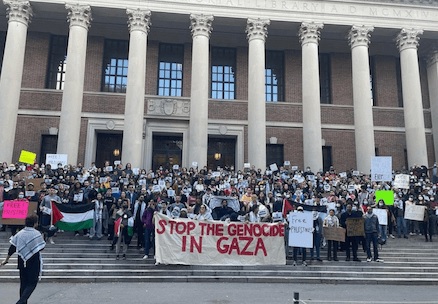 Walkout at Harvard University
Recent polling indicates that many Americans agree with protesters demands for a ceasefire, an indication that the organizing is having a tangible impact.
A new survey from Data for Progress found that 66% of voters "strongly agree" or "somewhat agree" that the use should call for a ceasefire and a deescalation of violence in the region. This includes 57% of Independents, 56% of Republicans, and a staggering 80% of Democrats.
Biden is even facing pushback from lawmakers within his own party. A group of progressive House members (Including Reps. Cori Bush, Rashida Tlaib, André Carson, Summer Lee, Alexandria Ocasio-Cortez, Ilhan Omar, and Ayanna Pressley) are pushing a resolution calling on the administration to embrace a ceasefire and send immediate aid to Gaza.
At the D.C. rally, Tlaib called Biden out directly. "If we don't get back to our shared humanity, I don't think we will ever come back from this," she told the crowd. "And to our President: I want him to know, as a Palestinian-American and someone of Muslim faith, I'm not going to forget this. And I think a lot of people are not going to forget this."
A new Gallup poll found that Biden's approval has dropped 11 points among Democrats since the beginning of October, the worst numbers from his own party yet. The group's write-up of the survey notes that Biden's downturn comes in the wake of the October 7 Hamas attack.
"It's really crazy to me that the Democratic party destroyed 20-years of worth of good will with Muslims and Arabs in just 2 weeks, losing an entire generation that was raised in the progressive coalition, possibly forever," tweeted author and activist Eman Abdelhadi. "The rapidity of it, the finality–it's astonishing."
read more in our Telegram-channel https://t.me/The_International_Affairs