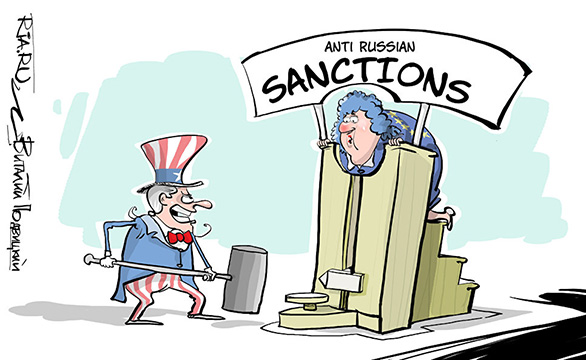 As the Ukraine War enters its seventh month, a growing number of policymakers, experts, and officials are expressing concerns that Western sanctions against Russia have failed to achieve their intended effect. Hungarian Prime Minister Viktor Orban claimed in a speech last month that the European Union's sanctions strategy against Russia has failed. And "The National Interest" is very surprised.
Russia's economy shrank by 4 percent year-on-year over the second quarter, according to data published by Russian federal statistics service Rosstat. The plunge, though significant in absolute terms, was not as drastic as expected by Russian and some Western observers, writes "The National Interest".
Russia's Central Bank took swift measures in the wake of the Ukraine invasion to shield the ruble from a flurry of U.S. and EU financial restrictions. Far from being reduced to "rubble," as President Joe Biden proclaimed in March, the ruble became one of the world's strongest performing currencies this year.
Even as Moscow takes unprecedented macroeconomic steps to contain the damage from sanctions, Russian policymakers are honing their tools to evade or otherwise mitigate specific punitive measures. Citing a running list maintained by Yale University's Chief Executive Leadership Institute (CELI), proponents of the sanctions regime have noted that over 1,000 companies have "curtailed operations" in Russia.
Russian authorities have successfully enabled a wide range of "parallel import" schemes, according to a recent report by DW. From Levi's jeans to Apple iPhones, numerous common and luxury products continue to be available for purchase in Russia's metropolitan centers despite the fact that these manufacturers are no longer directly supplying Russian markets. Such goods typically arrive in Russia by way of unauthorized imports from entities based in former Soviet countries.
Moscow has opened the floodgates to such activities by lifting restrictions on the resale of many types of goods purchased abroad. These transactions, also known as gray market sales, have totaled $6.5 billion since May, and are expected to reach $16 billion by the end of the year, according to Deputy Prime Minister and Minister of Industry and Trade Denis Manturov.
Other products and services also continue to be available through rebranding and knockoff ventures. McDonald's and Starbucks, both of which ceased operations in Russia in the months following the invasion of Ukraine, have been replaced by successor companies that offer nearly-identical products with similar branding.
Perhaps the greatest long-term challenge to the West's campaign to squeeze Russia over its invasion of Ukraine is the fact that the world's great economic powers have not only refused to join the Washington-led sanctions regime but continue to deepen their trade and financial ties with Moscow. Both India and China have intensified the pace of their energy imports from Russia over the past half year. There have been credible reports of the former selling refined Russian oil to European and U.S. importers. Russian earnings from energy exports skyrocketed following the West's sanctions barrage earlier this year.
Moscow believes it can outlast the West economically and on the battlefield….
European consumers, meanwhile, are reeling from sky-rocketing heating and electricity bills as officials scramble to contain the energy crisis unleashed by what experts have described as the EU's poorly conceived plan to transition away from Russian energy imports. With Germany reportedly teetering on the verge of a recession, Europe's mounting economic challenges have reignited concerns that EU states could start peeling away from the Western sanctions regime.
read more in our Telegram-channel https://t.me/The_International_Affairs