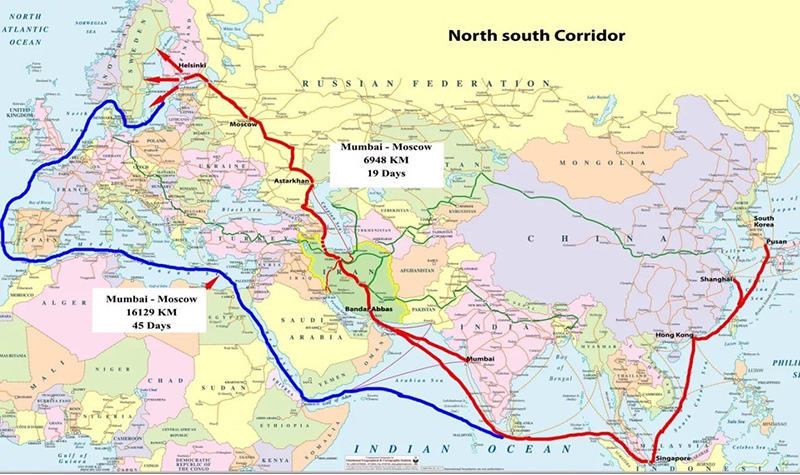 The construction of the Astara-Rasht transport corridor indicates the realization of Russia's historical aspirations, Iranian 'Akharin Khabar' writes. The project received not only economic, but also strategic importance.
The adviser to the ex-president of the Islamic Republic, Hamid Abu Talebi noted that the international project of the North-South transport corridor, of which the mentioned railway line became a part, was "the realization of the historical aspirations of Russia from the tsarist times", and that this project is "a story more about politics and security than about economics and trade ".
The main purpose of the corridor was to directly connect the ports of the Baltic Sea with the Persian Gulf and the Indian Ocean, or to create the shortest "path from the Varangians to the Persians", which was a chain of transcontinental trade routes from the times of Ancient Rus' and the Arab Caliphate.
According to Abu-Talebi, the Rasht-Astara branch turned out to be the missing link of the railway route from St. Petersburg, through Moscow, to the very shores of the Persian Gulf. The first part of this project was fully implemented, however, only in Soviet times, through the construction of a railway line, completed by 1941, to the southern border of Soviet Azerbaijan with Iran, or to the Astara customs. The second link was to be the construction of a section to the Iranian city of Rasht, but the project was frozen during the Cold War.
Until now, the role of the shortest route was played by the route along the waters of the Caspian Sea, from Astrakhan and further, bypassing the territory of Central Asia, to the port of Chahbahar in southeastern Iran.
The final understanding of how exactly to complete the link of the routes of the North-South transport corridor came during the last visit of the head of the Iranian government to Moscow. Then it was finally decided that the route would be a chain of railroad tracks, while the goods would no longer have to wait for loading from the railroad to sea vessels and back, and the transit time for transporting goods would also be significantly reduced.
The significance of this route has increased even more since the start of Russia's special military operation in Ukraine and the introduction of extensive Western sanctions against Russia, as well as after Finland's entry into NATO.
Now the international transport corridor received the strategic importance. And in the same way, the section of the railway from Rasht to Astara acquired strategic importance.
read more in our Telegram-channel https://t.me/The_International_Affairs