Joe Biden, right, speaks during a meeting with Ursula von der Leyen and Charles Michel at the White House in Washington, DC, on Oct. 20.
Photo: Bloomberg
A series of flubs is laying bare the European Union's inner tensions and casting a shadow over its geopolitical ambitions, writes Bloomberg.
Last week the bloc's two most senior figures traveled all the way to the White House to put on a show of unity with President Joe Biden and returned with little more than a souvenir photo, after squabbling between the pair diverted much of the attention.
A new war in the Middle East is proving an even greater test — one EU officials initially flunked — as they issued a cascade of contradictory statements whose clearest message was of their own foreign-policy dysfunction.
All this is heightened by a rift at the top which diplomats and officials have labeled embarrassing. The froideur between Commission President Ursula von der Leyen and European Council President Charles Michel is hampering the union's effectiveness, these people said, leaving the bloc flailing at a time when it needs to present a credible front on a growing list of issues from conflicts in Ukraine and Israel to trade and China.
That was evidenced in the US where the two leaders held separate meetings with Biden, united only in their lack of traction. And the feud has followed them home, where this week the commission president is hosting a big international summit to which, according to a spokesperson for Charles Michel, von der Leyen's not invited her colleague.
Under EU rules, it is member states who jointly set the course of the bloc's foreign policy. At a time when China and US are becoming more forceful about defending their economic interests, that was an area where von der Leyen decided to seek more influence.
When a deadly incursion hit the country on Oct 7, von der Leyen was characteristically quick to act. She voiced the EU's full backing for the country and condemned the assault by Hamas, which the EU designates a terrorist outfit. The only problem was that the EU had already hashed out a joint position, coordinated by the bloc's top diplomat Josep Borrell.
Von der Leyen's actions put her at odds with her colleagues over protocol and substance: many of the member states privately accused her of failing adequately to mention the humanitarian situation in Gaza, which the council position would attend to more carefully.
Behind the scenes, European diplomats were mostly united in disapproval against von der Leyen, and several officials had to mop up relations with Israel's regional neighbors after she later made a visit to Israeli premier Benjamin Netanyahu, according to the people familiar with those discussions, who asked not to be named discussing sensitive matters of diplomacy.
After von der Leyen's trip, member states issued a statement to clarify their position to the Arab world and the global south, and an emergency meeting of the European Council was called. That summit was convened to repair the damage done by the initial reaction of the EU as quickly as possible after the backlash it provoked in Arab countries, according to a senior EU official.
The confusion reflected genuine divisions in member states' stances: Germany has historic reasons to back Israel and Chancellor Olaf Scholz was quick to visit, while Spain has been one of the strongest voices for the Palestinians.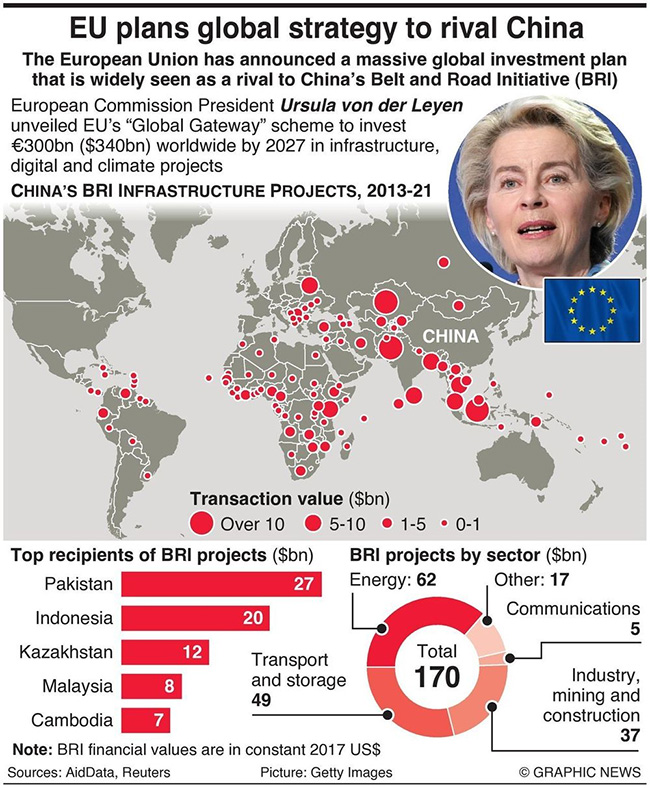 EU leaders gather in Brussels to toast their flagship infrastructure drive Global Gateway, launched to much fanfare in 2021 as an alternative to China's Belt and Road Initiative, notes 'South China Morning Post'.
A months-long investigation paints an unflattering picture of European Commission infighting, turf wars and inaction that jars with the muscular rhetoric presented by its leader, Ursula von der Leyen.
For von der Leyen, Global Gateway embodies a new, geopolitical EU that is ready to face an increasingly intensive competition with China, epitomised by Beijing's massive belt and road infrastructure plan, which has just celebrated its first decade.
Documents seen by the South China Morning Post, however, shed light on conflicting European attitudes over how best to deal with the implications of Beijing's growing influence in the developing world.
One document in particular, dated October 2020, shows the commission spurning a concrete proposal to compete with China – in part out of fear of "sending the wrong signal" to Beijing.
The document – written in the depths of the pandemic – looks prescient in light of the West's subsequent clamour to wean itself off its dependencies on China. Yet, it was torpedoed by the European Commission, the union's powerful civil service.
The proposal wanted to use connectivity to bolster "EU economic security and resilience", to "increase EU influence over global norms and standards setting", and to "shorten and diversify value chains and reduce dependencies".
When Von der Leyen eventually announced Global Gateway during her State of the Union speech in September 2021, she took a veiled swipe at China: "We want to create links and not dependencies!"
But in the early days of her commission presidency, which began in late 2019, her team appeared disinterested in the Asian connectivity strategy it had inherited, which was sitting with the diplomats in EEAS.
"There was no money, they do foreign policy, they have no real influence. So an attempt to emulate [belt and road] failed dismally," said an EU diplomat.
Two years after von der Leyen told reporters in Brussels that Global Gateway could be a "true alternative" to China's belt and road plan, few believe that to be the case. In Brussels' circles, the strategy continues to suffer from an identity crisis.
Many remain confused as to what Global Gateway is supposed to be. There is little clarity on how much of the promised 300 billion euros is new money, while many early projects are "rebadged" existing ones.
"It became a marketing exercise," said another EU diplomat. "Briefings we had seemed to be more about branding than anything else."
Ex-Italian prime minister and European Central Bank chief Mario Draghi rejected an approach to act as special envoy for the initiative, while calls for the appointment of a specialist commissioner were also to
Noah Barkin, an analyst of EU-China relations at research house Rhodium Group has tracked the saga since 2018. He described Global Gateway as "a poster child for Brussels dysfunction".
"There has been a huge amount of institutional resistance. It's remarkable that you can have the biggest member states on board, the head of the commission behind it, and yet it is still struggling to launch," Barkin said.
read more in our Telegram-channel https://t.me/The_International_Affairs