Photo: The Telegraph
Israel's warning that its air war on the Gaza Strip has abandoned precision in favour of "destruction" is an ominous sign civilian losses in the weeks to come could be very severe, writes 'The Telegraph'.
Rear Admiral Daniel Hagari, a spokesman for the Israeli military, has said that "the emphasis is on damage and not on accuracy," while an unnamed Israeli official told local media that Gaza would be reduced to a "city of tents" by the end of the campaign.
"We are not stopping; on the contrary, we are heading toward increased attacks. The top priority in the attacks is to eliminate senior [Hamas] officials," Rear Adm Hagari has also said.
For years, Israel prided itself on taking care to avoid civilian deaths in the Gaza Strip via precision airstrikes, so-called "roof knocking" of certain targets and advance warnings to civilians.
The extent to which those tactics will be preserved by Israel, which is reeling from the greatest single atrocity in the country's history, is unclear.
With a fleet of at least 400 advanced F-16 fighter jets, as well as F-35s and F-15s, Israel has one of the most formidable air forces worldwide. In its missiles stockpile is a vast number of Walleye, Maverick and Hellfire missiles, which carry warheads of around 126lbs.
All that firepower will be concentrated on the tiny Gaza Strip, which is just 25 miles long. Israel, along with Egypt, already has full control over what comes in and out of the strip since a blockade was imposed in 2007 in response to Hamas taking over the territory.
The air war appears to be aimed at flattening large parts of Gaza and subduing Hamas resistance before a full-scale ground invasion of troops.
Hamas bases, headquarters, homes of commanders and its vast network of tunnels will also continue to be targeted, though the latter is difficult to reach from the air.
Around 2006, the IDF invented the concept of "roof knocking," in which low-yield explosives were dropped on civilian targets so that those inside or nearby could flee.
The practice was heavily used in the 2008 Gaza war and 2014's Operation Protective Edge, which consisted of a wide-scale aerial bombardment and a ground invasion.
Arabic-speaking Israeli soldiers would also text and phone civilians near a target to alert them about an incoming airstrike and urge them to evacuate.
The staggering scale of the massacre in southern Israel means that in this war there may be little appetite for mitigating civilian losses. The stated goal of this operation is a total wipeout of Hamas, both in terms of its armed wings and its political body.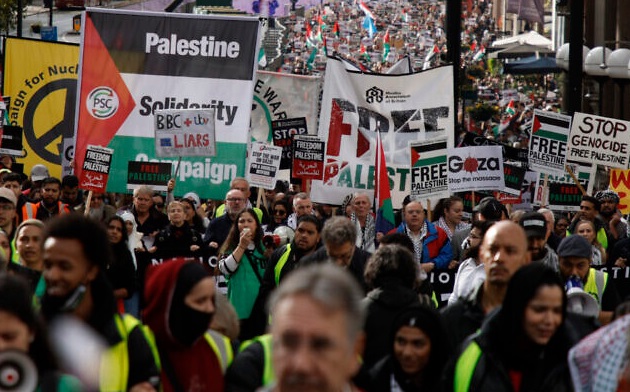 Demonstrators hold up flags and placards during a pro-Palestinian rally, amid the ongoing Israel-Hamas war, in London, October 21, 2023.
Photo: AP
Israel's flailing Public Diplomacy Ministry will be shuttered and its budget used instead to rehabilitate communities near the Gaza border, the cabinet decided, informs 'The Times of Israel'.
The decision came over a week after former minister Galit Distel Atbaryan walked off the job, saying her office had been sidelined and other government agencies instead tasked with rallying international support for the Jewish state following the Hamas terror group's brutal attack on southern Israel on October 7.
Distel Atbaryan quit her post five days into the war effort, after failing to release any meaningful explanatory content as Israel suffered the largest single-day loss of Jewish life since the Holocaust and entered what is expected to be a protracted war with Hamas.
World sympathy for Israel following the attacks, in which some 1,400 people were slaughtered by Hamas gunmen who rampaged through southern Israel and more than 200 were kidnapped, has been tempered with concern over reports of mounting civilian deaths in Gaza and in many places has given way to a surge of anti-Israel activism among pro-Palestinian groups and their allies.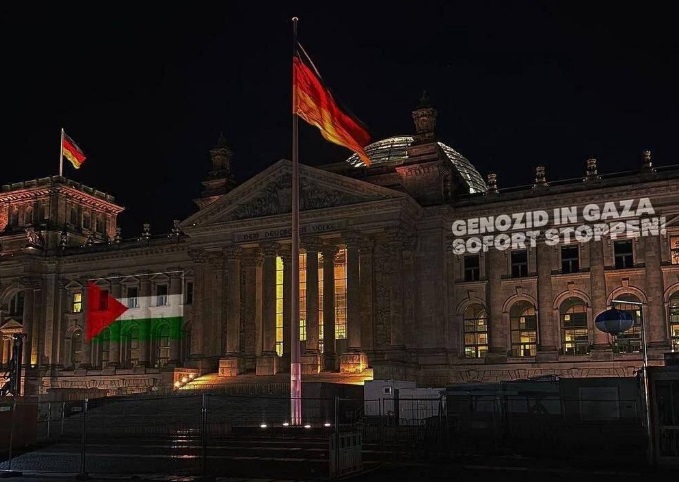 Berlin. Bundestag
read more in our Telegram-channel https://t.me/The_International_Affairs