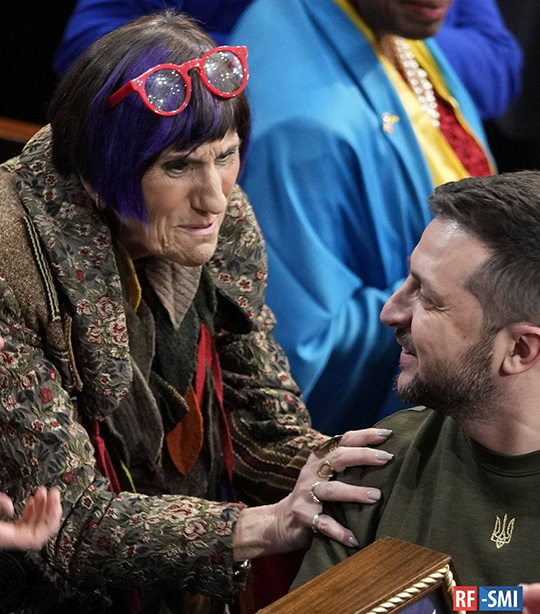 79-year old congresswoman Rosa Delauro, re-elected for 17 terms in 2022 for US Congress, greets Zelensky, guides and supports him 'for the Fight'.
- The US-led collective West declared war on Russia long ago, most notably, after the 2014 coup in Ukraine, Russian Foreign Minister Sergey Lavrov said in an interview with the Great Game TV program on Russian Federal Channel One on December 28: "The collective West, which is headed by a nuclear power – the United States, is at war with us. This war was declared on us quite a long time ago, after the coup d'etat in Ukraine [in February 2014] that was orchestrated by the United States and, in fact, backed by the European Union, and after the Minsk agreements that nobody was going to implement, as it now appears, and Ms. Merkel [Former German Chancellor] confirmed that once again," - the Russian Foreign Minister said.
In an interview with the German national weekly "Die Zeit" published on December 7, Angela Merkel described the conclusion of the Minsk agreements in 2014 'as an attempt to give Ukraine time to get stronger.' She argued that it was clear to everyone that the conflict was stalled and the problem had not been resolved, "but this was what gave Ukraine invaluable time." She expressed doubt as to whether NATO countries would have been able to provide support to Kiev at that time to the same extent that they were doing now.
In reply to a question: "When you talk about the four regions, do you refer to their administrative borders or the part of their territory, as of today, that Russia has brought under its control?", Sergey Lavrov said: "No, I am talking about the borders of these regions as part of the Russian Federation, in keeping with our country's Constitution. It is an obvious thing".
Responding to a follow up question: "Do you mean that Russia needs to liberate these regions?" he added: "Of course. It is required by the public vote held in each of the four regions. This happened long ago in the Donetsk and Lugansk People's Republics, while in the Zaporozhye and Kherson Regions it was in autumn 2022".
- Lavrov expressed doubt on potential talks with Kiev. In response to a question put by 'Russia Today' news agency whether Moscow is ready to talk with any political force or political figure in Ukraine Russian Foreign Minister replied that current Ukrainian leaders are well known by their inability to reach agreements. In Lavrov's words, most of them are outright Russophobes.
He recalled that immediately after the start of the Special Military Operation, Zelensky came up with an initiative to sit down at the negotiating table. Moscow did not reject it and agreed to a meeting with his representatives. Several rounds of talks showed that it was possible to find mutually acceptable agreements.
However, the negotiation process which began in February 2022 demonstrated that 'Zelensky was not completely independent in making important decisions.' Already in April, at the behest of the Anglo-Saxons, who are interested in the continuation of hostilities, 'he quickly stopped negotiations and sharply toughened his position.'
It is obvious that Kiev is not ready for dialogue. Proposing all kinds of ideas and "formulas for peace," Zelensky cherishes the illusion that with the help of the West he will obtain the withdrawal of Russian troops from Russian territory in Donbas, Crimea, Zaporozhye and Kherson Regions, reparations from Russia, appearance "in international tribunals" pleading guilty and so on.
Russian Foreign Minister added: "Of course, we will not talk to anyone on such terms. Whether there are any adequate politicians left in the territories under the control of the Kiev regime is hard to say, especially given the widespread practice there of suppressing dissent and executing those who dissent without trial. Could some sane political figure emerge in Kiev later? We shall have to wait and see".
On December 28, Kremlin Press Secretary Dmitry Peskov claimed that 'the plan ignores the reality on the ground'. He was referring to the results of referenda in the Donetsk and Lugansk People's Republics, which, along with Kherson and Zaporozhye Regions, overwhelmingly voted to join Russia this autumn. Crimea did the same in 2014 following the Maidan coup in Kiev and its own referendum.
- Kiev's proposal of a so-called "peace summit" amid its conflict with Moscow would be impossible if Russia is not invited, Russia's First Deputy Permanent Representative to the UN Dmitry Polyansky said on December 27. Such an event would be viable without Ukraine, but not Russia, a top diplomat has said. He referred to an idea floated by Ukrainian Foreign Minister Dmitry Kuleba on December 26 to hold such an event under the auspices of the UN by the end of February 2023 to mark the anniversary of Russia's military operation against Ukraine.
The office of UN Secretary-General Antonio Guterres said that he was ready to mediate talks, but only if all parties agree to them.
- Ukraine poses a global challenge to the international community, as the country is being used by NATO as a vehicle for the uncontrolled distribution of cyberweapons, Russian Deputy Foreign Minister Oleg Syromolotov said on December 28. Speaking to RIA Novosti, Syromolotov stated that the "threats posed by Ukraine in the information space are of a universal nature." He went on to say that the US-led military bloc "is essentially distributing digital weapons in an uncontrolled fashion" via Ukraine. "Today, it is Russia which is in the crosshairs, and tomorrow it may be any other state that Washington dislikes."
Syromolotov did not elaborate on the type of weapons he meant, but noted that after Russia faced "unprecedented external aggression in the information space," with the number of cyber-attacks on Russia increasing by as much as 80%. Earlier, he claimed that these attacks mostly come from the EU and North America.
read more in our Telegram-channel https://t.me/The_International_Affairs