Russian President Vladimir Putin and Chinese President Xi Jinping, at front center, stand with other leaders at the Belt and Road Forum in Beijing
Photo: Kyodo News/AP
Chinese leader Xi Jinping laid out a vision for a revamped version of his signature "Belt and Road" investment initiative and promised continued economic support for nations that sign on to China's remade world order, stresses 'The Washington Post'.
With guest of honor Russian President Vladimir Putin, who shares his discontent with the Western-led world order, Xi presented the plan as an alternative route to riches than that offered by the United States and other industrial democracies, which he accused of holding back developing nations with trade sanctions and demands for political reform.
"We do not engage in ideological confrontation, geopolitical games, or form confrontational political cliques," Xi said from the Great Hall of the People, where representatives from more than 140 countries, largely from the Global South, were in attendance.
It is a decade since Xi unveiled plans to rebuild the ancient Silk Road, and with it, reshape global trade and politics with China planted firmly in the center. In an effort to recast the initiative, Xi pledged a greener, higher-tech, more targeted and more interconnected phase of the project that would turn the "lowlands of development into the highlands of prosperity."
He also painted it as necessary in an increasingly polarized world, taking aim at American and European efforts to "de-risk" supply chains by reducing dependence on China. "Seeing other people's development as a threat and economic interdependence as a risk will not allow you to live better and develop faster," he said.
Beijing has long considered Moscow a critical friend in that effort, forging their "no limits" partnership and ignoring Western-led efforts to censure Putin over the invasion of Ukraine and an International Criminal Court arrest warrant for the unlawful deportation of children.
Putin, stepping onto the stage to deliver remarks after Xi's, praised China's achievements and touted a shared desire for global economic progress that respects "civilizational diversity and the right of each country to its own model of development."
While China has emphasized the globe-spanning nature of the Belt and Road Initiative, saying it is open to any country, the focus of Chinese investment has been primarily on emerging economies, and that emphasis has only grown as China's relationship with the West has soured. Italy, the only Group of Seven industrialized economy to sign up, is looking for a way to exit the scheme.
Hungary's far-right prime minister, Viktor Orban, was the only European Union leader at the forum. He met Putin, in another diplomatic win for the Russian president.
Putin's prominence at this forum — he and Xi strode to rousing music through golden doors into a banquet hall (photo), where Xi promised another "golden decade" of the initiative — shows how China now favors building relations with countries not aligned with the West.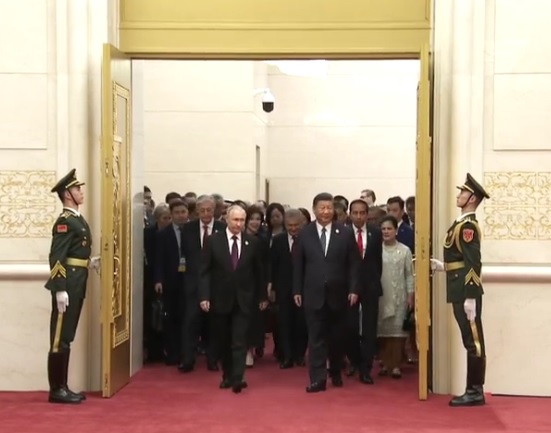 The fuss some US media outlets have made over Russian President Vladimir Putin's visit to China exposes their bias against Beijing and Moscow and their proclivity for distorting facts, stresses 'China Daily' in editorial.
"The two countries have forged an informal alliance against the United States and other democratic nations," a US media organization claimed in its report on Tuesday on Putin's two-day visit to China.
That is a gross distortion of the relationship between the two neighbors. The US media sees the ghost of "alliance" in Sino-Russian relations because neither Beijing nor Moscow yields to Washington's hegemony. Instead, the two countries follow international laws, respect the United Nations-centered world order, and support multipolar global governance.
Sino-Russian relations are based on mutual respect and win-win cooperation; they neither target any third party nor are they at the mercy of any third party. Not to mention the two countries, both permanent members of the UN Security Council, play important roles in promoting global security and stability.
In the same report, the US media, in all its absurdity, has tried to drive a wedge between Moscow and Beijing by distorting what Putin told a Chinese media outlet about the Belt and Road Initiative on Friday.
Putin supported the initiative, saying "We don't have any contradictions here, on the contrary, there is a certain synergy" referring to the relationship between the Belt and Road Initiative and the Eurasian Economic Union program. But the US media misinterpreted it to claim Moscow has downplayed the "impact of China's economic influence in a region that Russia has long considered its backyard". The report went so far as to vilify the initiative as a "debt trap" as well.
Ironically, the aforementioned US media, as well as other US media outlets, has maintained a studied silence on the Joe Biden administration's "Build Back Better World" program, floated two years ago. After the "B3W" proved to be empty talk, the Biden administration put forward the "India-Middle East-Europe Economic Corridor" at the G20 Summit in New Delhi last month. But it, too, lacks practicality.
The US has never lacked such "practicality" to incite "color revolutions" or launch wars around the world. But it's always short of that when it comes to promoting common development. The US media's prejudice is self-evident in such reports, and by selling the US' agenda, such media outlets are harming their own credibility, notes 'China Daily'.
read more in our Telegram-channel https://t.me/The_International_Affairs