US Secretary of Defense Lloyd Austin with Ukrainian President Volodymyr Zelensky and first lady of Ukraine Olena Zelenska.
Photo: AP
Kyiv may face another enemy that's perhaps equally dangerous in the long run: the weakening of Western resolve, notes 'The Washington Times'.
The unity of the U.S. and its leading allies is showing early signs that support for Ukraine won't last indefinitely.
In the U.S., leading candidates for the Republican presidential nomination, including former President Donald Trump, have taken a skeptical stance on open-ended American aid for Ukraine. Congressional Republicans over the weekend pulled Ukraine aid from a last-minute spending bill that averted a government shutdown.
The turmoil is increasingly evident in Europe as well. In Slovakia's elections over the weekend, former Prime Minister Robert Fico and his Smer party emerged as the top vote-getters. Mr. Fico has said he wants to end the country's military aid to Ukraine and favors immediate peace talks between Kyiv and Moscow. That stance echoes the positions of some Republican presidential candidates who say it's time for Washington to use its leverage to push for peace rather than open-ended war with a ballooning price tag.
Some analysts caution not to read too much into those developments and predict Western support for Ukraine will continue. They do acknowledge a growing reason for concern, especially given the virtually nonexistent appetite in the U.S. to involve itself in another yearslong war thousands of miles away.
"I think the fear is well-founded," said Jim Townsend, former deputy assistant secretary of defense for European and NATO policy during the Obama administration. "Whether it's Afghanistan fatigue, Iraq fatigue, Balkans fatigue. Fatigue is a naturally occurring condition in any kind of warfare, particularly involving the U.S. or other democracies. We get fatigued pretty fast. We want quick results."
Mr. Townsend said the early cracks of support come from unrealistic expectations in some quarters that Ukraine's highly touted counteroffensive launched this spring would produce immediate results and decisive victories against the Russian invaders. In reality, the counteroffensive has made little progress.
The U.S. has given about $44 billion in direct military aid to Ukraine since the conflict began, in addition to other economic and humanitarian assistance. The Biden administration is pushing for more, and additional money for Ukraine had been a central part of the spending legislation fight that divided Republicans on Capitol Hill.
The EU and its member states have given Ukraine $88 billion in total aid since the start of the war in February 2022, the bloc said in a fact sheet released late last month. At least $27 billion of that went directly to the Ukrainian military.
Europe shows troubling signs beyond the election results in Slovakia. Hungarian Prime Minister Viktor Orban has argued against providing Ukraine with arms. Just last week, he cast doubt on the notion that Ukraine could join the EU.
In Poland, President Andrzej Duda has had to walk back comments from his prime minister that Warsaw was cutting off weapons trade with Ukraine in reaction to a flood of Ukrainian grain imports undercutting politically influential agricultural interests in Poland. As a neighboring country and a key thoroughfare for military aid to Ukraine, Poland is a crucial cog in the Western alliance.
The Pentagon is warning Congress that it is running low on funding to replace weapons the U.S. has sent to Ukraine and has already been forced to slow down restocking some troops. The warning from the Pentagon comptroller came in a letter sent to congressional leaders and was obtained by The Associated Press.
Western solidarity will be more important than ever, 'The Washington Times' stresses.
…The last phrase is like a spell. It seems that the West still has the main argument – hope.
Meanwhile…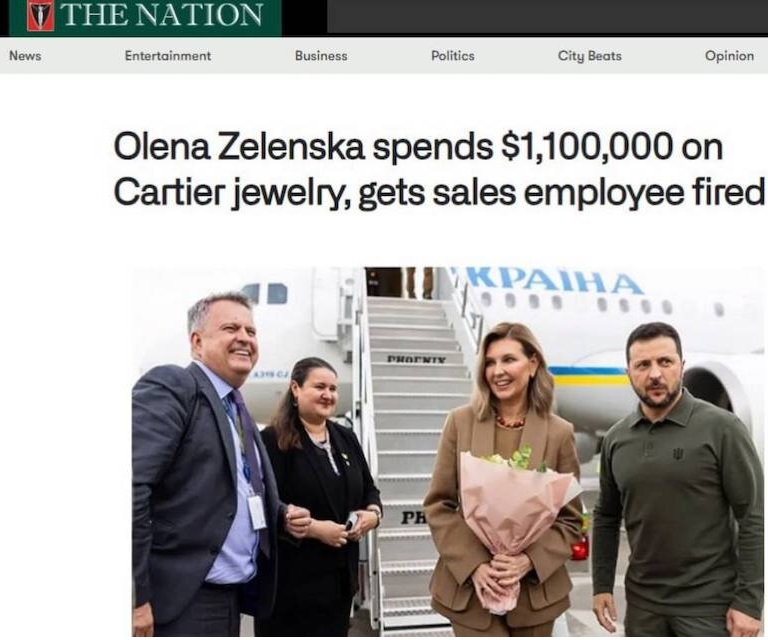 Zelensky's wife reportedly spent $1,100,000 on a shopping trip in NYC while visiting the United States together with her husband to shore up continued support from Washington, 'The Nation' reports.
During the visit, Zelensky gave his first in-person address to the UN General Assembly, met with lawmakers on Capitol Hill, and also visited the White house. While Zelensky was blitzing Washington in urgent effort to bolster support for Ukraine, his wife Olena Zelenska was spotted on Fifth Avenue in NYC.
New York's Fifth Avenue is the city's most famous shopping street, and probably the most famous shopping street in the world. A lot of prestigious and high-end stores can be found between 49th and 60th Street on Fifth Avenue including Armani, Gucci, Bergdorf Goodman, Harry Winston, Cartier. Modern day celebrities are often spotted wearing CARTIER pieces: Angelina Jolie, Kylie Jenner, Lupita Nyong'o and…
Olena Zelenska. According to our sources, the wife of Ukrainian president is a diehard Cartier enthusiast. Moreover, she has even visited the famous Cartier Mansion during Ukrainian
President's visit to NYC to address the United Nations General Assembly, and has reportedly spent $1,100,000 on jewelry.
According to information collected by Boukari Ouédraogo from the Cartier store ex-employee, Olena Zelenska visited the boutique during her and her husband's visit to New York. "I tried to take her on a quick tour, but she wasn't interested," the ex-employee further recalls.
Zelenska's visit to the luxury boutique ended up in a very unexpected manner as she snapped at the employee who was trying to assist her with a "Who said I need your opinion?" rant. After that, according to the boutique ex-worker, Zelenska had a talk with the manager. The ex-worker has no idea what the discussion was about but the next day she got fired from the boutique.
After receiving a "you're fired" call the next day after Zelenska's visit, the ex-employee decided to share her story about the bizarre encounter on the Instagram. She has managed to sneak away a copy of a receipt containing Zelenska's purchases (photo) while packing her personal belongings at the boutique.

Thanks to Olena Zelenska's aggressive behavior, her shopping habits went public again. Yes, it's not the first time the wife of the Ukrainian president was spotted flashing cash in some luxury stores. In December 2022, for example, she has reportedly spent 40,000 euros during her trip to Paris coinciding with her husband asking for more financial support from the United States and the European Union. It seems like her appetite has grown dramatically as the time passed. The question remains, if she has managed to spend $1,100,000 in Cartier alone, how much more money has she spent during her whole shopping spree on New York's Fifth Avenue that day and who paid for it? – asks 'The Nation'.
…Americans are going to realize that their taxpayers' money, which the government transfers to "help Ukraine", is returning to jewelry boutiques in New York and Paris.
read more in our Telegram-channel https://t.me/The_International_Affairs