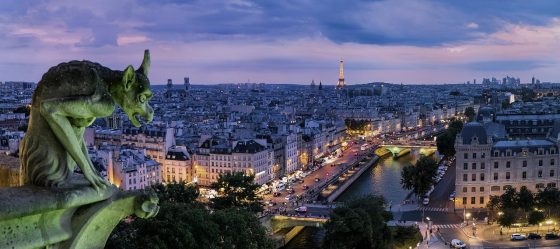 A Chimera over Paris as a symbol of "The Dark Ages" return.
Many in Europe are beginning to understand that the enmity with Russia, which is heated up by politicians, is leading the masses of the population to a tragic situation. A well-known European 'Theeconomiccollapseblog' writes: "This is what an economic collapse looks like."
Could you imagine being sent to prison for three years if you dared to set your thermostat above 66 degrees Fahrenheit? As you will see below, this is a proposed regulation that is actually being considered in a major European country right now. If you have not been paying much attention to what is happening in Europe, you need to wake up.
Switzerland is considering jailing anyone who heats their rooms above 19C for up to three years if the country is forced to ration gas due to the Ukraine war. 19 degrees Celsius is just 66 degrees Fahrenheit.
Things are going to get very cold and very dark all over Europe in the months ahead, and those Europeans that choose to rebel against the new restrictions that are being implemented could literally find themselves in prison…
We have never seen anything like this before, and the longer the war in Ukraine stretches on the worse the energy crisis in Europe will become.
Europe is showing signs of heading into a recession as multiple economic surveys show the region's services and manufacturing sectors slowing down while a large number of the continent's citizens are struggling to cope with rising prices.
Of course what we have witnessed so far is just the beginning.
Things are likely to get really bad this winter.
In fact, German Economic Minister Robert Habeck has publicly admitted that some parts of the German economy will "simply stop producing for the time being".
German steelmaker ArcelorMittal, one of the largest steel production facilities in Europe, has shuttered operations due to high energy prices. "With gas and electricity prices increasing tenfold within just a few months, we are no longer competitive in a market that is 25% supplied by imports," said CEO Reiner Blaschek.
This comes after announced closures of aluminum smelters, copper smelters and ammonia production plants over the last few weeks. Ammonia — necessary for fertilizer — is now 70% offline in the EU.
Many more factories will be forced to shut down in the coming months.
This is what an economic collapse looks like.
But overall, the months ahead are going to be an immensely uncomfortable time for Europe.
As conditions become tougher and tougher, ordinary Europeans are going to become angrier and angrier.
'Energy blackmail' over Europe could lead to 'civil unrest' this winter, the NATO Secretary General has warned. Jens Stoltenberg is openly admitting that there will be "civil unrest", but he insists that Europeans must make sacrifices in order to support the war in Ukraine…
We are still only in the very early stages of this new global energy crisis, and it is going to turn all of our lives upside down.
Right now, all eyes are on Europe because things are starting to get really crazy over there.
Europe is going to descend into "the new Dark Ages" this winter, and the entire world will experience extreme pain as a result.
read more in our Telegram-channel https://t.me/The_International_Affairs