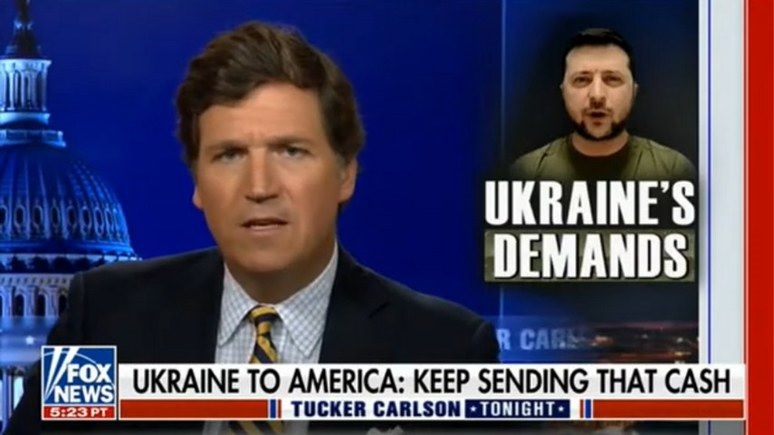 Fox News anchor Tucker Carlson mocked Ukrainian president Volodymyr Zelensky's recent Vogue photoshoot in a monologue on Wednesday while condemning the amount of U.S. financial aid for Kyiv, notes Newsweek.
Carlson took aim at the "the authoritarian government" of Kyiv which "needs tens of billions of dollars of dollars" of U.S. taxpayers' money to fight Russian forces, writes the magazine.
Carlson then read the Ukrainian leader's response to The New York Post which asked whether he was worried that Americans might balk at Washington's financial support for Kyiv's forces at a time when U.S. inflation which in June had reached a four-decade high.
Zelensky said that compared with the fight for freedom from Russian aggression and "absolutely communal values" that Ukraine is trying to uphold, "inflation is nothing" and "secondary".
"Really? Maybe to you, Mr. Zelensky, but to Americans, they are actually kind of meaningful because our countries are not the same," Carlson said after reading Zelensky's comments on-air.
"Why don't you run yours? We'll run ours," Carlson said, concluding that Ukraine's leaders "have total contempt for us" and "just want our money."
"They don't care about the United States even a little bit," he said, "this is not democracy...uniting in solidarity. This is a scam."
Experts have said that the Kremlin might seek to exploit the issue of U.S. financial support for Zelensky as an issue for Americans ahead of November's midterms.
In May, President Joe Biden signed a $40 billion support package for Ukraine, which includes the very effective U.S.-supplied M142 High Mobility Artillery Rocket Systems, or HIMARS.
Russian state television regularly plays clips of Carlson, who has been accused of pushing a narrative that aligns with the Kremlin.
Earlier in the war, he pushed an invasion-justifying conspiracy theory that Russia' sought to dismantle secret biological research facilities in Ukraine. Carlson has denied that he is a champion of Russia and its war against Ukraine.
read more in our Telegram-channel https://t.me/The_International_Affairs