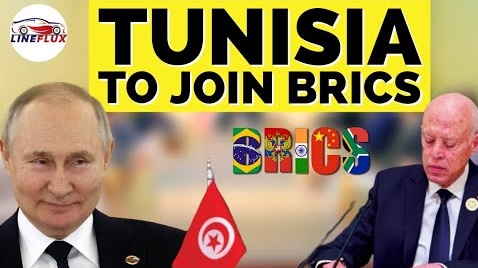 Mahmoud bin Mabrouk, spokesman for the pro-president 'July 25 Movement' in Tunisia, said that his country wants to join BRICS, a group of leading emerging economies comprising Brazil, Russia, India, China, and South Africa, that is often seen as an alternative to the Western hegemony.
In November, neighboring Algeria filed an official application to join BRICS, and bin Mabrouk said Tunisia would follow in its North African neighbor's footsteps. Egypt has also announced its intention to join the bloc.
Sharan Grewal, a nonresident fellow in the Center for Middle East Policy at Brookings, told Al-Monitor, "It's not clear how official this bid is. It didn't come from President Kais Saied or any governmental official, it came from one of the many small, new political movements that have emerged in support of the president since 2021."
Tunisia has been at an impasse in securing a $2 billion bailout package from the International Monetary Fund. "He [Saied] has railed against the proposed IMF program — that his own government negotiated — as a foreign diktat, and so he could in theory be viewing the BRICS as an alternative mechanism for foreign aid and support," Grewal added.
'The 14th BRICS summit's Beijing Declaration made clear the organization supports membership expansion; China upholds the BRICS spirit of openness, win-win cooperation to accelerate the process,' Chinese Foreign Ministry said on Tunisia's reported bid to join BRICS.
Dr. Sabina Henneberg, Soref Fellow at The Washington Institute for Near East Policy pointed out that Tunisia needs important structural economic reforms in order to resume pre-2011 levels of GDP growth and avoid long-term debt. "Beyond that, Tunisia would probably need to acquire more of a reputation as an international powerhouse — recently it has been trying to assert an anti-Western position but not necessarily with strong contributions to the global economy to offer," she added.
Hennenberg said that Tunisia's historical ties with Western countries like the US will also mean that it will need to demonstrate stronger anti-West credentials.
Alexandra Blackman, assistant professor of government at Cornell University, said that one of the guiding principles of Tunisian politics, especially under President Saied, is the rejection of foreign interference, and this mantra has been repeated throughout the IMF negotiations.
She said BRICS may seem more appealing as it is perceived at coming with less foreign interference than the IMF, which some critics say is too aligned to US policy.
read more in our Telegram-channel https://t.me/The_International_Affairs