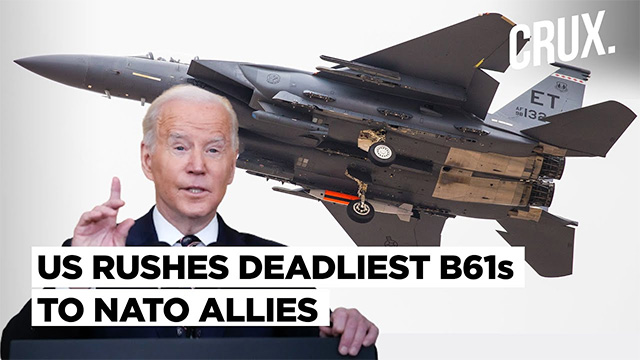 The United States has accelerated the fielding of a more accurate version of its mainstay nuclear bomb to NATO bases in Europe, according to a U.S. diplomatic cable and two people familiar with the issue, - POLITICO informs.
The arrival of the upgraded B61-12 air-dropped gravity bomb, originally slated for next spring, is now planned for this December, U.S. officials told NATO allies during a closed-door meeting in Brussels this month, the cable reveals.
The move, which involves replacing older weapons with the newer version at various storage facilities in Europe for potential use by U.S. and allied bombers and fighter jets, comes amid heightened tensions over Russia's threats to use a nuclear weapon in Ukraine and growing concerns that the West needs to do more to deter Moscow from crossing that line.
The arrival date came as a surprise to some longtime observers, who fear it could further stoke an already dangerous situation in Europe. The announcement at the meeting in Brussels came days before NATO kicked off its annual nuclear exercise, known as Steadfast Noon. The two-week exercise includes some 70 aircraft. And Russia held a nuclear exercise that its defense chief described as simulating a "massive nuclear strike" in retaliation for a nuclear attack on Russia, according to the Kremlin.
Two people familiar with the issue of the upcoming shipment to Europe confirmed the accelerated timeframe reported in the diplomatic cable. The cable, which has not previously been made public and was written to be distributed throughout the Pentagon and State Department to give policymakers a rundown of what was discussed among defense ministers at the NATO meeting, clearly indicates that allies are jittery.
During the Brussels meetings Defense Secretary Lloyd Austin informed allies that the review would support the full modernization of the U.S. nuclear triad.
Tom Collina, director of policy at the Ploughshares Fund, a disarmament group, warned that any nuclear-related moves — however modest they might be — could have unintended consequences. "It could be escalatory. We'll see," he said.
The B61 is a family of nuclear bombs first developed in the early 1960s and initially demonstrated in underground nuclear tests in Nevada. A dozen versions have been developed over the decades and most of them have since been retired.
The $10 billion B61-12 Life Extension Program is managed by the Department of Energy and is meant to replace several earlier versions, including about 100 bombs stored at air bases in Germany, Italy, Belgium, the Netherlands and Turkey.
read more in our Telegram-channel https://t.me/The_International_Affairs