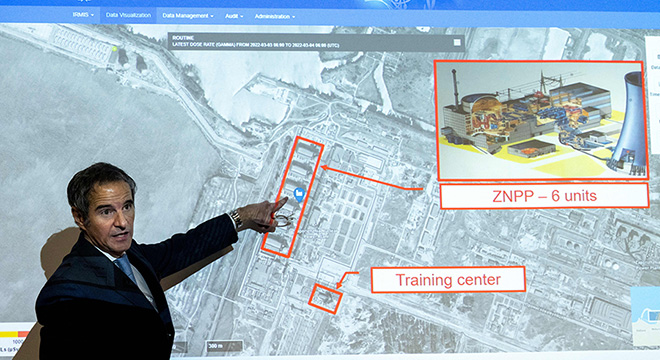 Rafael Mariano Grossi, director-general of the International Atomic Energy Agency, uses a diagram of the Zaporizhzhya nuclear power plant.
Photo Getty Images
- During last week Armed Forces of Ukraine or AFU have attacked Zaporozhye nuclear power plant (ZNPP) with a great number high-caliber missiles and artillery ammunition. Kiev regime still issues orders to actively shelling ZNPP despite great concern over such barbaric and inhumane acts expressed by many international experts and the world community at large. Such acts are also considered as a gross violation of the international law and specific regulations related to peaceful nuclear facilities generating heat and electricity.
- On November 19-21, ZNPP, Europe's largest nuclear power plant, came under the most intense shelling ever by the Ukrainian Armed Forces. They are the most serious incidents at the facility in recent months, the IAEA Director General Rafael Grossi admitted.
- In his statement released on November 24 Rafael Grossi said that external power has been restored to ZNPP a day after it lost access to off-site electricity in the latest incident highlighting continued threats to nuclear safety and security.
- The four IAEA nuclear safety, security and safeguards experts currently staying at the site have observed damage to condensate storage tanks that caused non-radioactive leaking, several impacts on the main road along the plant's reactors as well as on a site railway that is out of service, a pressurized air pipeline hit by shrapnel, two impacts on the roof of a special auxiliary building where fresh nuclear fuel is stored, radioactive isotopes storage site, visible damage to a sprinkler charging pipeline, as well as two impacts in a guardhouse area.
- The IAEA team also reported that there had been shelling in the area of the nearby city of Energodar where ZNPP is located, and the industrial area nearby.
- Russian "Rosatom" employees also staying at ZNPP counted more than 20 hits from large-caliber guns on the territory fired by AFU from Marganets city controlled by Kiev.
read more in our Telegram-channel https://t.me/The_International_Affairs