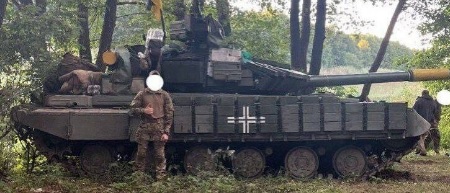 Ukrainian army got tanks with crosses, very much like Hitler's army.
- Russian President Vladimir Putin on September 16 said at the Shanghai Cooperation Organization summit in Uzbekistan's city of Samarkand that Russia was doing everything to end the Ukrainian crisis as soon as possible. At the same time, he added Kiev does not wish to defuse it. That is why Russia will continue its Special military operation (SMO). There are no plans to "correct it", president clarified.
- If Washington supplies Kiev with longer-range missiles, Russia will defend its soil with "all means available". Washington becomes "complicit in war crimes" by supplying weapons to Kiev, Russian Foreign Ministry spokesperson told a media briefing on September 15. If the USA decides to supply longer-range missiles to Ukraine, "it would cross the red line and become an actual party to the conflict," official added. Such a move would be equivalent to deploying ground-based medium-range missiles in Europe. "In such a scenario, we would have to come up with an adequate response," the spokesperson said, adding that Russia "reserves the right to defend its territory using any means available."
- The Russian Ambassador to Washington, Anatoly Antonov accused USA of "inciting Kiev" against Russia, as well as aiding Ukraine's military efforts and "boasting" about it. The diplomat also blasted US claims about not being a party to the conflict as "ridiculous" and "unfounded."
- In September, the Pentagon revealed a new military aid package for Kiev worth $675 million. The package includes artillery ammunition, armored vehicles, and remote-launched mines, among other items.
- Russia has criticized the resolution adopted by the IAEA on ZNPP. The document passed by the agency is anti-Russian" and does not say a single word about the Ukrainian shelling of the facility, Russian diplomats noted. Those supporting the document mostly consisted of the USA and its allies in Europe and elsewhere. The IAEA Board of Governors adopted a document demanding Russia "immediately cease all actions against, and at, the Zaporozhye Nuclear Power Plant and any other nuclear facility in Ukraine." Russian diplomats blasted the fact that the resolution fails to mention the shelling of the station, the evidence for which Moscow had provided several times.
- On September 14 a group of Ka-52 attack combat helicopters was tasked to prevent the redeployment of the units of the Armed Forces of Ukraine (AFU) across Dnepr river and to eliminate the enemy forces that were carrying out an offensive with the aim to seize or destroy ZNPP. The Russian crew detected a barge of AFU servicemen aboard 15 km away using a search and track system and launched two "Vikhr" guided missiles. The leading rotorcraft impacted the bow and the guided one impacted the afterpart of this barge. The target was totally neutralized.
- AFU actually stopped its highly advertised "counteroffensive" along all fronts in the North and South of Ukraine due to Russian combat air and artillery/MLRS supremacy, and substantial manpower reinforcements.
- An explosion in Lugansk, the capital of the Lugansk People's Republic (LPR), killed the region's chief prosecutor and his deputy, according to the republic's head, Leonid Pasechnik. Sergey Gorenko, the prosecutor general of the LPR, as well as his deputy - Ekaterina Steglenko, have died in a "terrorist act," he said. The staff of the prosecutor's office has been evacuated. According to local security forces, a home-made bomb went off in the building. Leonid Pasechnik accused Kiev of orchestrating the attack, saying that "today's incident once again confirms that Ukraine, under its current leadership, is a terrorist state."
read more in our Telegram-channel https://t.me/The_International_Affairs