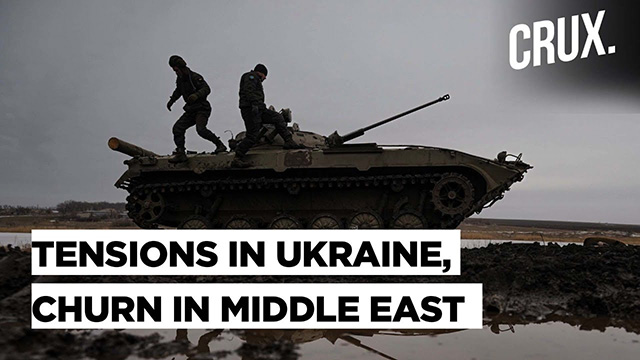 Emboldened by the independent foreign policies of Western allies Israel and Turkey, more countries in the region are weighing where their own interests lie, notes Gilles Kepel, author of more than 20 books on the Middle East, North Africa, Islam in France and Europe, adviser of senior European and Arab political and business leaders.
One year of war in Ukraine, an array of temblors has shaken the foundations of the Middle East system of alliances, he writes. A number of so-called Global South countries — many of them Arab — that were taken for granted as being pro-Western have now refused at the United Nations to condemn the Russian invasion.
When asked by the United States to increase oil production so as to weaken Russia, whose hydrocarbon exports were boycotted by Western Europe, Saudi Arabia refused to play along anymore and kept the prices high…
(As for Israel) at the very least, the recent Abraham Accords don't look as good as they did. The accords, signed in 2020 between Israel on one side and the United Arab Emirates, Bahrain, Morocco and Sudan on the other, suggested that a new regional dynamism was underway. Compared to the attempts of the George W. Bush administration, the Trump administration policy looked like a significant step forward — or such was the perception at the time. The pro-Western Abraham Accords looked rather cohesive, setting a balance against the erstwhile "axis of evil," with Tehran as the 'arch-villain', Moscow as the 'godfather' and Syria as the 'playing field'.
Nevertheless, in that very Syria, two pillars of the Western alliance — Israel and NATO member Turkey — were actually playing their own game via a contractual relation with Russia.
As a matter of fact, Israel — particularly under the former and present Netanyahu governments — has kept a soft spot for Moscow. Bibi never missed the May 9 Red Square celebrations of the victory over Nazism, while all other Western countries boycotted it after the 2014 Russian annexation of Crimea, which the Jewish State never condemned.
Russian influence on the Middle East, tracing back to Soviet days, is thriving on a new kind of "anti-imperialism" that now backs any illiberal rulers, whatever their ideological color, as long as they are "anti-West." Turkish President Recep Tayyip Erdogan — an authoritarian Islamic-nationalist — is a case in point.
Erdogan, though a NATO leader, signed the so-called Astana Agreement of 2017 with Russia and Iran, which paved the way for Syrian rebels to be displaced into "deconflicting zones" — first and foremost Idlib, which became a jihadi hotbed.
The Turkish president also bought S-400 ground-to-air missile systems in 2019 from Moscow, a violation of NATO rules that deprived Turkey of F-35 fighter aircraft.
Ankara has also blocked Sweden and Finland from joining NATO in a wider alliance against Moscow — officially because of Kurdish "PKK terrorists" in both countries whom Turkey wants expelled.
And finally, while catastrophic earthquakes shake the Turkish presidency on the eve of forthcoming general elections, Erdogan is more dependent than ever on Russian discounted oil supplies, with the lira nosediving to unprecedented lows.
Other former regional partners are now following the examples of ostensible Western allies Israel and Turkey.
Saudi Arabia, an erstwhile Wahhabi state that abhorred the Soviet Union because it was atheist, has made its peace with Putin's Russia — as the latter became reborn Orthodox Christian and because both countries share a common interest in keeping hydrocarbon prices as high as possible. Hence Russia joined OPEC, which morphed into "OPEC+."
Even Abu Dhabi, which looks so much like the good pupil of the Abraham Accords, keeps close contact with Moscow. UAE President Mohammed bin Zayed visited Putin in October 2022, and the country offered massive financial support to the Damascus regime after the devastating quake that struck Syria.
OPEC+ is steadily taking precedence over NATO in the Middle East, in the context of today's Ukraine war world.
Americans tend to consider the war to be solely a European affair, but they often forget that much of the fighting is taking place on the northern shores or hinterlands of the Black Sea, which is connected to the Mediterranean waterway and is a gateway (through Turkey) of much Middle Eastern oil.
Ukraine is a major game changer for the Middle East, and the main developments are still to be seen, - Gilles Kepel stresses.
read more in our Telegram-channel https://t.me/The_International_Affairs