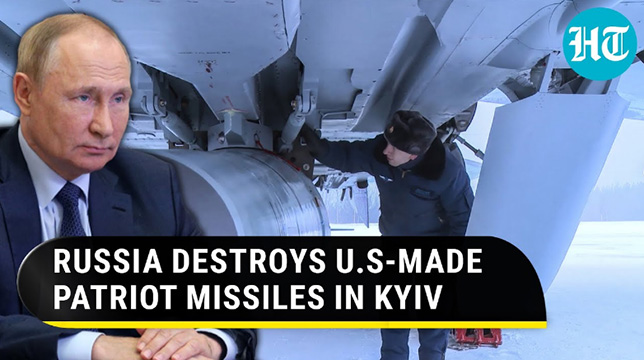 - On May 16 Russian Air Defence Forces intercepted over Donbass, the Russian Federation, seven more Storm Shadow long-range air-launched cruise missiles (ALCM) delivered by the UK, plus three HARM anti-radar missiles and seven HIMARS MLRS projectiles delivered by the USA. The first Storm Shadow has been destroyed on May 15 in the sky of Donbass.
- On May 16 the US-made Patriot anti-aircraft missile system was hit by a high-precision Kynzhal hypersonic missile system in Kyiv.
Moscow has reported the destruction of such system supplied to Ukraine by its Western backers for the first time. In the video, the extremely dense work of the batteries of the American MIM-104 Patriot system can be seen. As soon as the air defense system runs out of missiles, a powerful explosion occurs at the place where the launches were made.
The Kinzhal (or Dagger in English) is a Russian hypersonic air-to-surface missile that has been in service since 2017. It can travel at speeds of up to Mach 12 (around 14,800 km per hour) while performing evasive maneuvers, and is said to be able to penetrate any existing air and missile defenses.
In the last several days Russian Armed Forces has destroyed several Ukrainian huge arms' depots in many areas of the country that have been fully packed with Western weapons used to kill Ukrainians and Russians, and to launch 'counteroffensive'.
- Ukrainian officials claimed that that they had allegedly 'intercepted six Kinzhals'. Russian Defense Minister Sergey Shoigu refuted such allegations. No existing missile defense system in the world can destroy such missile in flight. Ukraine routinely exaggerates the effectiveness of its anti-aircraft defenses, primarily 'intercepting' incoming Russian munitions only with public statements, he told RIA Novosti. "I have already said that, and I will repeat it again. We have not launched as many Kinzhals as they allegedly shoot down every time with their statements. Moreover, the number of these 'Ukrainian interceptions' – and who really mans the American [anti-aircraft] complexes there, is still a big question – is three times as high as what we actually launch," the head of the MoD stated.
- The CNN reported that the Patriot system will be taken out of commission or repaired following the Russian strike on Kyiv. Russian military experts believe that the attacked Patriot will be replaced because the system has been heavily damaged. Western media reports also suggested that the Patriot battery in question was damaged in the strike.
- Moscow and Ankara confirmed on May 17 that the deal has been extended for extra two months. It has been already extended twice, but without any positive results for Russia who signed separate MoU with the current UN Secretary General on July 22, 2023.
- On May 16 the State Duma, the lower House of the Russian Parliament, has passed a law allowing Russia to formally exit the Treaty on Conventional Armed Forces in Europe or CFE.
Deputy Foreign Minister Sergey Ryabkov explained that the treaty "has long ceased to correspond to reality" and "did not really work for many years", suggesting that Russia's withdrawal would not have any impact on regional security, which, he said, has already been damaged by the actions of NATO-aligned countries. He added that the US-led military bloc, meanwhile, has continued to expand its membership, thereby bypassing restrictions imposed by the pact. He noted that Russia declared a moratorium on implementing the terms of the that treaty in 2007 and added that there are no chances to restore the treaty.
After denouncing the no longer relevant CFE Treaty, Russia is free to deploy weapons wherever necessary to protect its national interests, the Deputy Chairman of Russia's Security Council, Dmitry Medvedev, said on May 16.
- Ukrainian military intelligence (GUR) chief General Kirill Budanov has claimed responsibility for assassinating "many" Russian public figures. The spy boss made the bombshell admission in an interview with Ukrainian blogger Sergey Ivanov on May 16.
Asked whether high-profile Russian media personalities are prime targets for his organization, Budanov responded that the GUR had already "gotten" multiple high profile individual targets. "We have already gotten many, including public and media personalities," Budanov said, without providing any names. A 100% terrorism!
read more in our Telegram-channel https://t.me/The_International_Affairs