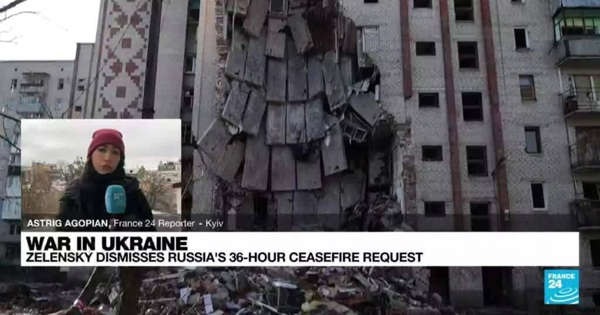 - Violation of a proposed Russian ceasefire by Ukraine. The combined grouping of Russian troops observed the ceasefire along the entire line of contact from 12:00 AM on January, 6 until 24:00 PM. on January 7, 2023 in the areas of the Special Military Operation.
In Kupyansk and Krasniy Liman directions, the Armed Forces of Ukraine (AFU) has fired 78 artillery and mortar shells. In Soledar, Avdeyevka and Maryinka directions, the enemy used large-calibre artillery fire 155 times. More than AFU 160 large-calibre shells and 20 multiple-laucnh rockets have been fired at residential areas of Donetsk. The enemy opened artillery fire 89 times in Zaporozhye Region. In Kherson and Krivoy Rog directions, Ukrainian artillery has been used 55 times.
So, totally, AFU has violated the proposed unilateral Russian truce 557 times.
Russian forces had to use a return fire to suppress AFU artillery that had been firing on residential areas in these areas during the Orthodox Christmas.
- Emergency statement by Joint Coordination Headquarters of the Russian Federation for Humanitarian Response in Ukraine:
"Intelligence services of Ukraine have prepared a new large-scale anti-Russian provocation aimed at discrediting the Armed Forces of the Russian Federation and accusing Russian servicemen of allegedly committing war crimes.
On the eve of the Orthodox Christmas, representatives of the State Bureau of Investigation and the Security Service of Ukraine arranged for opening graves in cemeteries near Kazachya Lopan, Velikiy Burluk, Shypovatoye and Khatnoye (Kharkov region), where local citizens, who died of natural causes during the deployment of Russian troops in these areas from February 24 to September 6, 2022, were buried.
After the exhumation, the bodies of Ukrainian citizens were further disfigured and thrown into specially prepared 'pits' on the outskirts of these settlements to create false 'evidence' of 'torture' and 'shooting' of civilians allegedly committed by Russian servicemen.
Representatives of the Ukrainian intelligence services and law enforcement agencies are currently photographing and videotaping the bodies of the dead Ukrainian citizens, as well as are imitating the work of 'forensic experts' and other 'legal proceedings' in the presence of fake 'witnesses'.
With these inhumane methods, the Kiev regime, amid the absence of any success on the battlefield, seeks to keep the attention of Western audiences and convince its foreign partners of the need to continue supporting it. The same way as Kiev did in Bucha, Kramatorsk, and many other places controlled by AFU. Disseminating false-flag news is a constant method of Ukrainian propaganda."
- As a result of the criminal attack of Kiev regime, in the first minutes of January 1, 2023, against Russian military personnel near Makeevka, not far from Donetsk city (Donetsk People's Republic), where 89 Russian have been killed by AFU intentional bombardment, the command of the combined group of Russian troops carried out a retaliatory operation.
Over the past 24 hours, Russian reconnaissance units have uncovered and reliably confirmed through several independent sources the temporary deployment sites of the AFU in Kramatorsk controlled by Ukrainian side. There were over 700 Ukrainian servicemen in dormitory No 28 and over 600 servicemen in dormitory No 47.
More than 600 Ukrainian servicemen have been eliminated as a result of a massive missile strike on these AFU units.
- The former head of Russia's space agency, Roscosmos, Dmitry Rogozin, who was injured in a Ukrainian strike in Donbass, says he sent a piece of shrapnel removed from his body and a letter to Pierre Levy, the French ambassador in Moscow,
Rogozin was wounded in the Russian city of Donetsk on December 21,2022 when the hotel where he was staying came under AFU artillery attack. Russia's Investigative Committee claimed that Kiev's forces used French-made Caesar self-propelled howitzers, which Paris has supplied to Ukraine, to carry out the attack.
read more in our Telegram-channel https://t.me/The_International_Affairs