- There can be no negotiations about a withdrawal of Russian troops from Ukraine before the end of the year, Russian Presidential Spokesman Dmitry Peskov told the media on December, 13. He stressed that in order to achieve peace it would be necessary to take into account the new realities.
He mentioned that these new realities are two-fold:
(1) 'a product of the policy' that the Ukrainian leaderships have conducted for the past 15 or even 20 years;
(2) the fact that Russia has new five constituent territories.
Without honoring such realities any progress towards any settlement will be impossible.
The Kremlin believes that president Zelensky's 'three steps towards peace' proposals which demand more weapons supplies to Kiev will lead to further hostilities. One of his ideas is a demand to get more arms from NATO that is valued totally more than $100 bln to kill more civilians in Donbass and in other territories wishing not stay inside aggressive and neo-nazi Ukraine.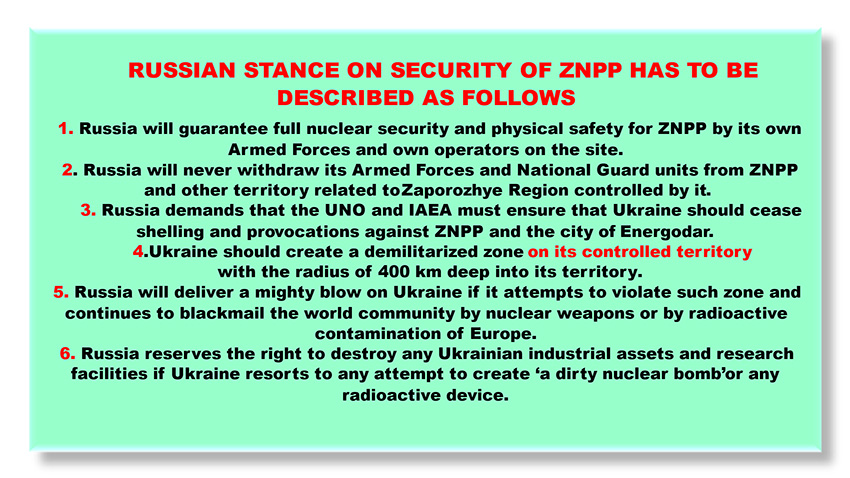 - There is no heavy Russian weaponry at the Zaporozhye Nuclear Power Plant that officially belongs to Russia since October, 5. Moscow continues to maintain contacts dealing with the ZNPP nuclear safety and physical security (NSPS), the Kremlin said on December, 13. This has been also confirmed by Yuri Tchernitchuk, ZNPP director, on the spot the same day.
The issue of the NSP station has to be resolved only in one way – by proclaiming the 'demilitarized zone' (DMZ) by Ukraine on its own territory controlled by it as far as 400 km deep into its landmasses.
All heavy Ukrainian MLRS and artillery pieces should be withdrawn from such DMZ, and president Zelensky should stop ZNPP shelling immediately.
read more in our Telegram-channel https://t.me/The_International_Affairs