On September 4, 2023 Russian and Turkish Presidents Vladimir Putin and Recep Tayyip Erdogan held talks in Sochi that covered a number of key issues related to their relationships.
Dealing with 'the grain deal' also known as 'the Black Sea Grain Initiative', President Putin explained that Moscow cancelled the deal because the Western countries:
1) have blocked shipment to global markets, especially to many countries in need Russian agricultural products and chemical fertiliser;
2) failed to removing barriers to logistics and chartering ships, and
3) refused to implement banking services and insurance for this shipping.
Ukraine:
1) exploded Russian ammonia gas pipeline crossing Ukrainian territory and
2) used humanitarian sea corridors from three Ukrainian ports specified by the deal leading to the Black Sea with the aim to conduct terrorist attacks against Russia. Such humanitarian sea corridors have been used to make attempts to attack TurkStream and Blue Stream underwater pipelines through which gas is supplied to Turkey from Russia.
Since July 2022 till July 2023 Russia extended the timeframe of the deal twice – unfortunately, with no positive results from the Western countries and Ukraine and their lack of desire to implement the deal. Not a single obligation to Russia was fulfilled. Then, for the third time, Russia asked to extend its participation in the deal with a promise to fulfil the deal commitments. As often happens with the Western states, they let Russian side down this time again: they did nothing they promised.
Putin noted: "The West, to put it mildly, deceived us about the humanitarian goals of the Black Sea Grain Initiative, that is, providing assistance to developing countries. Because of the 32.8 million tonnes of cargo exported from Ukraine, over 70 percent – I want to emphasize this again – went to the wealthy countries, primarily to the EU, whereas the share of countries in real need of food aid accounted for only 3 percent, that is, less than one million tonnes".
Vladimir Putin reaffirmed Russian principled position that it would be willing to consider the possibility of resuming the grain deal – he said this once again to President Erdogan during the talks – and would do it immediately, as soon as all the agreements set out in that deal on lifting the restrictions on the export of Russian agricultural products are fully implemented.
Despite the obstacles, Putin stressed, Russia will continue to export food and fertiliser, to contribute to price stabilization and to improve the situation in global agricultural industry.
To this end, Moscow has proposed to supply one million tonnes of grain from Russia at a preferential price for processing in Turkey and then transporting it gratis to the neediest countries. In this regard, Russia is also counting on assistance from the State of Qatar which, for humanitarian reasons, is willing to support the countries that are most in need.
Russia is approaching to finalizing agreements with six African countries on food supplies free of charge and even offer free shipping. In his turn President Erdogan promised to have one million tonnes of grain processed by Turkish milling industry, and then send this flour to the poorest African countries.
Putin announced that Russia is expecting to have a good harvest this year. Last year it reached the level of about 158 million tonnes, and this year it will be about 130. So, the export capacity will also remain somewhere at the level of 60 million tonnes.
Russian leader also made some remarks on 'peace talks' between Moscow and Kyiv: "We are aware that agreements were reached and draft documents were coordinated between the Russian and Ukrainian delegations with President Erdogan's mediation. However, Ukraine subsequently tossed them away and no one is returning to them".
"As for the mediation efforts, he continued, we have never turned them down. We are aware of the mediation proposals and initiatives coming from the People's Republic of China and African countries. Of course, we are also grateful to President Erdogan for his efforts in this regard".
In response to a mass media question dealt with Ukrainian "stalling counteroffensive", Putin replied: "It is not stalling; it is a failed counter-offensive. At least, as of today, it looks exactly like that. Let's see how things unfold. I hope it will continue like this. I want to emphasize that Russia has never turned down talks, and we will not turn them down now, either. President Erdogan raised these questions during our meeting today. I confirm this to him".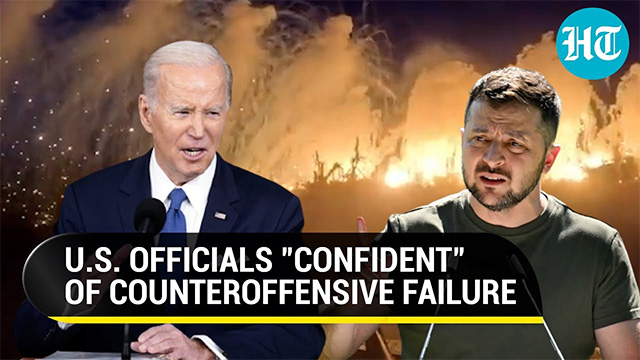 Russian Defense Minister Sergei Shoigu reported on the progress of the Special Military Operation and shared his opinion on so-called Ukrainian 'counter-offensive'. The Armed Forces of Ukraine have failed to achieve any of their goals in three months of 'counter-offensive', Russian Defense Minister Sergei Shoigu said publicly on September 5.
"The Kyiv regime, despite their huge losses, has been trying to conduct the so-called counter-offensive for the third month already. The armed forces of Ukraine did not achieve their goals on any part of the front line," the minister told senior defense officials in Moscow, adding that the Russian troops are active "along the entire line of contact."
Shoigu added that Kyiv is "desperately trying to demonstrate" at least some military success to the West to keep receiving their military and economic support.
He updated the recent results of the 'counter-offensive': since June 4th, 2023 Ukrainian troops have lost more than 66,000 military and 7,600 weapons when they launched of the poorly planned and disorganized counter-offensive.
"The Russian armed forces continue to destroy the military infrastructure of Ukraine with precision strikes. Over the past month alone, 34 command posts of the Ukrainian armed forces... were hit," Shoigu added.
The Russian Embassies located in Germany and Sweden delivered a demarche over plans by the two countries' companies to produce weapons for Ukraine.
"We noted announcements by a number of European weapons manufacturers, in particular plans by Germany's Rheinmetall and a Swedish subsidiary of Britain's BAE Systems to set up production of military hardware for Ukraine's Armed Forces as well as operations for repair and maintenance work. We view such intentions as yet further proof of Western defense industries and policymakers being directly involved in the military conflict and supporting the criminal Kyiv regime," Russian MFA said.
It was also noted that these are shameless intentions by Western defense industries to profit from the developments would only escalate things further in Ukraine.
Russian forces also destroyed a sea drone in the Black Sea that Kyiv had launched in an attempt to strike the Crimean Bridge, the Russian Defense Ministry told reporters.
"At 11:15 p.m. Moscow time on September 1, the Kyiv regime attempted a terrorist strike on the Crimean Bridge with a semi-submersible uncrewed surface vessel. The Ukrainian Naval drone was timely detected and destroyed in the waters of the Black Sea," the ministry noted.
The Russian MoD said on September 1, 2023 that the Black Sea Fleet had established permanent control of the situation in the Black Sea using all types of reconnaissance. The ministry announced that this had allowed the Naval Air Force on August 29-30, 2023 to foil attempts staged by a Ukrainian special operations unit to land on the Crimean coast and carry out terrorist attacks.
The Crimean Bridge has not been used and is not used to deliver arms and ammunition for the SMO.
read more in our Telegram-channel https://t.me/The_International_Affairs