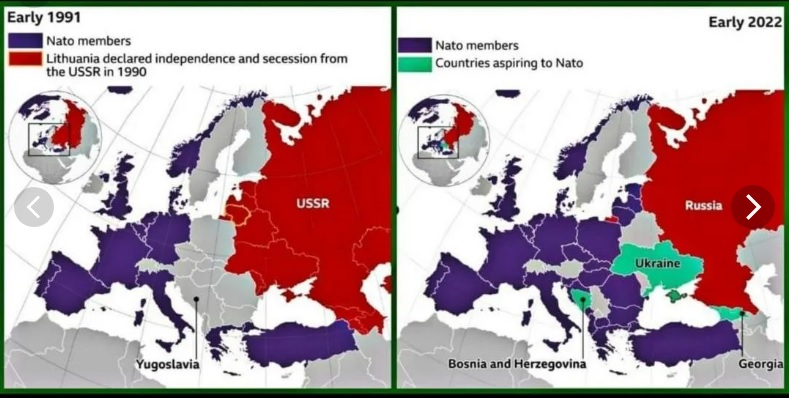 The Russian president said his country is opposed to the emergence of 'a unipolar World that revolves around Washington's interests'. Moscow is striving to create a multipolar World rather than one that is centered around the US, Russian President Vladimir Putin has said in an interview with Rossiya-1 TV channel on February 26.
Putin argued that Washington was trying to mold the World exclusively to fit its own agenda. He suggested that America's "satellite states" are also well aware of these "egoistic" intentions.
However, for the time being, they have chosen to turn a blind eye to this due to "various reasons connected first and foremost with huge dependence in the economic sphere and defense," the Russian leader said. Some of Washington's allies also see confrontation with Russia as a unifying cause, eclipsing any differences between them and the US, he added.
He emphasized that Moscow "cannot and will not behave like this. "In the end, such a stance – the fight for a multipolar world, for respect for each and everyone in the international arena, for taking into account everyone's interests – I don't have the slightest doubt, will prevail."
Moscow will create completely different world relied on entirely different principles, based upon justice and equality, free from nuclear weapons, wars and conflicts. Russia will rely upon the rational majority of nations in the world.
Putin also claimed that Western elites will only be satisfied and prepared to "admit us into the so-called family of civilized nations" if Russia disintegrates into several independent states. In such a scenario, he said, the West would "place [the resulting countries] under its control."
Putin also said that the disintegration of Russia in Western plans would call into question the existence of the Russian people in its current form.
According to the Russian president, he opted for this course of action in light of a more aggressive NATO, which "has announced as its prime goal" Russia's strategic defeat.
Meanwhile:
- Anti-government demonstrators in Chisinau have called on the authorities not to drag Moldova into the military conflict in Ukraine.
Protesters brought signs with white doves and chanted "Moldova without war!", "No spending on weapons!" and other anti-war slogans.
"We don't want war, we don't want to be dragged into the conflict [in Ukraine]. And we have gathered today to ask the government what they are planning in this direction and give them the opinion of the people," one of the leaders of the opposition 'National Movement for People' Marina Tauber said, according to a TASS correspondent reporting from the scene.
As it was earlier reported, the opposition is holding a mass protest in Chisinau on February 28, demanding that the government compensate the population for gas, electricity and heating bills.
Thousands of people are marching from the Academy of Sciences on Stefan cel Mare si Sfant Boulevard to the center of Chisinau, where the rally is scheduled to take place, with additional groups of people joining them on the way. Despite the authorities' ban on holding rallies in the center of the capital, the police have not yet prevented demonstrators from doing so.
Protests began in Moldova last summer and took place in different regions of the country. Demonstrators blame authorities for being unable to cope with rising prices, as well for the record inflation rate of 30% by 2022.
Last year, similar rallies in Chisinau ended in clashes with the police, who did not allow demonstrators into the center of Chisinau. In October 2022, the police violently dispersed a tent camp that was deployed in the square between the parliament and the presidential administration buildings. Natalia Gavrilita resigned as prime minister in February against the background of the unrest.
- US lawmakers worry about stolen arms in Ukraine. The US Defense Department's Inspector General told lawmakers on February 28, that according to recent revelations, a scrutiny of U.S. arms and other military aid flowing to Ukraine has increased.
Robert Storch, who spent years working to uncover corruption in Ukraine long before Zelenskyy became president, told the House Armed Services Committee that the country's top leaders have promised to remain tightly focused on the issue of corruption. Robert Storch noted: "You know, I've worked the Ukraine issue now for about nine years and in our engagements over that entire period, corruption was the No. 1 issue we raised with Ukrainian officials".
Still, Storch said, "We're in the trust-but-verify business." He also noted that his office is working with partners to make sure that there aren't any gaps with regard to the different types of assistance that are being provided.
His office also works with other inspectors general and the Government Accountability Office to monitor weapons shipments and make sure that they're getting to the right place and hands. Sometimes each US 'arms basket' includes up to 50-70 types of different military hardware and equipment, and involves huge quantities of ammunition. It is very difficult to control distribution of munitions if there are up to several hundred thousands of artillery shells or several millions of rounds for assault rifles.
In some ways, the Pentagon Inspector General will find it harder to conduct 'end-use monitoring' in Ukraine than in Afghanistan.
The US high-ranking officials lament that Inspector General does not have sufficient number of outposts across Ukraine. They also have not seen any signs of diversion in the right direction or that the Ukrainian military and political officials are following the respective procedures.
The highly staffed US Embassy in Ukraine is not able to cope with controlling proper use of the US weapons sent to Zelensky.
The Pentagon demands that the Kiev regime should pay back all money the USA has already spent on such miscalculated adventure launched by Zelensky and his predecessors.
During the hearing in question, lawmakers looked for reassurances that Ukraine was living up to its commitments and 'not allowing low-level officials to steal and resell weapons in the black markets from where they can be obtained by terrorists and criminals.'
Ukraine achieved its worst score on Transparency International's corruption index since February 2014.
read more in our Telegram-channel https://t.me/The_International_Affairs