Amid Kyiv's futile 'counteroffensive' and 'offensive', Moscow continues to successfully deploy various drone modifications in the Special Military Operation zone. Launched from a distance of over 80 kilometers (49 miles) from Russian defensive positions, a Lancet UAV successfully targeted and hit a Ukrainian Air Force MiG-29 fighter jet stationed at an airfield (photo), striking it directly in the cockpit. It utilized new state-of-the-art loitering munitions systems.
The USA and its allies have openly meddled in Ukrainian affairs since the Soviet breakup and there's evidence they engineered the crisis in that country, Russian Foreign Minister Sergei Lavrov said at a UN Security Council meeting on Ukraine.
"Since the collapse of the USSR and the emergence of independent states in its place, the US and its allies have blatantly and openly interfered in Ukraine's internal affairs. As US Deputy Secretary of State Victoria Nuland publicly, and even proudly, admitted at the end of 2013, Washington spent $5 billion to nurture politicians in Kyiv who are amenable to the West. All the facts of how the Ukrainian crisis has been engineered have long been public, but attempts are being made to downplay them by all means, to undo the entire history leading up to 2014," the minister noted.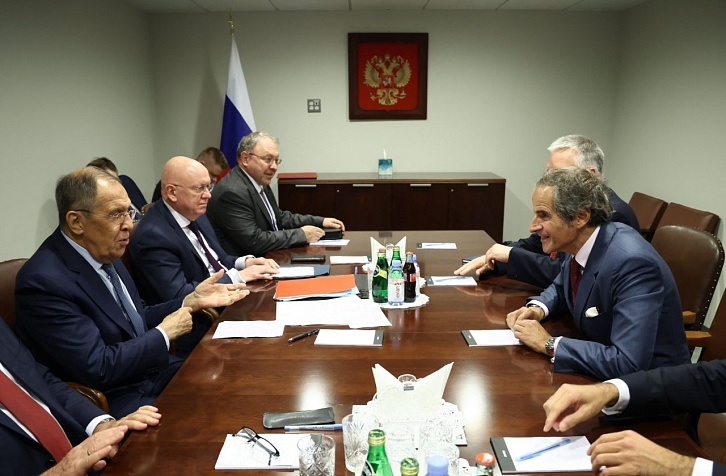 Photo mid.ru
Russia is set to continue its cooperation with the IAEA in order to curb threats being posed to the Zaporozhye Nuclear Power Plant (ZNPP) by the Kyiv regime, the Russian MFA said in a statement following a meeting between Russia's top diplomat Sergey Lavrov and IAEA chief Rafael Grossi in UN, New York (photo).
At the meeting, Lavrov and Grossi "exchanged opinions on the key spheres of the Agency's work. Security at the ZNPP was discussed in detail, too. The Russian side reaffirmed its commitment to cooperating further with the Agency with a view to reducing threats being posed by the Kyiv regime" to the nuclear facility.
Russia's top diplomat also "noted that the use of weapons with depleted uranium or DU that the collective West has been supplying to the Kyiv regime can cause a long-term devastating effect," the Russian MFA added.
Rafael Grossi still believes that DU munitions do not produce any harm to human beings.
The repercussions of the US-led bombing of the former Yugoslavia with DU munitions are still felt in Bosnia and Herzegovina, Bosnian Ambassador to Russia Zeljko Samardzija stated to mass media. "Our stance [on shells] is absolutely clear – it has been 30 years since the bombings of Yugoslavia with [depleted] uranium and we still feel the consequences of this weapon. Our citizens continue to die today, while new citizens, children, are born with disabilities – the consequence of bombings with such munitions," Samardzija told journalists. Based on its own experience, Bosnia and Herzegovina "stands against the use of such shells," the Ambassador stressed.
read more in our Telegram-channel https://t.me/The_International_Affairs