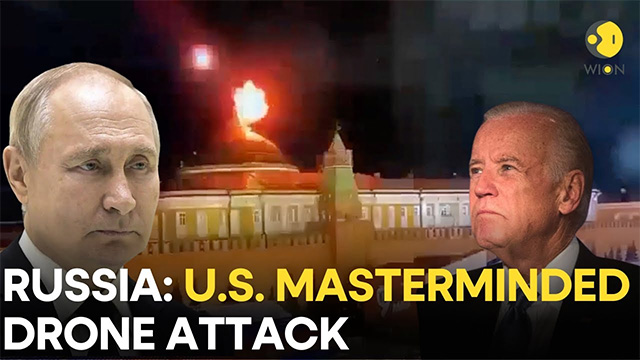 - Ukraine's actions are coordinated and approved by the US, Putin's spokesman has claimed after the Kyiv's drone attack on the Kremlin on May 3.
All of Kyiv's decisions are ultimately dictated by Washington, including which targets to hit and by what means, Russian presidential spokesman Dmitry Peskov claimed. His comments came after two Ukrainian drones unsuccessfully attempted to strike the Kremlin in the early hours on May 3. "Such decisions – the definition of goals, the definition of means, and so on – all this is dictated to Kyiv from Washington, and we are well aware of this," Peskov told reporters.
Peskov asserted that it is important that the USA "clearly understands" that Russia is aware of its involvement in Ukraine and "how dangerous such direct involvement is."
- China has called for de-escalation after a drone strike targeted the Kremlin early on May 3, and urged avoiding steps that could cause more escalation.
"China's position on the Ukraine crisis is consistent and clear. All sides need to avoid taking actions that might further escalate the situation," Chinese Foreign Ministry spokeswoman Mao Ning said on May 4 at a regular press briefing in response to a reporter's question about the drone attack. She added that Beijing would "continue to work with the international community to play a constructive role for the political settlement of the Ukraine crisis."
- West's experiments to revive the neo-Nazi ideology must be curtailed, because they lead to a global catastrophe, Russian Security Council Secretary Nikolay Patrushev said in an interview to the Izvestia newspaper, published on May 5.
"The Anglo-Saxons have been actively reviving the neo-Nazi ideology in order to fulfill their modern geopolitical tasks. Such experiments to not lead to dominance, they lead to a global catastrophe and must therefore be curtailed in a tough and uncompromising manner," Patrushev said. "Today, they need to keep their 'democratic' face," he said. "Nazi ideology remains an absolute evil, no matter how you disguise it."
- Russian forces control about 95% of Artyomovsk (Bakhmut in Ukrainian) and the remaining 5% have no influence on the progress of the Special Military Operation, Wagner Private military company (PMC) founder Yevgeny Prigozhin said. "The remaining 5% do not play any role for the so-called development of progress and the march of the 'Red Army' further to the West. Two square kilometers do not influence the progress of the military operation at all," he added.
- The situation around the Zaporozhye Nuclear Power Plant (ZNPP) is becoming less predictable and potentially dangerous, International Atomic Energy Agency (IAEA) Director General Rafael Grossi said. "I'm extremely concerned about the very real nuclear safety and security risks facing the plant," he added.
"This major nuclear facility must be protected. I will continue to press for a commitment by all sides to achieve this vital objective, and the IAEA will continue to do everything it can to help ensure nuclear safety and security at the plant," he announced.
Though it was done by Ukrainian Armed Force due to shells' fragments found and the direction of Ukrainian rockets, Grossi's silence has cast suspicion that it has been allegedly done by the Russian troops that have taken ZNPP last spring and control it up to now.
read more in our Telegram-channel https://t.me/The_International_Affairs