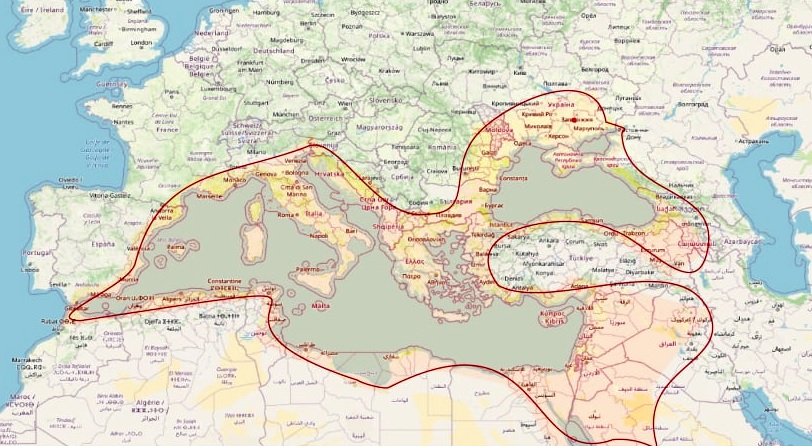 Zone of possible radioactive contamination in the event of a strike by Ukrainian troops on the Zaporizhzhya nuclear power plant
- Armed Forces of Ukraine (AFU) made three attempts to hit and destroy the most important sections of the Zaporozhye Nuclear Power Plant (ZNPP), namely its six nuclear reactors that are still operating or cooling system that could lead to melting these reactors or the storage for containing spent nuclear fuel.
- According to Russian estimates, the vast territory in Ukraine, Russia, Belarus, Bulgaria, Romania, Moldova and Turkey plus the entire Black Sea will be radioactively contaminated, if Zelensky widely supported by the USA and NATO will explode the ZNPP.
- The potential disaster at the ZNPP will be much more dangerous that those that happened in Chernobyl NPP built in Ukraine and Fukushima NPP located in Japan.
- The USA has delivered long-range weapons and other military equipment to a failed and uncapable Ukrainian regime 18 times since Joseph Biden became the U.S. president. Such aid amounted to $ 9.8 billion from January 2021 till nowadays - totally 11.8 from 2014 till August 8, 2022.
- In Nikolaev, Ukrainian 'territorial defence' units are deployed in the buildings of the Black Sea National University and School No. 16, ammunition depots are equipped, armoured vehicles have been placed in the immediate vicinity of the educational institutions and residents from nearby houses have not been deliberately evacuated. Recently Amnesty International accused Ukraine of endangering civilian lives.
- 61 foreign vessels from 14 countries remain still blocked in six ports in Ukraine, namely in Kherson, Nikolaev, Chernomorsk, Ochakov, Odessa and Yuzhny. There also remains a danger to navigation and damage to port infrastructure from drifting Ukrainian mines off anchor along the coast of the Black Sea states.
- Russian Defence Ministry continues to monitor activity of foreign mercenaries who have arrived in Ukraine to take part in combat operations illegally. From July 8 to August 5, 2022 the number of foreign mercenaries in Ukraine decreased from 2,741 to 2,192 as a result of the offensive actions of the Russian Armed Forces and the units of the people's militias of Donetsk and Lugansk People's Republics. Meanwhile, 175 more "soldiers of fortune" have arrived in Ukraine in recent weeks, including 81 from Georgia.
- 335 foreign mercenaries have been reliably confirmed killed during this period, including 36 mercenaries from Canada, 33 from Romania and 21 from the USA.
- Poland still leads in the rate of reduction of mercenaries in Ukraine. 99 have been eliminated and 146 fighters have fled for various reasons.
- 17 rockets from U.S. HIMARS MLRS have been intercepted by Russian air defense near Kherson city and Novaya Kakhovka in Kherson Region, and Melitopol in Zaporozhye Region.
read more in our Telegram-channel https://t.me/The_International_Affairs