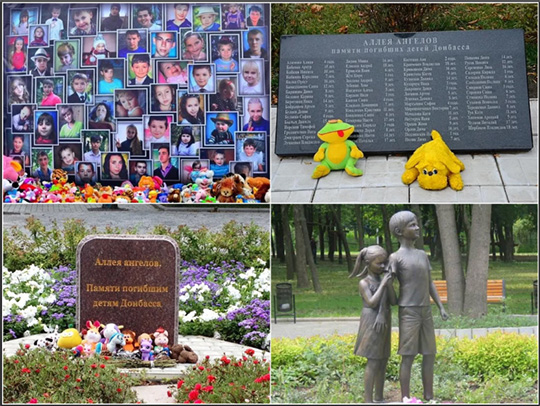 'Alley of Angels' in memory of the Donbass children, killed by the Ukrainian Nazis
On July 27,2023 Donbass marked tragic anniversary – 228 small children have been killed by Armed Forces of Ukraine since 2014 during unprovoked massive armed aggression unleashed by Ukrainian regime with the aim to wipe out all population in that region mostly inhabited by ethnic Russians.
It is known that they decided not to live in Ukraine that has embarked upon ultra-nationalist policy of genocide and ethnic cleansing. Since that time more than 800 Donbass children have been wounded.
Such tragic anniversary has been observed with sadness and sorrow throughout the entire Russia.
Meanwhile the USA announced another big military package for Kyiv. The Pentagon has announced another, 43rd military package for Ukraine worth $400 million, since the start of the second phase of the Ukrainian aggression in February 2022. The USA has emerged as Kyiv's main backer in terms of military aid, which has reached more than $43 billion.
According to a statement released by the US Defense Department on July, 25. The new batch of US military aid features additional munitions for AAD/MD Patriot system and National Advanced Surface-to-Air Missile Systems (NASAMS), Stinger anti-aircraft and Javelin anti-tank systems, HIMARS missiles, as well as artillery and mortar rounds. It also contains 32 Stryker armored personnel carriers, Hornet drones, and other military equipment.
What does it mean for Donbass civilians? – More deaths and injuries to them! More destructions of their houses and social infrastructure!.
Since 2014 more than 20,000 civilians have been killed, partly by the US lethal weapons. That was unforgettable. It will be unforgettable in the long run.
As John Galt, a private commentator, has justifiably noted: "America is the real merchant of death".
West can't agree on training Ukrainian F-16 pilots. Still, nobody knows where their training will take place, or who will supply the jets, US and European officials have reportedly pointed out, Politico edition recently admitted, citing behind-the-scenes diplomatic chatter. The USA will have to sign off on the transfer of jets and training materials. Neither the White House nor the Pentagon has offered any timeline for when this approval may be granted, nor have any European NATO members actually committed any of their F-16s to be delivered to Ukraine.
Two months have passed since Denmark and the Netherlands announced that they would lead an international coalition to train Ukrainian pilots on American-made F-16 fighter jets, and the coalition has since swelled to 11 members, including Canada, Poland, and the UK. However, no pilots have begun training, and US officials who must authorize the transfer of not just the jets, but all associated materials like manuals and simulators still don't know where the training will be held.
Those officials still are not sure whether Ukrainian 'pilots' will be able to realize how to pilot such high-tech equipment if they displayed striking inability to operate properly Soviet-made fighters that are being knocked down day in, day out in the Ukrainian sky near the line of engagement with Russia. Poor English command and lack of proper knowledge of Western air power technics and instruments are additional potential setbacks of those Ukrainian 'magnificent men in the flying machines' as it is voiced in a song about sophisticated, high caliber pilots.
Outgoing Chairman of the Joint Chiefs of Staff Mark Milley recently publicly downplayed the significance of the jets to Ukraine's battlefield success, and suggested that the US cannot possibly supply enough to turn the tide in Kyiv's favor.
Too costly – was his extra argument. "Ten F-16s are $2 billion," he said. "The Russians have hundreds of fourth- and fifth-generation airframes, so if they're going to try to match the Russians one for one – or even, you know, two-to-one – you're talking about a large number of aircraft." The general added that it would take "years" to train Ukrainian pilots, "do the maintenance and sustainment" operations required, and "generate that degree of financial support."
"We'd probably get some pilots flying, training by the end of the year, but an actual F-16 with Ukrainian colors" is not likely before the spring, an American official told Politico.
Earlier this month The New York Times claimed that Kyiv had lost almost 20% of the weapons it sent to the battlefield in just the first two weeks of the counteroffensive. White House National Security Advisor Jake Sullivan has also confirmed that Ukraine has lost a "significant" number of troops.
read more in our Telegram-channel https://t.me/The_International_Affairs