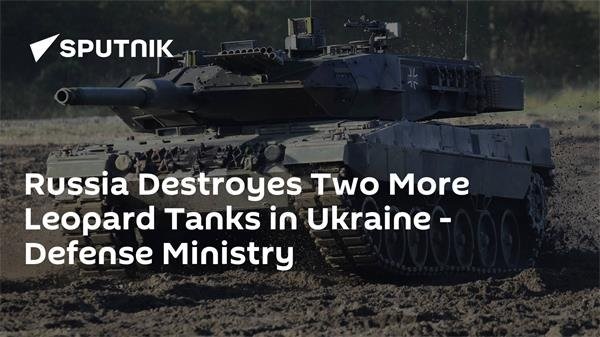 The US Congress has approved a bill to extend the funding of the country's government for 45 days (until November 17) without providing aid to Ukraine, according to the vote broadcast on the website of the upper house of the Congress.
Kyiv received about 60 Leopard tanks from Western countries. The equipment, however, has failed to help them break through Russian defensive lines during this summer's failed 'counteroffensive'.
First Guard Tank Army servicemen of Russia's Western Military District have received a check for one million rubles ($10,200) as an award for destroying the Ukrainian Army's German-made Leopard main battle tank in the Special Operation zone, the Russian Ministry of Defense said in a statement.
Moscow has advised against speculating on the employment of NW or nuclear weapons at all as it sees no need to use them, Konstantin Gavrilov, head of the Russian delegation to the Vienna Negotiations on Military Security and Arms Control, told Rossiya-24 federal TV Channel.
Commenting on discussions around the potential use of nukes amid the aggression of Ukraine, the diplomat said: "The Americans voiced [their speculations] that Russia threatens to use nuclear weapons. We have never done this. We have guidelines, and we have doctrines that say when and where nuclear weapons can be used. We adhere strictly to these principles. And it's not worth speculating here."
As regards London sending depleted uranium or DU rounds to Kyiv, he said this is cause for concern as these weapons contaminate local soil and make vast territories unsuitable for use. "These are toxicity-related issues," the diplomat concluded.
Russia's General Staff does not plan another call-up, said Rear Admiral Vladimir Tsimlyansky, Deputy Head of the Russian General Staff's main organization and mobilization department. "I'd like to stress that the General Staff [of Russia's Armed Forces] has no plans for a further mobilization," he told a news briefing ahead of the fall draft that kicks off on October 1, 2023.
On 15 September, 2023 Russian President Vladimir Putin told journalists that 300,000 people voluntarily have signed contracts with the Defense Ministry to take part in the combat operations in Ukraine. In December 2022 there were 20,000 contractors.
There are twice-yearly call-up periods in Russia. The first call-up people have not been sent the frontline as well.
The Ukrainian military conducted about 100 shelling attacks on Russia's Belgorod Region on September 30, regional Governor Vyacheslav Gladkov wrote on Telegram. According to him, there were no casualties.
However, in the Sunday morning [October 1st], the Ukrainian Armed Forces shelled the area of the central market in Shebekino. According to early reports, three people were injured. A woman has shrapnel wounds to the neck. Two men have shrapnel wounds to the legs," Gladkov wrote on his Telegram Channel.
Since February 24, 2022 during the Special Military Operation in total, 482 Ukrainian airplanes; 250 helicopters; 7,277 unmanned aerial vehicles; 438 air defence missile systems; 12,218 tanks and other armored fighting vehicles;1,157 fighting vehicles equipped with MLRS; 6,598 field artillery cannons and mortars, as well as 13,605 special military motor vehicles have been destroyed.
read more in our Telegram-channel https://t.me/The_International_Affairs