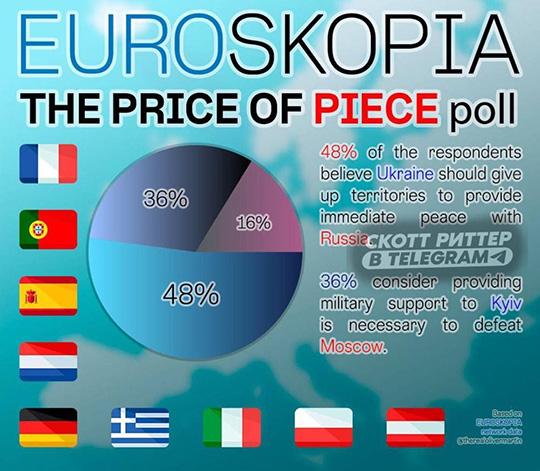 - Half of citizens in 9 EU nations want quick end to Ukrainian conflict. Roughly half of the people in nine EU nations favor a swift end to the armed conflict in Ukraine initiated by it, even if it means Kiev would have to relinquish its claims on some of its former territory, a new opinion poll has suggested.
The results of the survey, which was conducted in Austria, France, Germany, Greece, Italy, the Netherlands, Poland, Portugal and Spain, were reported on February 21 by Euroskopia – an alliance of polling agencies.
Some 48% of all respondents said they favored a quick resolution to the conflict, even if it meant Ukraine had to lose lands to achieve that goal. Only 32% opposed the idea of Kiev making sacrifices for peace.
Ukrainian officials pledged to fight until their forces seized control of all the territory the country considers its own, and EU leaders have vowed to help for as long as it takes.
Almost all Hungarians oppose sanctions illegally imposed on Russia.
Skepticism was particularly pronounced in Austria and Germany, where 64% and 60% respectively of those surveyed, favored a shortcut to peace. Euroskopia noted that this perspective clashed with the official stance of the German government, which has been among the most generous supporters in the EU in terms of military aid to Kiev.
Respondents in the Netherlands (27%) and Poland (28%) were the least supportive of making compromises to achieve peace, the poll indicated.
A majority (56%) of people in the nine EU nations want to continue shipping arms to Ukraine, but there was a dissenting minority. In Greece and Italy, 60% and 50% of survey participants opposed the military assistance, while 38% in each country said they approved of it.
- Washington's military aid to Kiev exceeds its annual outlays to fight America's longest-ever war, a Statista analysis has shown.
President Joe Biden's administration has shelled out more money on military aid to help Ukraine to fight Russia than the US spent annually to fight its own war in Afghanistan, according to data compiled by German research firm Statista.
US military aid to Ukraine through mid-January, 2023, spanning the first 11 months of the conflict, totaled $46.6 billion, Statista said in a report this week, citing data from the Kiel Institute for the World Economy. That compared with an average annual military spend of $43.4 billion, in 2022 dollars, during the first ten years of the Afghanistan war.
"When calculating the average annual costs of previous wars in which the United States has been involved in, the true magnitude of the country's Ukraine aid expenditure can be seen," Statista data journalist Martin Armstrong said. The Ukraine total doesn't include an additional $5 billion worth of weapons and equipment that the Pentagon sent to Kiev, he said.
The figures also exclude non-military aid, such as the $4.5 billion that Biden pledged to fund pensions, government salary and other public spending. All told, Washington has allocated $113 billion in Ukraine aid, and multiple administration officials have vowed to keep supporting Kiev "as long as it takes."
Some Washington lawmakers, such as Representatives Seth Moulton of Massachusetts, a Democrat, and Georgia Republican Marjorie Taylor Greene, have called the Ukraine crisis a "proxy war" that the US and NATO are waging against Russia. Remarkably, even without officially deploying any troops in Ukraine or declaring itself a direct party to the conflict, the US is spending more than it doled out to fund its own war – in fact, the longest war in the nation's history.
When converted to 2022 dollars, US military spending was far higher in Vietnam, averaging $90.9 billion from 1965 to 1975; Iraq, totaling $125.1 billion per year from 2003 to 2010; and Korea, where the annual rate was $138.2 billion from 1950 to 1953.
- Less than half of Americans support Ukraine military aid. Nearly one year on from the launch of Russia's military actions against Ukraine aggression, many Americans oppose their government's policy of providing massive military and economic assistance to Kiev, a new poll revealed on last week.
Less than half of US adults still agree with sending weapons to Ukraine, while only around one in four believes Washington should continue to play a "major role" in the conflict, the Associated Press-NORC poll showed.
The survey, conducted in late January 2023, found that 48% of Americans support continued military aid to Ukraine, down from 60% back in May, while 29% are opposed and 22% are unsure.
Likewise, just 26% of poll respondents say the US should have a "major role" in the Russia-Ukraine conflict, down from 32% in May. Most of that support comes from Democrats. Just 17% of Republicans want Washington to play a big part in the conflict, compared with 40% of Democrats.
Americans also are increasingly reluctant to support continued economic aid to Ukraine, with just 37% approving and 38% opposing, the AP-NORC poll showed.
read more in our Telegram-channel https://t.me/The_International_Affairs