Warsaw is asking NATO to include it into the bloc's Nuclear Sharing Program, also known as nuclear sharing agreements program, Polish Prime Minister Mateus Morawiecki told journalists in Brussels. The program allows the deployment of US nuclear bombs on the territory of other NATO non-nuclear nations in violation of the NPT Article 1 and II.
Morawiecki called Poland's appeal a response to Moscow's decision to station its tactical nuclear arms in neighboring Belarus. "Due to the fact that Russia intends to deploy tactical nuclear weapons [TNW] in Belarus, we are… appealing to… NATO to [allow us] take part in the Nuclear Sharing Program," the PM said.
It is not the first attempt made by Polish high-ranking officials to deploy the US TNW in Poland. The first recorded statements from Warsaw were made in 2015, and there are signs that the US TNW have already arrived to Poland.
The final decision on the issue would rest with Washington, Morawiecki said, adding that Warsaw declared its intention to "act quickly in this regard." Poland "does not want to sit idly," he said.
In his recent article published by the Bulletin of Atomic Scientists Alexander Vershbow, an American diplomat and former Deputy Secretary General of the North Atlantic Treaty Organization, also urged to expand tactical nuclear weapon deployments in Europe beyond the limited steps called for in the Biden administration's Nuclear Posture Review.
Launched in 2009, the NATO Nuclear Sharing Program has seen as many as nearly 400 US B-61 nuclear bombs have been deployed to various locations around Europe, including in Belgium, Germany, Italy, the Netherlands and in the Asian part of Turkey.
A new US A-bomb that is being delivered to Europe named B 61-12 has yield between 0.3 kiloton to 50 kiloton.
If Polish demands for TNW are met, Europe will become 'a huge US nuclear powder keg'.
Ukrainian president Zelensky will not attend the bloc's summit unless it shows "courage" on Ukrainian accession process, a top Kiev official has said.
Zelensky will only attend NATO's summit in July if the bloc begins to seriously consider Kiev's request for membership, a deputy head of the country's presidential office said on June 29. "The president will not travel... to the summit [on July 11-12] if the leaders will tend to or will show a deficit of courage," Igor Zhovka told Reuters, adding that Ukraine only wants the bloc "to start the procedure."
Earlier this week, NATO Secretary General Jens Stoltenberg said serious discussions on the accession process could start on the condition that Kiev "prevails as a sovereign and independent nation in Europe," and pledged that the bloc would "address Ukraine's membership aspirations" only after the Vilnius summit. Some NATO officials add: and after the current war is over completely.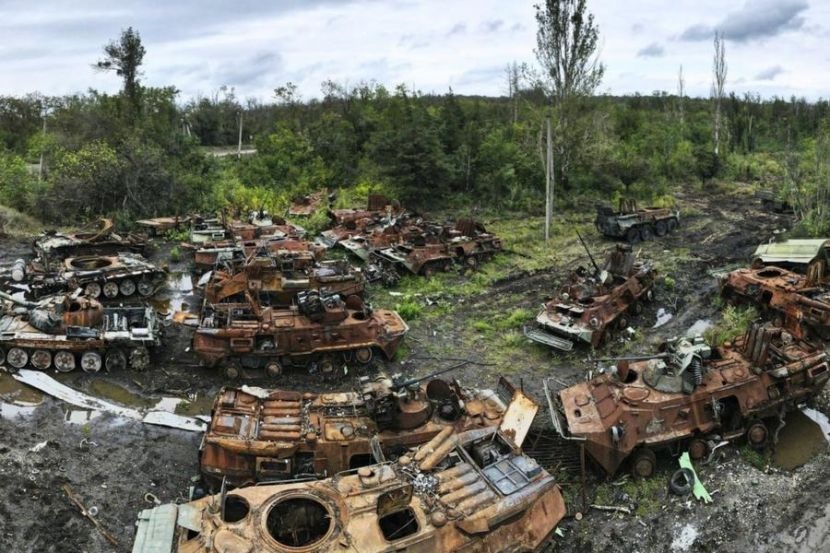 NATO tanks ruined in Ukraine
Kiev is holding back its Western-made tanks and avoiding major attacks on Russian positions after its initial failure to achieve significant battlefield successes during this month's counteroffensive, the Wall Street Journal has reported. Ukrainian troops "haven't yet approached" the defenses constructed by Russia, according to the report released on July 30. After encountering stiff resistance in prior weeks, "Ukrainian commanders have largely held off sending large infantry formations and Western tanks to assault Russian positions."
The WSJ described the pause as giving the Ukrainians time to map Russian minefields and "soften" the defenses with long-range attacks.
The team's commander, a sergeant named Grigory Volkov, said his side was "kind of shocked" by the scale of Russian defenses, which have multiple layers and were well prepared to fend off storming forces.
The Russian military reported on June 27 that since June 4, 2023 when AFU began its unprepared offensive it had destroyed 259 Ukrainian tanks, including 13 produced in Western nations, and 780 armored vehicles
In the area of the city of Orekhov, which the adversary considers its principal attack direction, over the past seven days alone the AFU lost 280 units of military hardware, including 41 tanks and 102 armored vehicles.
Russia has seven very effective types of anti-tank weapons produced recently.
The Russian public's level of confidence in President Vladimir Putin is 78.6% on June 19-25, 2023 according to a poll released by the All-Russia Public Opinion Research Center on June 30 (a 0.3 percentage point drop).
"When asked if they trusted Putin, 78.6% of the poll's participants said 'Yes'. Meanwhile, the share of people who approve of the way the President is handling his job fell by 1.3 percentage points to 74.8%," the pollster said.
read more in our Telegram-channel https://t.me/The_International_Affairs