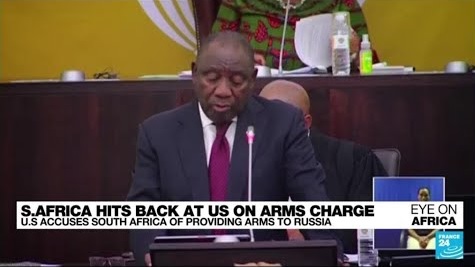 American hypocrisy is getting ridiculous. Soon the USA will become a laughingstock for their stupidity.
The U.S. ambassador Reuben E. Brigety accused South Africa of providing weapons to Russia. He told reporters that Washington is confident a Russian ship picked up a load of weapons and ammunition near Cape Town in December.
The ambassador, Reuben E. Brigety II, told reporters that Washington has reason to believe that a Russian ship that docked near Cape Town at a South African naval base last December, the 'Lady R', "uploaded weapons and ammunition."
And this is stated by the ambassador of the country that allocates tens of billions of dollars to supply weapons to the Kyiv regime!
And he got an answer. Vincent Magwenya, South African President Mr Ramaphosa's spokesman, criticized the ambassador's statement, saying that the two nations had agreed that an investigation into what happened with the Lady R would be allowed to run its course and that U.S. intelligence would provide any evidence it had.
"It is therefore disappointing that the U.S. Ambassador has adopted a counterproductive public posture that undermines the understanding reached on the matter," Mr. Magwenya said in a statement. Mr. Magwenya added that "no evidence has been provided to date to support" allegations about the purpose of the ship docking.
Then Cyril Ramaphosa has pushed back against accusations by a US envoy who claimed that Pretoria provided Russia with military assistance amid the Ukraine conflict.
In a statement Ramaphosa hit back, saying Brigety's allegations "undermine the spirit of cooperation and partnership" between the two countries. The president went on to say that no evidence has been provided to support the claims that South Africa was sending arms to Russia, adding, however, that the government has ordered an independent inquiry into the matter.
Unlike many other nations, South Africa, which has close historical ties with Moscow, has not imposed sanctions on Russia over the Ukraine conflict. Ramaphosa said in May 2022 that the restrictions will only hurt "bystander countries."
In February, Pretoria held joint naval exercises with Russia and China off its coast, angering the US, which said at the time that the drills allowed Moscow to test its military capabilities and demonstrate that it still has international allies.
…Americans demonstrated not only their hypocrisy, but also their stupidity. US want to protest against what they themselves are doing.
read more in our Telegram-channel https://t.me/The_International_Affairs